Quokka Apocalypse
Written and directed by Zachary Sheridan. Fringe World. The Studio, The Blue Room, James St, Perth WA. Jan 24- Feb 1, 2020
Quokka, Possum and Snipe have become fed up with humans and plot to ensure their demise, in this impossibly cute, Perth based, pre-apocalyptic drama at Fringe World.
An Australian Painted Snipe, angry about the decimation of the swamplands, a Quokka with a vendetta against selfie-taking tennis players and a possum determined to take down all Toyotas, team up to poison Perth's water supply. They're on a journey to major Perth landmarks including Crown Casino, the Rio Tinto Building (aka The Eye of Sauron) and …the bus station, until they meet an Alien with a surprising agenda. These gorgeous and loveable anti-heroes make some very pertinent points about the impact of humans, climate change and mining, in a very funny hour-long new work.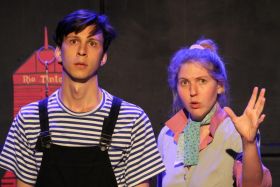 The cast of this public service announcement production form a vibrant ensemble clad in bright, fun costumes by Kaitlin Brindley. Lovely teamwork from Christopher Moro, Amelia Burke (the Alien Meepa), Grace Chow (Possum), Jo Morris (Quokka) and Stephanie Somerville (Snipe). Bold lighting from Jasmine Lifford and sound design and composition by Alex Turner.
While the audience spend most of the show in imminent danger, and may not make it out alive, you are guaranteed to have some great laughs with this very funny, very surprising show.
Kimberley Shaw