Tracey Harvey Smokin' at The Paris Cat
Paris Cat Jazz Club, Melbourne (Vic).
The venue is charming but tiny – the postage stamp stage is barely large enough for the grand piano, let alone Tracy Harvey's glorious and infamous teeth (which, she assures us, are insured). Nevertheless the room is packed, and there's a smattering of celebrities present (Tony Ayres, Producer/Director of The Slap is stage side) and there's definitely electricity, of the Energiser Bunny variety, in the air.
The show is part cabaret, part workshop, and entirely engaging. Far from the loose format and unrehearsed patter detracting from the proceedings, they simply enhance the premise that we're here at the joyous birth of a new Australian Musical Theatre baby – not yet fully formed but with great genes. The new musical – set in a large hospital – is to be called (wait for it) Prick, and it's the brain child of Tracy Harvey.
Tracy is well known to TV audiences of the eighties and nineties from her appearances on such shows as The Comedy Company and The Max Gillies Show and she has popped up in various dramas in quasi dramatic roles. But it's LIVE on stage that she truly shines. Her endearing gentle self-effacement; slightly scatty approach; warm, sweet voice and her obvious passion for this new baby embrace us from the first musical number through to the last goodnight.
She's ably supported by Bryce Ives, her director, who is no mean performer himself; a strong self assured presence with a good voice who reminded me a lot of Eddie Perfect. There's also fine vocal support from Laura Burzacott, who possesses a great musical theatre voice. She is certainly one to watch out for in the years to come.
Musically, Peter Foley on piano is easily on top of every cue ( and even swaps to trombone for one number), Rose Westbrook handles her bass solos with great style, and Jack Howard, legendary trumpeter from Hunters and Collectors, shows he's not just a pretty face with a solar panel for a love machine in place of hair. He sings harmonies and gets to shine in the solo number "Like a Gondolier" which is about endoscopy and bowel cancer of all things. Yes, it's confronting, but the humour makes it difficult to take offence. And that's true of all the songs.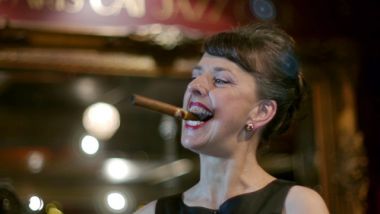 While we're treated to a handful of songs from Tracy's previous musical Call Girl including the wonderful Hot Chook Shop and Phoney in which original "star" Trevor Major came up from the audience to help out" (you'd know the face from your TV screens even if you don't recognise the name) – it's the new songs we're hanging out for – and it's worth the wait.
"Hospital Wonderland" which breaks into a Betty Boop type "Golden Staph" bridge; "Just a little Prick" "Empty Vessel" and others, plus the promise of a chorus of line-dancing syringes (!) all whet the appetite for this show to be completed and seen on a big stage. But it's the heart wrenching torch song "Do What You Want With Me" that Tracy, as Wendy Webster, delivers with such emotion, that steals the night.
Australia needs home grown musicals to balance the overblown banality of some overseas productions, and so "Prick" deserves a backer and a big theatre. Casy Benetto proved we're ready with Keating -The Musical and Tracy's Call Girl was much lauded. And who wouldn't want to see those line dancing syringes?
In the meantime, if you get a chance to see this workshop "happening" at a venue near you, don't miss it. It's what entertainment used to be about – and it's great feel good medicine.
Coral Drouyn
To keep up with the latest news and reviews at Stage Whispers, click here to like us on Facebook, or follow us on Twitter.