This Year's Ashes
By Jane Bodie. Griffin Theatre Company. Stables Theatre (NSW). October 12 – November 19, 2011.
"This city has rules. And if you can't work them out then you're lost, afloat. Because it's hard and fast and shiny here, and it's lonely."
Loneliness… that is the overriding theme in This Year's Ashes. The loneliness one feels when immersed in a city that's in love with itself. Where genuine human contact is often fleeting and your past is never really that far behind you.
Jane Bodie's story about the current state of urban Sydney is told through a brilliantly written script - the dialogue is tight, the story is genuine and the characters have stepped out of real life. It's a simple and yet captivating story as the audience is taken through the crusty underbelly of Ellen's love life and her relationship with her father which is glued together by his love of cricket and her willingness to please him.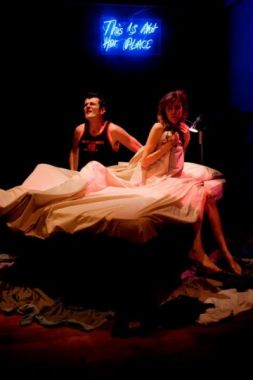 Shannon Murphy's direction and casting are the perfect mix to support such a strong text. The blocking is simple and makes good use of the small stage. So too does Rita Carmody's set which alternates as the domiciles of multiple characters and underlines the notion of many lonely souls living in small flats in Sydney with harbour glimpses. The small patch of fresh green turf under Ellen's bed which withers, yellows and frays throughout the course of the show is subtly symbolic of her journey from holding onto her father's death to finally letting him go and of course Australia's loss of The Ashes.
The cast are indeed a delight to watch as they traverse the challenging and quick witted script. Tony Llewellyn-Jones' as Ellen's father Brian is fantastic, particularly his explanation of the "basics" of cricket - which is slightly reminiscent of the old comedy duo Abbott and Costello's "Who's on First" sketch.
Nathan Lovejoy, who has a tough job playing three separate roles, turns in a wonderful performance. His choices are very strong and each character is clearly delineated.
But it is Belinda Bromilow as Ellen who is the real star here. Her performance in all its fragility, neurosis, humour and warmth is quite simply exquisite.
This is what theatre should be all about - bold, fresh and interesting work. And if you can get a ticket then I suggest you really should.
Whitney Fitzsimmons
Images: top two - Nathan Lovejoy and Belinda Bromilow in This Year's Ashes. Below - Belinda Bromilow; Belinda Bromilow and Tony Llewellyn-Jones. Photographer: Brett Boardman.
To keep up with the latest news and reviews at Stage Whispers, click here to like us on Facebook, or follow us on Twitter.