CLOC's Costume Cavalcade
Walking through the aisles of CLOC Musical Theatre Company's Costume Resource Centre is like singing that song about Joseph's coat ("It was red and yellow and green and brown…."etc.). With nearly 12,000 items catalogued including dresses, coats, suits, shirts, bowties, shoes, hats, bags, gloves, scarves, jewellery, wigs and everything in between, the centre is a stroll through centuries of fashion from 100 productions over 50 years.
Wardrobe Co-ordinator Allan Paul has spent every Saturday for the past 20 years lovingly caring for the collection, aided by a dedicated group of about 15 women who sew costumes for the current show, as well as sharing gossip and good food.
CLOC's most recent show and its 100th production, 42nd Street, just completed a spectacularly successful season at The National Theatre in St Kilda.
Costume designer Victoria Horne took charge of 300 costumes. Some costume changes were so quick that each cast member had two complete costume/wig changes within one three minute number.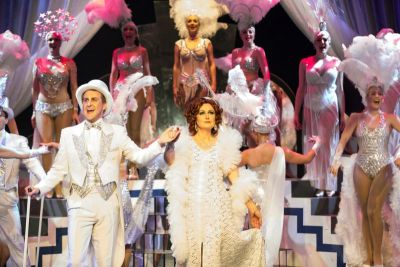 Each cast member had both 1930s day and rehearsal wear, as well as glitzy, bespeckled and feathered outfits to represent the 'show within a show'. Given this brief, it is no wonder that Vicky had absolutely no trouble in keeping up her tradition of ensuring that each costume had at least one sequin on it.
Even in the famous "42nd Street Ballet" that forms the show's climactic and most intricate dance number, Vicky ensured that every individualised character costume featured sequins – the gangsters, the street sweeper, the newspaper seller, the Salvation Army girls, the soldier, the beggar and the policeman.
From the cast of 33, each female had 12 costumes and male ensemble nine each, including matching shoes with each costume as well as a multitude of accessories such as specially created jewellery, gloves, bowties, beaded chokers and hats/headgear, made from scratch by CLOC's millinery team led by Tina Scott.
Costume consultant Nancy Matthews also hand knitting two 1930s style vests for leading man Tim Cant.
Anyone who saw 42nd Street will attest to the success of Vicky's vision and her team's artistry, skill, talents and commitment to excellence.
GMS Costumes (NSW Central Coast)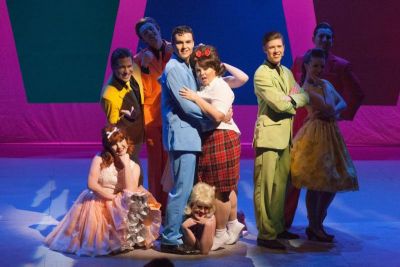 The rental of entire show sets of costumes to other musical societies and schools is still extremely popular. Most production companies don't have the storage space or the resources to make show costumes. GMS makes good quality costumes that not only last for their show but also numerous hires. The Gosford Musical Society has a dedicated group of sewing ladies who are pursuing their love of dressmaking and are currently designing and sewing for Annie and The Phantom of the Opera.
A rental of a large set of costumes typically costs in the vicinity of $3000 plus laundry costs.
GMS has eight shows being hired at the moment including Beauty and the Beast, Hairspray, The Producers, Spamalot and Oliver!
The GMS Costumes website features up to 100 photographs from the last 30 musicals performed by GMS.
Contact (02) 43241305 or gosfordmusical@bigpond.com
Bankstown Theatre Company (NSW).
http://www.bankstowntheatrecompany.com/hire.html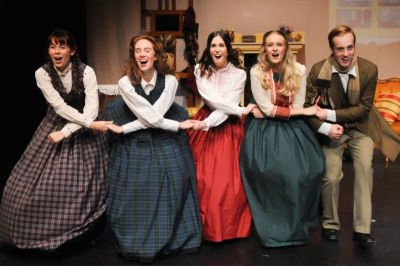 From Greek armour to a dead deer, no job is too difficult for the Bankstown Theatre Company's wardrobe department.
It all began when Pauline Paull started making costumes in her lounge room for My Fair Lady in 1976 and now continues in the company's premises at the Bankstown Arts Centre nearly forty years later. Costumes have been designed and made for over 110 productions, giving BTC a wardrobe for all shapes, sizes, colours, styles and eras.
Since Pauline's sad passing in 2007, a team has continued the tradition in her place.
"If you're looking for something unusual," says costume maker Lynne Beach, "who knows, we might just have it. We have costumes available for hire to theatre companies, schools or individuals, from one-off costumes through to some complete production sets.
"Our website will give you an idea of the variety of shows we have performed over the years and an indication of the wide variety of men's and women's costumes that we have accumulated and have for hire."
Contact Lynne on 0438 44944934.
MLOC Productions (Victoria).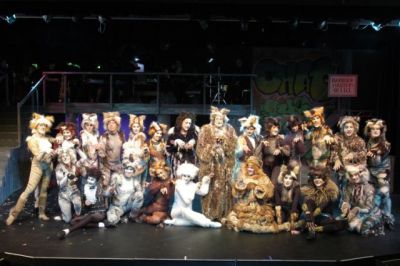 A spectacular full set of CATS costumes is available for hire from MLOC Productions in Melbourne's south-east.
The company also has an array of costumes and resources to suit many shows.
Recent productions staged by the company include Thoroughly Modern Millie, Annie, Pippin and White Christmas.
Contact Margot (03) 9808 9775
Ballarat Lyric Theatre (Victoria)
http://ballaratlyrictheatre.com.au/costume-hire/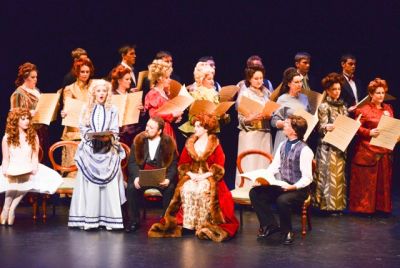 Fresh from a triumphant production of The Phantom of the Opera that included stunning masquerade masks, the Ballarat Lyric Theatre now has a wide variety of fully costumed shows available for hire to theatres around Australia.
The company has multiple Guild Awards for excellence over the years.
Other popular full sets include Hairspray, Joseph, Cats and The Sound of Music.
The costume department also has an animal print, leather and fur frenzy going on for party animals.
Click here to find out more about sets of costumes for hire.