The Stage Whispers Costumes Directory www.stagewhispers.com.au/costumes has expanded over the last year to encompass 42 different complete costume sets for shows.
In some cases two or three sources for costume sets are available.
It's incredibly cheap and easy to use. For $11 you can list one set or genre of costumes or props for twelve months.
CLOC Musical Theatre – Melbourne.
Since its establishment in 1964, CLOC has produced 96 shows covering the entire gamut of music theatre and has won over 100 Music Theatre Guild Awards.
Most recently, CLOC produced two lavish Andrew Lloyd Webber productions – the rarely performed but beautiful Aspects of Love followed and the Australasian non-professional premiere production of Sunset Boulevard.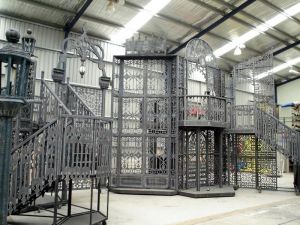 The image above is from CLOC's sewing room preparing for Sunset Boulevard.
Using top-notch talent to create, design, build and sew means the quality is first rate. CLOC has turned hiring sets, costumes and props into an important secondary income source.
CLOC has its own permanent custom-built two-storey shed where sets are constructed and stored (CLOCworks), a dedicated props storage facility and a costume store (the Costume Resource Centre or CRC), housing over 10,000 costumes and accessories.
Costumes are available for hire for almost every production that CLOC has done – see a full list http://www.cloc.org.au/about/about_pastproductions.htm.
CLOC has also acquired a complete set of costumes from the professional production of The Wizard of Oz.
The only complete sets currently available are Jekyll & Hyde andSunset Boulevard. Otherwise, backcloths, set pieces and furniture are available. CLOC has hired/sold to companies all over Australia and New Zealand. It can also provide technical crew to bump in/out the hired/purchased set.
For costume/props hire/sale, please call Allan Paul on 1300 826 788 or email costumes@cloc.org.au
For sets hire/sale, please call Grant Alley on 0419 884 241 or email grant.alley@cloc.org.au
GMS Costumes (NSW Central Coast)
The Gosford Musical Society was formed in 1947 and has produced an average of three shows per year for over 63 years.
Born in 1980, GMS Costumes, now stocked with 10,000 costumes, is a hive of activity.
With the introduction of www.gmscostumes.com.authe hiring of show costumes to other musical and drama societies, schools and theatrical related businesses has boomed.
GMS Costumes web page has a section for "shows" that includes the last 30 shows performed by Gosford Musical Society. Each has more than 100 photos. Sets of costumes are now being shipped all over Australia.
The society's 2012 productions of A Chorus Line, Jekyll and Hyde and Grease will provide an even larger range of complete shows.
Contact: gosfordmusical@bigpond.com Or Ph: 02 43241305
Local Aussie Puppet Guys Find Their Purpose.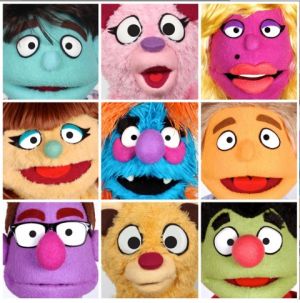 Growing up with a passion for working in the world of puppetry can be a hard slog in Australia but for two unassuming and passionate guys it's keeping them busy enough.
Graeme Haddon and Luke Ede first met whilst working on the production of 'Pan' in 2000 as puppeteers for Jim Henson's Creature Shop.
Both graduated from NIDA in design, construction, puppetry, technical production and management.
Their puppet work is currently appearing on 'Hi-5' and 'Toy Box' on afternoon TV.
In 2011 when Luke was approached to design Avenue Q for Townsville Choral Society, they took the opportunity to build a new set of puppets.
"Very early on we decided that we didn't want to copy Rick Lyon's Broadway designs because it's so hard to get it accurate without patterns, dyes and fabrics. So we set about coming up with sketches influenced by the original look of the characters from Sesame Street that were a little more "retro"."
Building took place in their Melbourne workshop for five weeks. Fleece and furs were mostly ordered from the US from the same companies that supply to Sesame Street now.
The set is designed to be very lightweight and durable. "I was puppet supervisor on the Australian production of Avenue Q so I know how the puppets need to work and survive show after show" says Graeme.
15 puppets were made in total with doubles of most lead characters.
For hire enquiries please contact Graeme: balooga@mac.com
Tis article originally appeared in the July / August 2012 edition of Stage Whispers.