GMS Costumes
The Gosford Musical Society has been producing stunning costumes for its NSW Central Coast shows for nearly 70 years. A dedicated group of sewers create authentic and durable costumes to be hired Australia wide.
With shows such as Mary Poppins, A Chorus Line, Spamalot, Phantom and old favourites such as Pirates, Annie, Oliver and Beauty and the Beast, GMS can assist musical societies and schools that have restricted storage or limited resources. In 2016 GMS staged The Addams Family, The Music Man, Wicked, The Little Mermaid and Tom Sawyer.
The GMS website features up to 100 photos of the 44 musicals available. Call 43241305 or email gosfordmuscial@bigpond.com.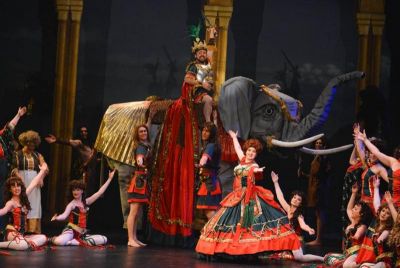 Ballarat Lyric Theatre
The Ballarat Lyric Theatre Inc has been supplying theatrical costumes to private individuals and other companies since 1963. Of particular note is that whole show sets are available to complement or complete another company's needs for shows such as Hairspray, Legally Blonde, Les Misérables, Phantom, Rock of Ages andCats.
This year it was one of very few companies to produce Rock of Ages, so it is currently 'swamped' with double-denim, animal prints, leather, plus mullet wigs! www.ballaratlyrictheatre.com.au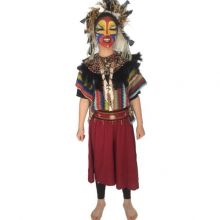 Costumes Without Drama
The Lion King is finally available for school productions, and Costumes Without Drama has a complete range of animal outfits and interpretive creations to suit. The base for the main characters of Simba, Mufasa and Scar are printed chiffon 'African Pants' and are worn with lion ears and gauntlets. The lionesses have metres of taupe chiffon linked with 'tribal' patterned bodices.
The resulting scene is one straight out of Africa, and teamed with hand painted giraffes and gazelles and of course the personality plus of Rafiki, and Zazu, The Lion King has never been so accessible to schools.
03 8838 2616
info@costumeswithoutdrama.com.au
www.costumeswithoutdrama.com.au
Masks and Puppets Plus
Tessa Wallis from Masks and Puppets plus showcased her skills at a Kabuki workshop arranged last year at the Drama Victoria conference.
"I researched the designs and created a set of 12 different masks. They have been ordered by several groups since," she said.
Kabuki is one of the three major classical theatres of Japan, along with Noh drama and Bunraku puppet theatre. Unlike Noh drama, which is solemn and ritualized, Kabuki is designed to entertain an audience with dramatic, often spectacular, effects.
Plays are performed using a combination of dramatic dialogue and dance, and accompanied by drums, flutes, stringed instruments called shamisen, and chanting.
For more information visit www.masksandpuppets.com.au
Image: Samantha Crust who organised the Kabuki workshop, holding a Kabuki mask by Tessa Wallis.