Many theatre companies which have costumes to hire for Fancy Dress are facing stiff competition from internet cheapies. Instead they are turning to renting out entire sets to other companies. A cross section is now listed on www.stagewhispers.com.au/costumes where entire sets can be promoted for $11 a year.
(pictured left - Grease - Gosfprd Musical Society).
GMS Costumes (NSW Central Coast)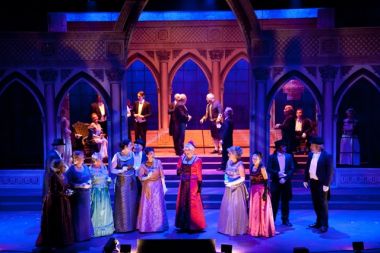 GMS Costumes Manager Leslie Normet says rental of entire sets of costumes helps companies which don't have the resources or storage space.
"We had the Ballina Players fly down to see our Sound of Music and said we'll take the lot," she said.
"We have five whole shows out at the moment including The Producers, The Wizard of Oz and Bugsy Malone."
A rental of a large set typically costs in the vicinity of $3000 plus laundry.
Almost no cast is too large. "We had 50 nuns in The Sound of Music. It was a sell-out."
Currently being made are Hairspray and A Christmas Carol.
www.gmscostumes.com.au features up to 100 pictures from the last 30 musicals performed by GMS.
Contact: gosfordmusical@bigpond.com or (02) 43241305
(pictured: Jekyll and Hyde - Gosford Musical Society)
CLOC Costumes and Properties (Vic)
Anyone who has attended one of CLOC Musical Theatre's productions knows the fantastic range of quality costumes on offer. CLOC is always adding to its extensive stock of costumes that cover every style and period from Sullivan to Sondheim.
Complete production sets include Singin' in the Rain, 42nd St, Crazy for You, Funny Girl, A Chorus Line, Company, Into the Woods, Chess, West Side Story, Chicago, The Boy from Oz, Hot Shoe Shuffle and the complete professional productions ofThe Wizard of OzandMan of La Mancha.
Visit: http://www.cloc.org.au/hire/hire_default.htm
Contact: 1300 826 788
Spotlight. Theatre (Gold Coast)
Just as prolific is the Spotlight Theatre Company.
"We produce a minimum of ten shows a year including two for kids," says Spotlight Theatre's Tony Alcock.
"We just sold off our Spamalot set, after a couple of hires. We've always got shows being built. A four metre Hairspray canister and a Drowsy Chaperone bi-plane which comfortably seats eight are currently up for grabs."
He says Spotlight beats on-line sellers because of the variety of stock they have.
"On the internet costumes are very similar, whereas we have a large retro wardrobe. Recently we did a steam punk wedding and our wigs were very popular for a big comic convention."
Visit http://spotlight-costume-hire.com/content.htm
Contact: (07) 55394700. Email mailbox@spotlighttheatre.com.au
Ballarat Lyric Theatre Costumes.
The company has over 3000 costumes that include their award-winning productions of Cats and Les Miserables. An old popular release is Joseph, a new popular release is their set from Hairspray. Ballarat Lyric is also the custodian of the professional costume set from Eureka.
The shop is open 4-6 Tuesday and Thursday night.
Visit: http://ballaratlyrictheatre.com.au/costume-hire/
Contact: (03) 53324817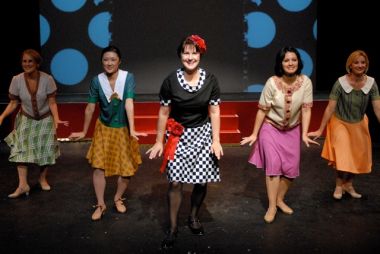 A Stitch in Time Saves Bankstown's Wardrobe Department (NSW)
While extensive renovations were being completed by their local council, Bankstown Theatre Company in western Sydney was forced to find other premises for their rehearsals and performances. This caused a myriad of problems for their famous wardrobe department.
"Fortunately, we are back" said Wardrobe Master, Tony Attard. "We have returned to our home at the Bankstown Arts Centre and the enthusiasm to get back to business is amazing. For decades, our dedicated volunteer staff has been working together to supply costumes to theatre companies throughout Sydney and beyond."
One wardrobe stalwart, Betty Cairncross, spoke up proudly. "The time out in the cold proved to be one of the best things that could have happened to our wardrobe department," she said. "It has caused us to look at every single costume we owned, and to freshen them up or to replace them with sparkling new outfits."
http://www.bankstowntheatrecompany.com/index.html
Contact: 0449 882 533
Confessions of a Costume Maker
By Tracey Nuthall from Costumes Without Drama.
http://costumeswithoutdrama.com.au/
Costume makers have the privilege of working with some amazingly creative designers. The problem with this is that sometimes they ask for the impossible, or what they have in their mind is very different to what they draw or describe.
Take one job I was given several years ago to design the most magnificent drawing of a pair of flowing robes, with an explicit and exquisite floral design. Finding a fabric to match this started out as a mission impossible. Then when all was lost, at the very bottom of a huge rack of fabric, the EXACT colour and design fabric appeared. I literally danced out of the fabric shop. All the colours the designer had used were in the fabric, all the swirls and patterns drawn in the picture were replicated on the fabric.
I lovingly made the robes, which looked, to my eye, to be exactly like the picture. On the day the designer came to see my progress I proudly showed her my dresses, to watch her face fall with disappointment. She exclaimed that it was nothing like what she was expecting… and pulled some shiny lycra from her bag… lycra with a very shiny square pattern… black lycra with shiny squares, which in no way looked anything like the swirling floral design with blue, grey and white.
When asked why she drew those colours and the swirling design if she wanted shiny squares, she said that this was her artistic way of drawing.
Anyone who has created a costume from a picture lovingly drawn by a designer will feel this pain…
I also had the privilege of working for a school which used their senior students to design the sets, props and costumes for their concert. This is always an exciting environment in which to work. Young people have wonderful ideas, and when faced with opportunities like this, I just want to do justice to the exquisite drawings.
Fortunately the student in charge of the costumes is a very talented young lady, and was so excited to see all her pictures come to life. I may not have slept for the previous month, and you could smell my brain frying as I tried to work out how to actually turn the pictures into costumes, but no one went on stage without a costume….
Originally published in the July / August 2013 edition of Stage Whispers.