New Plymouth Operatic
New Plymouth Operatic have a collection of sets, props and/or costumes for 23 of the biggest and best musicals around, available for hire across Australia and New Zealand. Recent additions include Sister Act, Mamma Mia! and Wicked, and more new exciting titles will be added soon. All products are professionally designed, and done with touring in mind. Full catalogue including photos is available online at http://npos.co.nz/show-rentals/
CLOC's Costume Cavalcade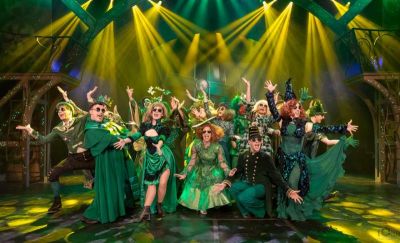 Walking through the aisles of CLOC Musical Theatre Company's Costume Resource Centre (CRC) is a stroll through centuries of style, fashion, colours, history and memories. This collection has well over 12,000 items from 107 productions over 53 years stored, catalogued and managed. It includes dresses, coats, suits, shirts, bowties, shoes, hats, bags, gloves, scarves, jewellery, wigs and everything in between.
Leading the dedicated CLOC costume team of loyal sewers and milliners is a formidable duo – Costume Designer/Co-ordinator Victoria Horne and her off-sider Melinda Peebles. They have worked together on 14 CLOC shows. Highlights include CLOC's 100th production, 42nd Street, the very green Wicked, Mary Poppins (where Vicky won a Music Theatre Guild award for costume design), and then the dystopian designs of last year's Guild Production of the Year Jesus Christ Superstar, followed by the historical accuracy and splendour of Les Misérables this year.
Vicky and Melinda are working on CLOC's current production, A Chorus Line. After that, Vicky cannot wait to let rip with her love of sequins, feathers, taffeta and tuille when CLOC produces Strictly Ballroom.
Anyone who has seen a CLOC show in recent years will attest to the success of Vicky's vision and her team's artistry, skill, talents and commitment to excellence.
Stage School Costume Department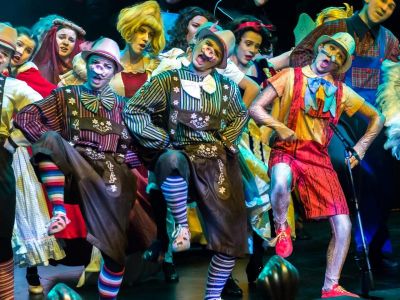 Costumes bring a performance to life, which is why the Costume Department at Stage School Australia goes to extraordinary lengths to create and design costumes that dazzle.
Jakarta, Indonesia, is a mecca for fabric, with streets lined with patterns and markets four stories high filled with fabric, trims and buttons. So, you can imagine the paradise Jennifer McKenzie, the Head of Costume at Stage School, was in last month when she went to visit.
Jennifer found amazing laces that will update theTitanic costume set, as well as incredible trims that will spruce up the period drama costumes. She has also taken inspiration from an Indonesian fabric dying technique.
"The technique is called Batik," Jennifer said.
"They use wax to prevent the dye from penetrating the cloth, leaving some areas blank to create patterns."
With the Young Australian Broadway Chorus production of Wicked in the works, there will be no shortage of designs to put all of these new fabrics and patterns to use.
But the costumes won't all be new. The Costume Department recycle and upcycle old costumes, making sure nothing with a little bit of soul left is wasted. Wardrobe Assistant, Sean Rentaro, said "we have pieces that have lived countless lives."
"We are constantly styling strange objects to resemble things like under the sea creatures. I even turned a tent into an elephant for the school holiday production of Aladdin."
"We had this very, very old hand-made lace donated to us years ago," said Sean. "But it had been lying in wait until we did The Secret Garden, when we decided to use it in the dresses made for the lead girls."
To access one of the most extensive wardrobes of costumes in Victoria, contact the Costume Department on (03) 8199 8345 or visit the website:
www.stageschool.com.au/costume-hire
Masks and Puppets Plus

Images of masks by Melbourne artist Tessa Wallis were chosen by the Classics Theatre of Rochester New York for the promotion of The Theban Plays of Sophocles in August.
Oedipus Rex, Oedipus at Colonus and Antigone will be presented in a modern translation by Canadian scholar, Ian Johnson.
"These three plays of the ancient Greek master lie at the very root of western drama and were adapted here in condensed form as a cohesive trilogy," artistic director James Landers said.
Classics Theatre of Rochester is an educationally-based theatre dedicated to reviving great works of dramatic literature. "I was delighted my masks were chosen to appear on its promotion," said Tessa Wallis.
"I have worked hard for many years to supply masks to clients everywhere, both in Australia and internationally.
Tessa Wallis mask designs are versatile, comfortable and durable. They are made to order and hand crafted from quality materials.
Masks include; Commedia dell'Arte masks, masks for Greek or Roman mythology, Japanese Kabuki masks, masks of domestic and wild animals and witches or fantasy masks.
Email Orders: Masks & Puppets Plus. tessa@masksandpuppets.com.au
Image: "Greek" masks by Tessa Wallis chosen by the Classics Theatre, Rochester, New York for its promotion of The Theban Plays of Sophocles.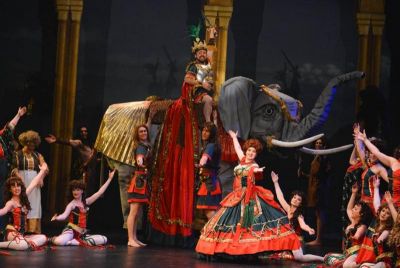 Ballarat Lyric Theatre
The Ballarat Lyric Theatre Inc has been supplying theatrical costumes to private individuals and other companies since 1963. Of particular note is that whole show sets are available to complement or complete another company's needs for shows such as Hairspray, Legally Blonde, Les Misérables, Phantom, Rock of Ages and Cats.
Last year Ballarat Lyric was one of very few companies to produce Rock of Ages, so it is currently 'swamped' with double-denim, neon, animal prints, leather, plus mullet wigs! www.ballaratlyrictheatre.com.au
Tues & Thur 4-5.30pmor by appointment. Ph: Marie 0439 700 219.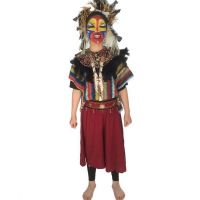 Costumes Without Drama
The Lion King is finally available for school productions, and Costumes Without Drama has a complete range of animal outfits and interpretive creations to suit. The base for the main characters of Simba, Mufasa and Scar are printed chiffon 'African Pants'which are worn with lion ears and gauntlets. The lionesses have metres of taupe chiffon linked with 'tribal' patterned bodices.
The resulting scene is one straight out of Africa, and teamed with hand painted giraffes and gazelles and of course the personality plus of Rafiki, and Zazu, The Lion King has never been so accessible to schools.
03 8838 2616
info@costumeswithoutdrama.com.au
www.costumeswithoutdrama.com.au
A Revolution in Pyrotechnics is Here.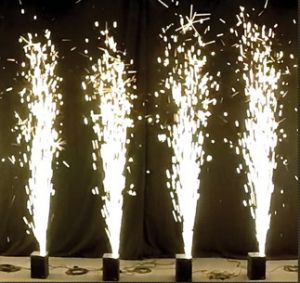 SPARKULAR – the world's first firework machine.
Geelong Fireworks reports:
Many venues do not allow indoor pyrotechnics for productions, citing fire risk, smoke, smell etc. However, recent advances in technology have produced a non-firework machine that gives the same effect as indoor pyrotechnics.
It is not classified as a dangerous good; it uses no gun powder and produces no heat.
If your actors get too close to the Sparkular silver fountains it is not a problem as the operator can immediately stop and restart. Even if they do get too close, it is not an issue, as Sparkular is unique!
We have held sheets of paper over it, our arm, styrofoam, cellophane and even a feather duster, not to mention holding a smoke alarm in the middle of the silver fountain effect.
Sparkular has zero effect on these items.
Geelong Fireworks is one of the very few select companies to offer Sparkular - The Next Generation of Indoor Fireworks to its customers.
Here is the link where you can see this machine in action.
http://www.geelongfireworks.com.au/sparkular.php