Catherine Creighton and Victoria Gridley both moved to Wellington from Australia at the beginning of 2015 to follow their creative passion for textiles and to study Costume Construction at Toi Whakaari: New Zealand Drama School.
"Within the first two months I could already see a difference in my work, in the way that it was done and presented," says Vic.
Costume students collaborate with the New Zealand School of Dance on their major performance events, as well as being actively involved in the shows and performance projects at Toi Whakaari. In addition, the annual Costume Showcase is an opportunity for the graduating costumiers to work on a live performance event that showcases their own major works.
The first year Costume Construction students are currently working on Restoration period pieces.
"You're producing work that you get to see up on stage, what it looks like in a performance environment and moving around," says Cat. "The learning environment at Toi Whakaari is completely different from anything else I've experienced and it feels like it prepares you more for the real world than any of the universities I've been to," adds Vic. Cat and Vic both started out making Cosplay costumes before going to Melbourne to get degrees in science and animation respectively.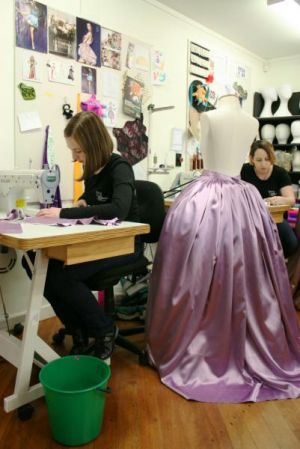 Part of the process
"I find the structures the school uses to teach really grounding. It's a strong base that applies to everything," comments Vic on the collaborative teaching environment at Toi Whakaari. "The course is a bit like an internship in a way; you're learning as well as creating work that is used by the rest of the school, which is awesome."
Twice a week the future costumiers join other students from the Acting, Design, Technology and Management courses for kōiwi. It'swhere the students and staff gather in one of the big studios to practice the skills of collaboration and responsibility. It's a way for Toi Whakaari tokeep creating a culture that enables the teaching and learning to be ongoing and life giving. "The way kōiwi makes the school work together has affected the way we learn; we listen and we do, we respond as necessary to the work we have to do and just get on with it, which is really good," says Vic.
Fitting in
Cat and Vic feel at home in New Zealand. "Everyone is just so polite and giving here. I haven't met a mean Kiwi yet," says Vic. Both students have been juggling school and work to get by. It's not just about money for the necessities according to Cat, "but just meeting new people and learning different skills, so that I can combine all my work skills and my school skills and become a more well-rounded, mature adult."
The Diploma in Costume Construction is the only course in New Zealand that specialises in costume for stage and screen. It's taught by some of today's best industry professionals and aims to provide students with skills in all forms of costume construction and production, leading to employment in theatre, film and allied industries.
Click here to read our free online Directory to Performing Arts Courses 2016