Master Sydney set builders Bob and Col Peet are on a mission to terminate drab looking props and sets. The brothers say making them sparkle is straightforward. The answer is to just to add 'make-up'. Older brother Bob revealed some of his secrets to delegates at last year's Association of Community Theatre Stagecraft conference.
An old puppet master once told me not to be shy of over doing things with shading. He always said everything has to have make-up. You've got to see it from the stalls.
I very rarely use one colour or plain colours. God knows how many shows we have been to and people haven't used any imagination – shading or other techniques on the wall flats - so you end up with a dead boring set. For instance in this picture (left) I am holding a sheet of board painted grey. Half of it is flicked with a paint brush. That breaks up a fairly boring look, particularly if there is a lot of wall surface.
I have been doing that with black sets in The Phantom of the Opera. I have flicked black with a couple of colours. There is nothing as boring as looking at a lot of black flats or grey flats or whatever. At least this gives it some dimension.With the flicking here I start off with a watery white, then a slightly darker grey, then black. You can use brighter colours if you want. You can see the difference. I painted the whole board grey then I masked half of it and flicked the other half.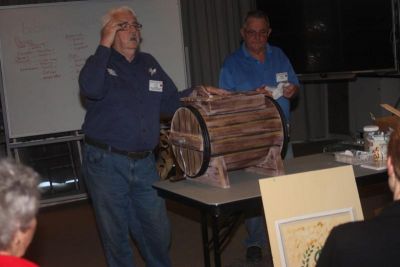 Another example is this butter churn from Oklahoma! This is a prop that's not being used very often so we had to make one. It shows what can be achieved with almost nothing. The actual churn is just a cardboard drum, picked up in the recycling.There are some shaped timber bits screwed onto it – two at the bottom for legs and two at the top and the handle comes from a meat grinder we found.
It was painted in a fairly plain light brown colour. This time I streaked it with a couple of colours, a darker brown and ochre. The streaking process can be done with a fairly dry brush.
I find the simplest way is to make your own tools. I bought a rubber squeegee that is used for silk screen printing from a hardware store. Because they have a square bottom, I cut v shapes with scissors so you end up with a tool that resembles a comb.
I dip the comb into fairly watery paint, making sure there is not too much paint. Then I simply drag it in rows with a couple of colours including a few dark shade lines in black. Suddenly your cardboard tube looks like old timber. It might look odd up close, just like actor's faces with make-up can look grotesque, but if you see them from the back of the stalls you appreciate why you need this exaggerated texture.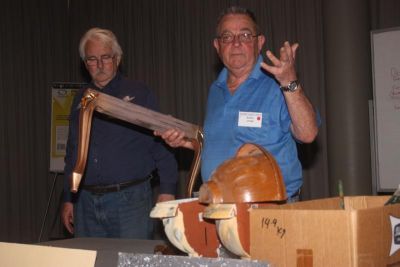 Furniture also needs make up. The leg of this chair which is nearest to my chest is sprayed with gold paint. It looks OK but it looks like it has been sprayed with gold paint.
The other leg I washed with a brown ochre. I wiped it off straight away but made sure a reasonable amount of brown stuck to the cracks. You can see the grooves are highlighted in that leg. Period furniture can be made to look even better using this technique.
Up the top near Col's chin you can see quite a shiny bit of gold. I use synthetic gold leaf that is cheap as chips and very easy to apply. I painted the top part of the decoration brown then packed glue over it, and using a very soft brush tapped the gold leaf into place. You let it dry for a day then come back with the same soft brush and tidy up the surface. You also have to apply a clear gloss to maintain it. It looks like a million dollars because the gold has stuck to the highlighted parts but the cracks have darker brown.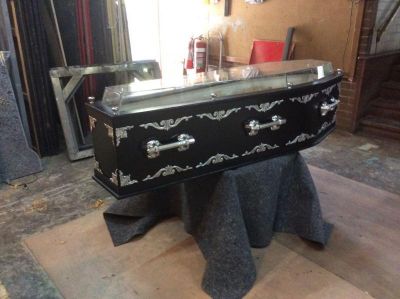 Here is a glimpse of what the finished product can look like. This is a coffin I have built for a forthcoming production of Evita. It looks for an icon.
* Col and Bob Peet have combined more than a century of prop and set building experience. For advice from them or to hire sets from the Miranda Musical Society contact Bob: bob.peet@bigpond.com
Orignally published in the January / February 2015 edition of Stage Whispers.