Storing props can be a major headache, but Melbourne company Event Affairs is showcasing collapsible props in its latest sale.
The variety on offer includes collapsible tribal huts complete with self-supporting large tree trunk frames. These can be garnished with jungle vines and garlands of colourful tropical flowers.
A show stopper is a collapsible Moulin Rouge Windmill with rotating wings and LED lights.
There is also a large Ancient Greek portico, Venetian masks to go with a gondola, display carts for a market scene and ornate oval mirrors fit for an opulent palace.
A complete superhero set is available. "Gotham City" has all four Super Heroes over 3m high flats complete with a fabric backdrop of city skyscrapers.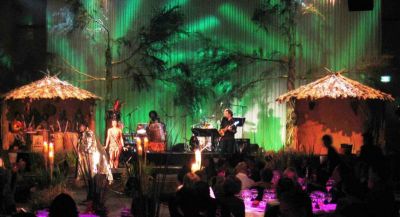 Event Affairs has a huge selection of fabrics including original Indian jewelled saris and drapes.
The company says the cabaret/ showgirl look is catered for by "a stunning collection of full size mannequins – complete with make-up and stunning costumes, torsos, dancing legs & glamorous hands."
And their Christmas props include golden reindeers, oversized baubles and "Charles Dickens" centrepieces.
Event Affairs promises a complimentary expresso coffee when you make an appointment to inspect their East St Kilda showroom / warehouse. Phone (03) 9510 2828 or emailKlaudia@eventaffairs.com.au