Sydney and Melbourne audiences are being treated to the spectacle of Opera Australia's new production of The Magic Flute, replicated from The New York Met production under the original direction of Julie Taymor. Head of Props at Opera Australia Mat Lawrence explains how it was stitched together.
We pretty much followed the New York Met design but had to scale it back 25% as the stage of The Sydney Opera House is smaller than the Met. It was one of the most elaborate and technical productions I have been involved in, especially as we have to get everything off stage with very little wing space.
We built the props to last at least ten years. The challenge is to make something that looks ethereal but is very strong. The Bears were made from silk, hand painted and sown up. I chose spring steel because it is incredibly strong and can bounce back. But the downside is that it is initially hard to work with. They took a team of up to four people a couple of months to build. We made a prototype first for use in rehearsal before we went into 'mass' production.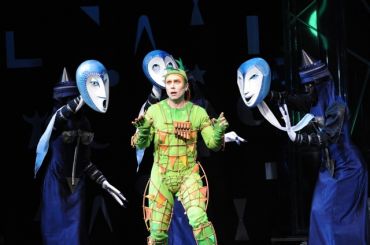 There is also a large goose with a span of about four and half metres that needs two operators to get the wings to flap. It has to be manoeuvred around to look graceful. At first it was top heavy and needed a lot of refinement. I used a saddle we had from another production. To make it incredibly lightweight we made the framework out of aluminium, a foam sheet was sculptured for the neck and head with carbon fibre over the top of that. All the feathers were made from silk.
The little birds and the headpiece for Papegano were made from piano wire, silks and hand painted. The big serpent also had to be incredibly durable as well as being lightweight. It was made from carbon fibre with silk on the outside backed up by fibreglass mesh, so it looked delicate but was very strong.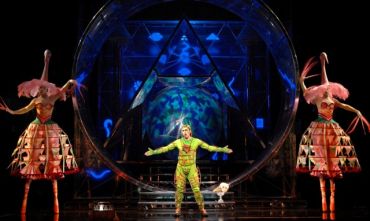 What tips do you have for prop makers?
You get the best understanding about what a creative team wants by waiting until the rehearsal period starts. Most wastage occurs by making something you believe will be needed but they end up using something else. For instance, we have a stock of stand-in props that can be used in rehearsal. This allows them to work through the creative process. I usually start work on the larger pieces and leave the smaller ones until later on.
(Mat Lawrence has been Head of Props at Opera Australia for three years. He trained at the Welsh College of Theatre and Drama and has been in work ever since).
Originally published in the March / April 2012 edition of Stage Whispers.
Images: (from top) Andrew Brunsdon as Tamino; Andrew Jones as Papageno and the Three Ladies, and Andrew Jones as Papageno, in Opera Australia's 'The Magic Flute. Photographer: Branco Gaica.