When Dame Julie Andrews was asked to direct the 60th anniversary production of My Fair Lady in Australia, she insisted on recreating the original production design from the premiere Broadway production in 1956, which she starred in. John David Ridge, the last living link to the original designer Cecil Beaton, has spent 18 months re-creating it. David Spicer reports.
I waltzed into Opera Australia's Sydney costume workshop only a few days out from the first dress rehearsal and dozens of workers were putting the finishing touches to dresses, wigs and hats. On one table the glittering ballroom dress for Eliza was being made, but I was forbidden to take any photos of the white silk and bead garment.
70 year old John David Ridge took me into a private dressing room for a chat and drew the curtains. In 1976, then a 23 year old costume maker, he was assigned to assist Sir Cecil Beaton remake the legendary 1956 design of My Fair Lady for a Broadway revival. Beaton, an Academy Award winning designer, painter and war photographer, was not in good health and died a few years later.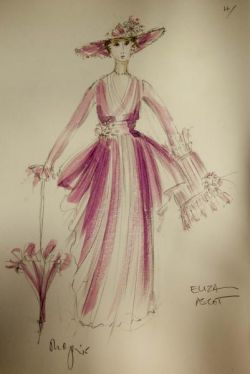 Ridge thought he would never need to look at the sketches again. "Cecil didn't leave them to anyone. Most of them were given away," he said.
"I had photostats of some of the original sketches put together in 76. I keep everything. I pulled them out. I also spent a few days in the Library of the Performing Arts at the Lincoln Centre, which has incredible photographs of every Broadway production. Then I spent three months re-drawing them."
Was it worth the effort to dig up an old design? Most definitely yes he says, because the original was "brilliant" and Cecil Beaton absolutely "nailed 1912".
"There have been many productions of My Fair Lady. I don't think anybody has gone close to what Cecil did. It was a brilliant design job. You see people do variations on his black and white Ascot. They are never as good as the original."
Why was it so good?
"He progresses the plot of the show. He starts with the cockneys, who Shaw (a socialist) considered the real people of the show.
"There is a slow build. First we see Eliza (described by Higgins as a squashed cabbage leaf) in Covent Garden. She is a filthy flower girl. Julie Andrews did some research. The cockneys never had a bath They slept in their clothes because it was so cold.
"Then she gets cleaned up, but nothing fancy, for The Rain in Spain. Then she gets dressed up for Ascot, and finally she is beautiful for the ball."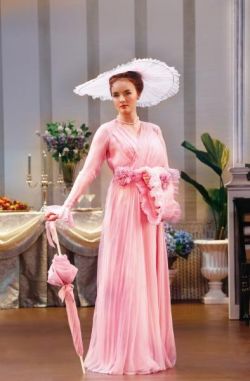 The first moment for Eliza Doolittle to shine is when Higgins takes her to the races.
"The people in the Ascot Gavotte were upper class twits. They are brainless, shallow and vapid, only concerned with surface.
"Then you have the international ball end of act one. Because it is international they are not all upper class nitwits.
"By this time she has started to fall for Higgins. It is the most romantic scene, in a flower garden full of pale pastel chiffons. In the Waltz we see miles of chiffons floating in the air and we can see she is falling in love.
"Cecil helped tell the story with his designs. They are lovely as they should be, but they are really good when they help tell you a story."
To recreate the original costumes, John sourced material from around the world. He started in Munich for the bulk of the silk, then London for principals' costume silk and for Higgins' wool, then finally New York for bits he couldn't find anywhere else. Much of the beading was sourced from Los Angeles. He supervised the sewing by Skype.
"In order to look like the original we had to use the techniques they did. The hand embroidery is hand embroidered. The silk flowers are silk flowers.
"This is thanks to a brilliant man in Huskisson (NSW South Coast) who is last man in Australia who makes them."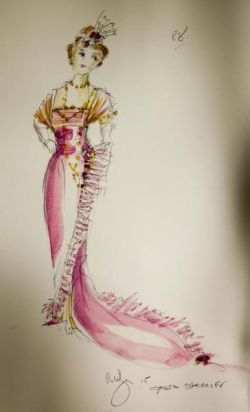 He could have purchased a Chinese boutonniere for 25 cents but it would not have looked right.
"They need to drip wealth and hold up through many performances. When we last did a revival in 1980 we did the entire thing with New York flower makers and embroiders. All those people don't exist anymore.
The whole exercise "is terribly labour intensive." He says musicals with 200 plus costumes are now much rarer.
"You used to have 40 in the chorus, each with five costumes. The most recent one like that was Phantom," he laments.
But for this production at least there is no compromise. Everything is made new and authentically.
Well almost - "Sometimes I can't remember exactly what we did and Julie Andrews can't remember; we have to work out what most likely happened."
And sometimes he has borrowed an item from the Opera Australia costume store.
"When I was short of a cockney hat, I found one off the rack. Also when I needed some cockney shoes I found them and gave them a few more knocks."
He describes it as a 99 percent new production - as all the hat makers in Sydney, busy on the project, can attest to. A feast for the eyes and ears awaits the audience.
Originally published in the September / October 2016 edition of Stage Whispers.
Production photos by Jeff Busby. Drawings by John David Ridge.