Mark Thompson gives us the lowdown on one of his latest masterpieces as seen on stage in Opera Australia's new production of The Force of Destiny.
Who is the character wearing the dress?
Leonora (soprano), daughter of the Marchese Di Calatrava.
When does she wear it in the Opera?
This is worn only in the first scene Act One; her maids undress her just before her hurried departure from home.
How many layers are in it?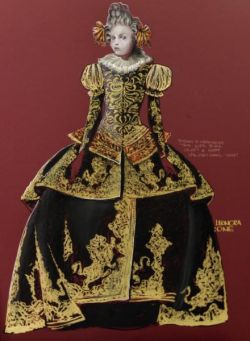 A base fine cotton shift, a wide shaped Infanta style crinoline cage, a heavy quilted petticoat, a fully fitted, handmade corset and then the furniture upholstery grade top fabric that was hand finished in India.
What fabric did you use?
Heavy self embossed upholstery fabric.
Why?
To ensure that the final shape accurately reflected the period feel.
What did it the material cost (excluding Labour)?
Some of the petticoat fabric was about $3.00 on eBay and the top fabric was over dyed and priced at about $30 a metre.
How long did it take to make?
Over approx 12 months and this includes the initial design, the design and fabrication of the crinoline, the drafting and copying of the embroidered design prior to sending it to India, the drafting and cutting of a calico toile to check proportions and fit and then the final construction of the top layers as well as the under garments. The costume was drafted and cut by a senior cutter and costumier Beryl Waldren working with a team of six skilled Opera Australia costume makers and artisans.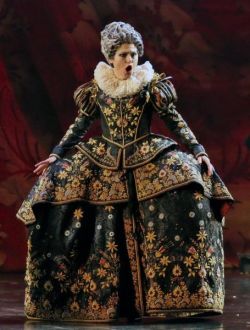 Was the gold embroidery hand sown?
Yes, the multi-coloured gold threads and silver highlights were all hand sewn to exact copies provided by the workroom and designer. This type of work is known as zari or zardossi and is often carried out by teams of men, squatting around the tightly framed fabric. The company has a close working relationship with one of India's best fabric workshops, this has been developed and fostered by the Company Buyer, Miranda Brock. What are the practical challenges of wearing such a heavy garment under lights in this opera?
Weight and heat. 
In an attempt to reduce the heat stress factor, the sleeves are tied in at the sleeve head to the bodice. This allows for a reduction in fabric and air access. As this dress is removed onstage, it has been constructed to "appear " to be an accurate period construction but shortcuts have been taken to allow the maids to remove the bodice, the sleeves and the various layers down to Leonora's plain cotton shift as she changes into a man's coat and boots.
The Force of Destiny plays at Joan Sutherland Theatre at Sydney Opera House from Saturday 29 June to Tuesday 23 July 2013.
Bookings
Opera Australia Box Office phone: (02) 9318 8200
Production images by Prudence Upton.