Company Profile: Bunbury Musical Comedy Group Inc. W.A.
Glen Perks, Ian Clarke and Peter Procter report on the 50th Anniversary of Bunbury Musical Comedy Group.
In the late 1950's, in the days before Television, a group of enthusiastic amateurs got together and decided to form an amateur musical society. Each contributed 5 Pounds (£25 in total) and The Bunbury Musical Comedy Group Inc. was born.
Bunbury is a port town in the SW of W.A., 170 kilometres south of Perth, with a population of about 30,000.
The group needed to find actors, singers, musicians, set builders, seamstresses, and so the list went on. A decision was made to perform The Desert Song as the first show in 1960.
Sets were built, costumes sewed and fitted to the cast. Lights were made from large fruit tins. This was done by members, sometimes at home, but more likely as 'foreign orders' at their work-place, a practice that delivered quite a lot of equipment to the group, such as trusses to carry lights and dimmer racks (a bit crude, but they worked).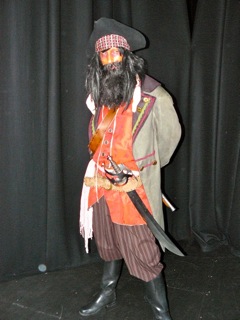 Just about all of this work was done by tradesmen, electricians, boilermakers, fitters, painters etc., and anyone else who could turn their hand to practical things.The work was long and arduous.
There was only one suitable venue available, The Railway Institute. The stage was small but the hall could seat 400 people.
Eventually the show hit the stage, played four nights a week for a month, and filled the hall every performance. In 1960 there was no TV, only two cinemas, and people were looking for other forms or entertainment. Our profit for all the effort was £1, but we paid all the bills.
The next year we performed The Student Prince, once again very successfully. Encouraged by our success, we pressed on with shows like Oklahoma!, Carousel and Umbulgurri, a locally written show. Others were Maid of the Mountains, No No Nanette and White Horse Inn. My Fair Lady was produced for the first time in 1977. It was also the first show produced at The New Lyric Theatre in 1995 (our new 200-seat home). It is for this reason that My Fair Lady has been chosen to be our major production for this, our Golden Jubilee year.
We have also produced Picnic at Hanging Rock, a vehicle chosen for our Stage Light Youth Theatre group. Some other productions over the years have been Fiddler on the Roof, Jekyll & Hyde, The King and I, Wizard of Oz, and the Australian premiere of Blackbeard – The Musical.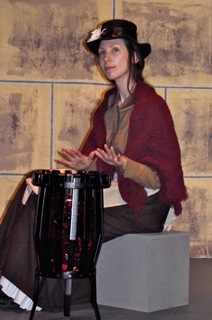 All profits, if any, are ploughed back into the group to purchase equipment and maintain The New Lyric etc. Early in our life, when money was short, the group bought one spotlight from Strand Electrics in Perth and Keith King and helpers proceeded to build ten lights. Being good tradesmen, they were probably better than the original. Problem was, Strand Electrics refused to supply lenses for them. The lenses were obtained from elsewhere.
In 1982, we moved from The Railway Institute to the heritage listed Paisley Centre. The Bunbury City Council turned the old Central School (the original Bunbury school) into a cosy and functional theatre.
In 1962, the committee of the time wisely purchased a block of land with the view of building 'a home of our own.' On it they built a storage facility, commonly known as 'the shed.' It incorporated a wardrobe (rapidly expanding). Also stored was our collection of scenery and props (also rapidly expanding). The sale of this property enabled the Group to purchase a building in Bourke Street
In 1994, Bunbury City Council decided not to renew our lease on Paisley. This hastened our plans to convert Bourke Street into a theatre. After a frenzy of activity by a dedicated group of volunteers, The New Lyric Theatre opened with My Fair Lady in October 1995.
The New Lyric takes its name from the first theatre built in Bunbury, in 1903. This building, now a furniture store, still stands on the corner of Victoria and Symond Streets.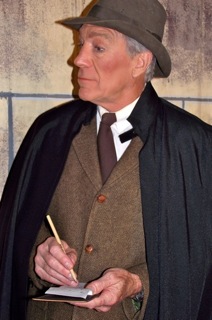 Since opening the New Lyric in 1995, we have staged at least 30 shows including Jesus Christ Superstar (twice), My Fair Lady (twice) and The Best Little Whorehouse in Texas, to name a few.
We not only perform and rehearse at The New Lyric, we run youth theatre, dance groups and hire the 'Stage Light' room, while the theatre is open for hire to visiting companies.
This year BMCG and Bunbury Repertory Club are in the process of negotiating an agreement to share The New Lyric. This will bring the two amateur theatre groups together under one roof, which, we believe, can only benefit Performing Arts in Bunbury and district.
Over the years, BMCG has been known for the high standard of productions and the professional manner in which they are performed.Over the 50 years we have produced approximately 160 shows. All have been enjoyed by our audience.
When TV started, like elsewhere, live theatre suffered. However, it appears that we can now compete with other distractions.
To help celebrate our Golden Jubilee, in addition to the productions, we plan a Gala Ball and a revue show combining songs from 50 years of musical theatre.
As with many theatres around Australia, Bunbury Musical Comedy Group strives to bring great theatre to the community. We do what we do through the sheer love of 'The Arts'. We aim to nurture the dreams and aspirations of our youth, and the ability of our adult members, while living up to the vision of our founders.
While the passion for theatre lives in the hearts of our members and audience, may BMCG and The New Lyric Theatre continue to bring pleasure and performance for another 50 years and beyond.
Glen Perks (President), Ian Clarke (Life Member), Peter Procter (Past President & Life Member).
Originally published in the September / October 2010 Edition of Stage Whispers.