In Brisbane's suburbs a remarkable community theatre is marking its 64th year of continuous production in 2012. In that time the Villanova Players has helped train many stars of the future and staged at least 20 premieres of plays by Queenslanders. Peter Pinne reports it was once even a stepping stone to Broadway.
Villanova Players was originally set-up by Irish priest John Louis Hanrahan of the Order of St. Augustin's. He was one of four Irish priests sent to Australia in 1948 with the purpose of creating a boys' school in Brisbane. Hanrahan was assisted by his friend Gabriel Fallon, an actor from the Abbey Theatre in Dublin, Donagh McDonagh, editor of the Brisbane Catholic Leader newspaper, and Pat and Vince Fogerty.
Hanrahan was a teacher at Villanova College, which in those days was situated in an upmarket area in north-east Brisbane. The group was attached to the College, and when the College moved in 1953 to Cooporoo, Villanova Players moved with them. Their base today is in Morningside.
Their first play was Chekov's The Proposal. Classics were always part of Villanova's early seasons. J.B. Priestly'sAn Inspector Calls appeared in 1949, Arms and the Man and Juno and the Paycock in 1950, and Journey's End in 1952.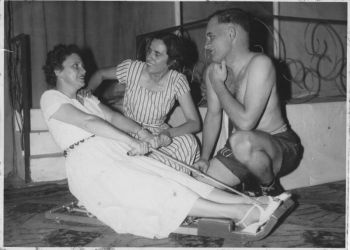 In the early years they played in the Albert Hall, Brisbane City (where the Suncorp building stands today), and St James's Hall, Cooporoo, a Parish Hall that had originally been a silent movie house.
Popular plays presented during the 50s were Our Hearts Were Young and Gay (1954), Cheaper by the Dozen (1955), You Can't Take It With You (1956), Father of the Bride (1957) and Heaven Can Wait (1958).
The 1960s offered My Three Angels (1960), Teahouse of the August Moon (1962), Sailor Beware (1964), A Man for All Seasons (1966), The Glass Menagerie (1967) and The Diary of Anne Frank (1968).
Playwright Barbara Stellmach joined the group in the 1960s and that was the beginning of Villanova's long association with Australian plays. Starting with a production of her own play Dark Heritage (1964), they presentedThe Shifting Heart (1965), The Night of the Ding Dong (1967), The One Day of the Year (1969), Summer of the Seventeenth Doll (1972) andSlaughter of St Theresa's Day (1979).
Sandwiched in between all of these Australian classics were premiere productions of plays by Queensland playwrights, to date over 20. Stellmach created eleven titles including From the 14th Floor You Can See the Harbour Bridge (1979), Jill Shearer, who went on to have her play Shimada produced on Broadway in 1992, premiered Who the Hell Needs Whipbirds (1974) and Ships That Pass (1981), while Ian Austin's Change of Heartturned up in 1988, and Lorna Bol's The Big 50 in 2003. Errol O'Neil's Faces in the Street was a 2000 entry, with Margery Forde's Snapshots from Home appearing in 2002.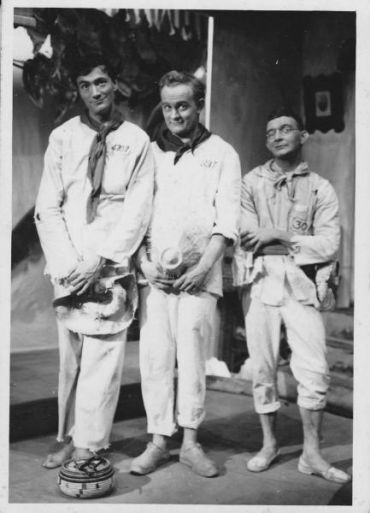 Villanova's first musical Little Me (1983) was followed a year later with the musical 'whodunit' Something's Afoot (1984), the melodrama The Furtive Fortunes of Fickle Fate (1987), the Aussie folk tale Reedy River (1995), Dan Goggin's Nunsense (2001), the local Live at the Trocadero (2009), and the popular stage adaptation of Hugh Lunn's book Over the Top With Jim (2006).
In 2005 the group ambitiously premiered Lottie – The Musical, a work about the Australian silent film actress Lottie Lyell and her romance with film. It was a bold production with strong characters and a good book, and has since been presented as part of Magnormos's OzMade Musicals 2010, in Melbourne.
In 1970 the group moved to the recently vacated St Luke's school building in Buranda, where they converted the ground floor into a 120 seat theatre. Then in 2000 Villanova moved their productions to the McElligott Theatre, South Brisbane, with another move in 2004 to "The Theatre" at Seven Hills TAFE, Morningside, where they remain today.
Up until the 1990s the group had always operated out of church venues. The church has never influenced the content or plays presented by the group, but their charter does contain a clause that says they "may present anything so long as it is not inconsistent with Catholic thought." This was never enforced.
According to President Leo Bradley, "there was a period in the mid to late 90s when the group was going backwards both financially and culturally. In early 2001-2002 we went through a very engaging strategic planning exercise to refocus our efforts on what was important. It helped us enormously to build audience, membership and a more solid financial plan."
Well-known performers who started their careers at Villanova include1960s and 70s TV personality Bernard King; Murray Foy, who went on to NIDA, QTC, and later ran the New England Theatre Company; Margery Forde, who worked in Theatre Restaurant with David Bermingham and for QTC (A Rum Do - 1970); Lawrence Hodge, who also worked for QTC and in movies, and musical theatre star Judi Connelli, whose first show with the group wasBrush With a Body (1966). Connelli, most recently seen in Mary Poppins, is still a patron of the group.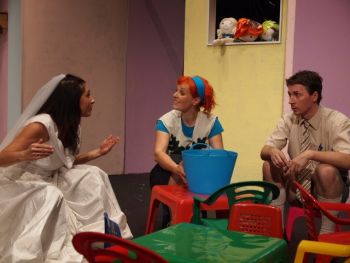 Today Father Hanrahan's name lives on as the name of the theatre at Villanova College. It is dedicated to him. Gabriel Fallon, one of the other founders, returned to Ireland and became a drama critic.
Villanova's most successful production in recent years was Hugh Lunn's Over the Top With Jim in 2006, which sold almost 2,000 tickets. To Kill a Mockingbird in 2005 was very popular (audience 1,450), as was Shakespeare'sAs You Like It in 2004. The locally written musicals Live at the Trocadero (2009) (audience 900), and Lottie: The Musical (2005) (audience 1,250) have been very successful artistically and financially.
According to Leo Bradley, "It is one reason we are not shy of promoting locally written plays and musicals, as we find they are every bit as good as modern European or American theatre and just as challenging and rewarding for audiences and performers. They make money for Villanova and the playwrights, and people come to see locally written pieces."
Their 2012 season begins with David Williamson's Money and Friends, The second play is Steve Martin's Picasso at the Lapin Agile, to be followed by Joe O'Byrne's En Suite, and Alexander Ostrovsky's Diary of a Scoundrel.
The lyric to the old Beatles song "When I'm Sixty Four" asks the question "will you still need me, when I'm sixty four?" The answer in the case of Villanova Players is a resounding yes. Since its inception, Brisbane theatergoers have not only benefited from their eclectic mix of plays, but with their dedication to Australian plays, the group has been an important outlet for local playwrights to have their work produced. Long may they continue.
Thanks in the preparation of this article to Leo Wockner, Leo Bradley, and Andrew Heron.
Originally published in the March / April 2012 edition of Stage Whispers.