New Hamer Hall art works announced
Artist Robert Owen and lighting designers Electrolight have been chosen to create two major new works of art for the redeveloped Hamer Hall.
The Arts Centre received close to 30 expressions of interest for the works, which will in part light the two new foyer spaces formerly occupied by Arcturus.
"We are delighted to announce the appointment, via a very competitive selection process, of Robert Owen and Rachel Burke to create light and sculpture works for this next chapter of the Hamer Hall story," said Judith Isherwood, Chief Executive, the Arts Centre.
"The changes to Hamer Hall are enabling us to create one of the world's great concert halls and a visually spectacular cultural attraction in its own right so I'm delighted that, through our Maxwell and Merle Carroll Bequest, it will house what promises to be visually impressive and eye-catching works of art. Robert and Rachel's concept for these two works are imaginative and will beautifully complement both the Truscott interiors that are being retained and the new interiors that are being introduced," she added.
The theme artists were invited to respond to was "performance".
"The proposal is for an interactive Work of Art and Light feature sensitive to the nature, function and conceptual history of Hamer Hall. The Work references ideas of geology the interconnectedness between nature and culture as a process that is both transient and in continuous transformation,"said Robert Owen.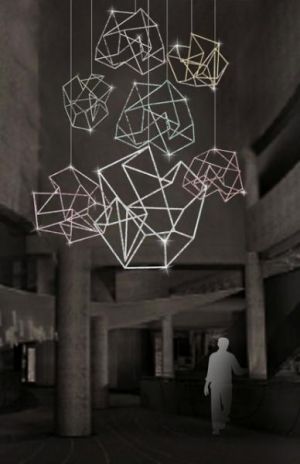 The Commission is being facilitated through the generosity of the Maxwell and Merle Carroll Bequest. In 1988 the Arts Centre received a unique bequest from the Estate of Maxwell and Merle Carroll.
Over the last decade the Carroll Bequest has offered a unique opportunity for the Arts Centre to acquire exciting and innovative works by some of Australia's best contemporary artists, as well as foster new directions for artists to engage with the performing arts.
Works of arts were central to John Truscott's original interior design approach adding to the theatricality of foyer spaces in Hamer Hall and thereby amplifying the concert experience for audiences. Now known as the Public Art Collection, it includes works by some of Australia's most significant twentieth century and contemporary artists including Arthur Boyd, Roger Kemp, Colin Lanceley, Sidney Nolan, John Olsen, Jeffrey Smart and Clifford Possum Tjapaltjarri among others. The Collection also includes major public sculptures by Inge King, Les Kozzatz and Clement Meadmore.
The Collection began in 1972 and now comprises close to 1,000 works of art. The Collection builds on the original intention which was to acquire works that explore the creative intersections between the visual and performing arts. The priority is to look at ways in which artists have been and continue to be inspired by circus, dance, music, opera and theatre.
About the artists
Robert Owen
Born 1937 in Sydney, Robert Owen studied sculpture at the National Art School, graduating in 1962. He lived in Greece and London until 1975 when he returned to Sydney. In 1988, he moved to Melbourne where he held the position of Associate Professor and Head of Sculpture at RMIT University until 2001. Owen is represented in public and private collections worldwide including the British Museum, London; Stedelijk Museum, Amsterdam; National Gallery of Australia, Canberra; Art Gallery of New South Wales; Israel Museum, Jerusalem; The Museum of Modern Art, New York; Olympic Sculpture Park, Korea and the National Museum of Western Art, Tokyo.
Owen's many public commissions include Melbourne's Northern Gateway, Craigieburn Bypass, Hume Freeway Development and Webb Bridge, Docklands Melbourne. In 2003, he received the Australian Council Visual Arts / Crafts Emeritus Award for lifelong service to the visual arts.
Rachel Burke: Project Leader, Electrolight
Rachel Burke is a Senior Associate with Electrolight and is a lighting designer with 20 years experience in the fields of theatrical and architectural lighting design. She has worked nationally and internationally with most of Australia's leading arts companies including The Australian Ballet, Melbourne and Sydney Theatre Companies, Malthouse Theatre and Belvoir Street Theatre. Burke is the recipient of seven Green Room Awards for Outstanding Theatre Lighting Design and Helpmann Award and a Sydney Theatre Award Nominations for Malthouse Theatre's Black Medea.
Recent major project work includes the exterior lighting design for Hamer Hall, the Arts Centre Forecourt/Foyer for the Arts Centre in Melbourne and a permanent architectural lighting design for GPO Melbourne.
Established in 2004, Electrolight is an award winning, independent lighting design consultancy with experience in projects across a range of genres including custom-designed artwork, feature lighting pieces and architectural lighting installations. Electrolight's designers come from diverse backgrounds which include architecture, industrial design, engineering and theatre.