The tired and faithful Warrnambool Entertainment Centre has been transformed into the elegant Lighthouse Theatre. Now open for a year, the community is attending in record numbers. David Spicer reports.
Warrnambool is at the end of the Great Ocean Road, just over three hours from Melbourne. It has a population of just under 35,000 and in May more than 5500 tickets were sold to 18 different productions at the venue. If you do the sums that's like one venue in Melbourne selling 600,000 tickets!
The original Warrnambool Town Hall was opened in 1891. It was re-launched in 1983 as the Warrnambool Entertainment Centre. The Manager Greg Diamantis says in recent times the shortcomings were very apparent.
"We had a 580 seat theatre suitable for larger productions, but no smaller space for intimate theatre or drama. The venue opened in the pre-computer lighting control age and all the facilities were aging,"
A healthy nine million dollars was raised from Local, Federal and State Governments as well as a substantial contribution from philanthropic organisationsto upgrade the theatre. They were pleased that it was delivered on time and on budget.
The most significant improvement was to add a second theatre space, a black box space for 140 people, which is being used for drama, intimate music and cabaret.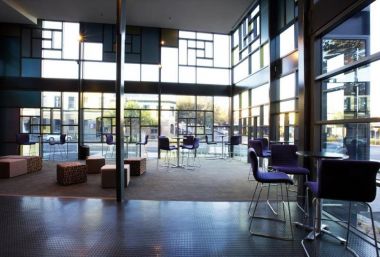 The venue also got completely new seating, massive upgrades to stage lighting a new sound system, an improved fly tower, upgraded dressing rooms and a lift for the less mobile patrons.
Other changes to its exterior helped make it more attractive.
"We changed the name to the Lighthouse Theatre to reflect that it is a cultural beacon. We used to have a lot of brick walls; now it has a glass façade, to allow the light in and out. It appears active."
A key to the success of the project has been attention to detail, to make it suitable as a performing space for patrons and performers.
The Audio Visual project manager was Gavin Hulme from MultiTek Solutions.
"I am especially proud of what we did in the foyer. There is digital signage so latecomers can see what is happening and the volume of the paging system is automatically adjusted depending on how noisy it is."
"Back stage we installed a Cue Lighting system to call actors on and off the stage. It has portable outstations that can be hung on a wall or the back of a set. It goes green for standby and red to go on stage."
He says venue builders need to be very careful to engage people who have theatrical experience.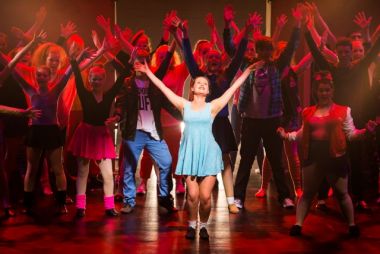 Recently his company had to rebuild much of the work completed on a regional venue where problems included microphone interference because the cables were wrongly installed.
Gavin Hulme says a year after the Lighthouse Theatre has been built there have been very few call backs to rectify problems.
The new technology has though forced community groups to improve their skills.
Greg Diamantis says he saw a local High School perform Fame (pictured left) in the upgraded venue and compared it to their work the year previous in a school hall.
"Because it was in our professional venue they reallylifted their performance and it was supported by the significantly improved technology."
But he says the Council run venue has been careful not to raise hire prices.
"Our community hire rate remains low. We have a three-fold purpose: supporting community work, presenting great touring productions (opera, ballet and theatre companies) and commercial hire for comedians and musicians.
"We have been lucky enough to attract a lot more commercial activity and are getting good audiences for a lot of it.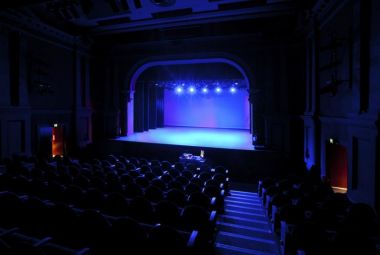 "In May 1500 kids saw Possum Magic and 300 attended Sundowner, starring Helen Morse, a serious play about dementia. Our community need to see those things. But we are also putting on smaller cutting edge professional plays in our studio venue as it is important that they be seen. It's not only about the size of the audience but matching the production with the anticipated audience. We had a sell out chamber concert featuring Slava Grigorian where the furthest an audience member was away from the performer was 10 metres. Our smaller venue is also ideal for serious work."
"Overall the technology has made the venue safer and more efficient. Working with MultiTek has improved the sound and communications system throughout the entire building."
Credits.
Architect: William Ross Architects
Theatrical Infrastructure System design: Marshall Day Entertech
Theatrical Infrastructure System installed: MultiTek Solutions
Originally published in the July / August 2013 edition of Stage Whispers.