After a year filled with much success including: showcases in Melbourne and Sydney, performance seasons, a major musical to be mounted in Melbourne for 2016, and outstanding graduate outcomes, Fed Uni's Head of Music Theatre is set to head to Broadway.
David Wynen will head to Broadway to work on a spectacular event to be held at Symphony Space December 28, 2015. It is a one night only concert for Wynen's mentor and international dance legend, Luigi.
"Luigi" was an American Jazz dancer, choreographer and teacher, and innovator who is best known for creating a Jazz exercise technique. The Luigi Warm Up Technique is an influential training program that promotes body alignment, balance, core strength, and 'feeling from the inside'. It is also used for rehabilitation. This method became the world's first standard technique for teaching jazz and for teaching musical theatre dance. Luigi developed the technique, which consists of a series of ballet-based exercises, for his own rehabilitation after suffering paralyzing injuries in a car accident at the age of twenty-one.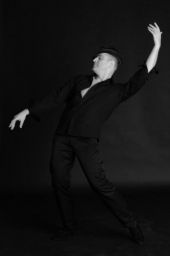 Luigi went on to work on many of the greatest Hollywood musicals including On the Town, Bandwagon, Singing in the Rain and White Christmas. He was also instrumental in teaching so many theatrical legends including: Barbra Streisand, Liza Minnelli, Twyla Tharp, Robert Morse, John Travolta, Susan Stroman and many others.
After a crippling accident in 2005 Wynen worked with Luigi on rehabilitation and subsequently worked with him over a ten year period. Wynen cites Luigi for much of his inspiration in teaching and mentoring, as well as his professional career including working on Billy Elliot the musical, winning multiple awards and creating his own copyrighted from of tap teaching- Tap Rhythm. Wynen also makes sure that all his students learn the "Luigi" technique.
Wynen will work with Broadway performer and star Rachelle Rak, and eleven professional male dancers on a piece specifically tailored for the tribute. He will also appear next to many of Broadway's great artists as he also performs in the tribute concert.
David Wynen lives by Luigi's famous mantra- "Never Stop Moving."