Ballarat's university degree course in Music Theatre opens a branch in the centre of Sydney.
It's the reverse of normal practice: a regional degree course so successful that its style, content and enthusiastic course leader/deviser is coming to the Big Smoke.
The Ballarat Arts Academy, part of Federation University in country Victoria, has been running a Bachelor of Arts (Music Theatre) course with a fast-rising reputation.
David Wynen, their energetic Dance and Movement lecturer, took over as Program Coordinator at a time when Higher Education changes were being widely discussed.
TAFE (Technical and Further Education) colleges were looking to expand their horizons and enter into strategic partnerships with others, including universities.
"Our FedU degree course has been very successful," says David with enthusiasm, "and we've got a whole list of graduates out there working. When Sydney TAFE said that because of the changing nature of their courses they had some available space, we started negotiating with them.
"The space on offer was actually a brilliant location for a Music Theatre course — right across the road from the ABC Studios in Ultimo.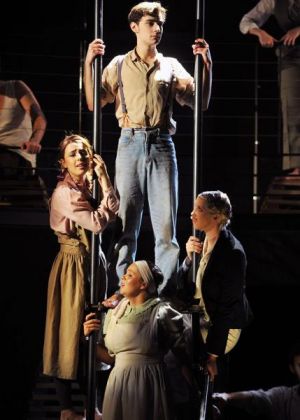 "There were precedents to our partnership, including an Information Technology degree that TAFE and FedU were delivering. And they'd recently launched their own Fashion degree.
"But it's our Music Theatre degree we're going to deliver on their campus. You get the Federation University qualification on the Sydney TAFE campus."
Months of planning lead to a 'Gala Launch Night' in August.
"The launch was industry people and education people," says David. "Four of our star graduates — now professional performers — came and performed.
"And we got to announce that our patron and artistic mentor for the course will be Nancye Hayes. That's a really big coup for us.
"Last year Nancye saw our full-scale production of 42nd Street at Her Majesty's Theatre in Ballarat. Nancye and I have known each other since we were in the original Australian production of that show in 1992. She was the star and I was a chorus boy, but we've stayed in touch."
David Wynen's professional CV as performer, dancer, director and teacher is impressive and he continues to travel and work overseas, particularly in the States. Last year he taught at arguably America's top Music Theatre college: Carnegie Mellon in Pittsburgh, Pennsylvania.
He says while Melbourne has been the traditional hub of music theatre, opportunities for people who don't wish to leave Sydney have been more limited.
But will there be enough jobs for all these graduates?
"Okay, we teach Music Theatre, but we're also teaching life skills. We have ex-students who are Entertainment Managers at casinos, publicists, professional directors and choreographers. A lot of our graduates go into education.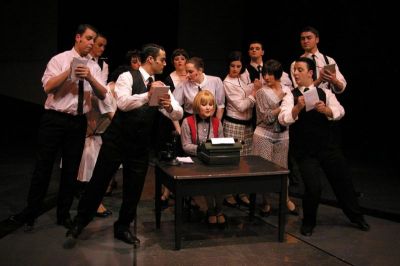 "The skills that you learn in the Music Theatre degree don't necessarily lead you to The Lion King."
Will he now be based in Sydney?
"No, I will artistically direct between the two. I need to make sure that the students in Ballarat are getting the same education as the students in Sydney, that the overall vision, the branding is the same across the two campuses.
"We've had so many top Sydney industry people enquire about teaching on the course. Once we've got the enrolment sorted, I'm hoping to announce the raft of excellent professionals who'll be teaching."
Official closing date for student applications is October 7, though Wynen says he could well be considering late applications through to the middle of November.
Frank Hatherley
Images: 42nd Street, Parade and Thoroughly Modern Millie.
Originally published in the September / October 2014 edition of Stage Whispers.