It's that time of the year again! NIDA's annual October production season is fast approaching and this one you definitely don't want to miss.
From 14 to 26 October, NIDA's undergraduate and Master of Fine Arts (Design for Performance) students, led by accomplished guest directors, will showcase their immense talents to the public, in a diverse mix of works – two original compositions, an Australian play, one German classic and an English play-turned-film.
This season is led by the premiere of #KillAllMen, a new work by Indigenous playwright Nakkiah Lui. Belvoir's Associate Director - New Work, Anthea Williams, directs this play that follows an online community struck by tragedy. Eight women create an Internet utopia where they discuss the most intimate details of their lives, the most righteous, and the most hilarious – dating, camming, work, love, and how to be an out and proud feminist. But everything changes when one of them disappears after being attacked.
'#KillAllMen came to life after I witnessed a rigorous, exciting, hurtful and entirely consuming debate about the term in an online feminist space. There has been a new wave of feminism that's engaged with mainstream culture and discourse that many women, including myself have been included in. Part of this has been seeing many online communities pop up and evolve which aim to be inclusive, autonomous, feminist places,' comments Ms Lui.
'These hot hubs of thoughts, feelings and experiences mean camaraderie comes fast and personal. These spaces can be beautiful; they can provide outlets for women to empower themselves; they can provide friendship and support. They can also be incredibly toxic. The questions I wanted to ask in this play: what do these spaces mean and what worth do they have if they exist entirely online? Can you ever change if the rest of the world doesn't change either? In #KillAllMen, I wanted to create an Internet utopia for women, then break it and see what happens next.'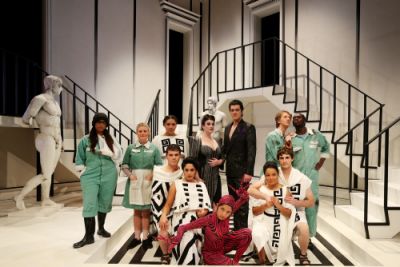 The next original play is The Space Between the Fuel and the Fire, by NIDA Writing for Performance graduate, Laura Lethlean. Directed by Constantine Costi, also a NIDA graduate, this production explores the 'reality' of three friends living in a world of television executives, sponsor children and geriatrics – constantly looking forward, looking for betterment, looking to be something other than what they are now, striving to succeed at life but at the detriment of living.
The first of the classical productions, Another Country, was written by English playwright Julian Mitchell and is set in an English Public School in the late 1930s. Directed by our very own Head of Acting, John Bashford, the play explores how the world of private wealth and centuries of tradition is challenged by two unorthodox pupils.
Patrick White's The Season at Sarsaparilla follows three post-war Australian families living side by side in frugal comfort and conspicuous normality. Former Senior Lecturer in Acting, Kristine Landon-Smith, returns to NIDA to work with Robin Dixon as dramaturg on this humorous and poetic text. The three families mirror the cultural heritages of the ensemble drawn from NIDA's second-year actors and this reimagining gives insight into a post-war Australia still in the shadow of the 'White Australia policy'.
Completing the production season is a modern take on Georg Büchner's Woyzeck, directed by Theatre Works CEO/Creative Director and NIDA graduate John Sheedy. Adapted by NIDA's Master of Fine Arts (Writing for Performance) students and regarded as the first social drama in German literature, Woyzeck's raw and unforgiving script deals with dehumanising experiments, madness, obsession, murder and all things that move us.
The upcoming October production season promises to be provocative and more captivating than ever before!
For more information and to purchase tickets, please visit nida.edu.au/student-productions.
NIDA OCTOBER PRODUCTION SEASON
19–25 October 2016
Written by Nakkiah Lui (commissioned by NIDA)
Directed by Anthea Williams
NIDA Theatres, Space
The Space Between the Fuel and the Fire*
20–26 October 2016
Written by Laura Lethlean
Directed by Constantine Costi
NIDA Theatres, Studio
18–25 October 2016
Written by Julian Mitchell
Directed by John Bashford
NIDA Theatres, Atrium
19–25 October 2016
Written Patrick White
Directed by Kristine Landon-Smith
NIDA Theatres, Playhouse
Woyzeck**
14–20 October 2016
Written by Georg Büchner
Adapted by Master of Fine Arts (Writing for Performance) students
Directed by John Sheedy
NIDA Theatres, Parade Theatre
Please note: All NIDA October productions are suitable for adult viewing only.
* Featuring NIDA graduating Acting, Costume, Design for Performance, Properties and Objects, Technical Theatre and Stage Management, and Staging students
** Featuring NIDA second year Acting students and graduating Costume, Design for Performance, Properties and Objects, Technical Theatre and Stage Management, and Staging students
Images: 2015 production of Top Girls and the 2016 production of A Midsummer Night's Dream (photographer: Lisa Maree Williams).