Theatre producer John Frost and Universal Music today (August 4, 2013) announced that they will be releasing a cast album of GREASE featuring the new Australian cast. GREASE - The Australian Cast Recording will feature all the GREASE favourites, including You're The One That I Want, Grease Is The Word, Summer Nights, Hopelessly Devoted To You, Sandy, Greased Lightnin' and many more.
John Frost said, "Australian cast albums are a rarity these day, so I'm thrilled that Universal Music is as excited as I am to record and release a new GREASE album featuring our stunning cast. GREASE is a perennial favourite of musical theatre audiences – I'm often asked when I am bringing it back to the stage – and ticket sales are proving how popular it still is. So I'm sure many fans will want to take home the new cast album to remind them of the show."
The new Australian production of GREASE stars musical theatre favourite Rob Mills as Danny and rising star Gretel Scarlett as Sandy, alongside Bert Newton as veteran disc jockey Vince Fontaine, Todd McKenney as Teen Angel, Anthony Callea as Johnny Casino, Val Lehman as Miss Lynch, Lucy Maunder as Rizzo and Stephen Mahy as Kenickie. The cast also includes Francine Cain (Frenchy), Eli Cooper (Eugene), Chris Durling (Doody), Antoniette Iesue (Patty), Sam Ludeman (Sonny), Duane McGregor (Roger), Laura Murphy (Jan), Karla Tonkich (Marty) and Andrea Arena (Cha Cha). Ensemble roles are played by Jared Bryan, Elisha Chin, Stefanie De Castro, Euan Doidge, Heath Keating, Mitchell Mahony, Natasha Marconi, Scott Morris, Shannon O'Shea, Daniel Raso, Stephanie Silcock and Jessica White.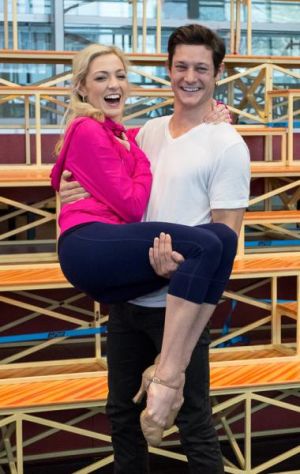 The album will be released by Universal Music, and features the following tracks:
Overture
Sandy
Grease is the Word
Summer Nights
Those Magic Changes
Freddy My Love
Look At Me I'm Sandra Dee
Greased Lightnin'
Mooning
We Go Together
Shakin' at the High School Hop
Born to Handjive
Hopelessly Devoted to You
Beauty School Dropout
Rock'n'Roll Party Queen
There Are Worse Things I Could Do
You're The One That I Want
GREASE opened at Brisbane's Lyric Theatre on August 20,2013 with seasons at the Sydney Lyric Theatre from October 13, and at Her Majesty's Theatre, Melbourne from January 2, 2014.
www.greaseistheword.com.au
Rehearsal photos: Matt Watson.
Lyric Theatre, QPAC, Brisbane
Season: From Tuesday 20 August
Opening Night: Sunday 25 August
Performance Times: Tues–Sat 7.30pm, Matinees Wed 1.30pm, Sat 1.30pm & Sun 3pm
Price: From $64.90*
Bookings: qpac.com.au or phone 136 246
Groups of 12 or more 07 3840 7466
VIP, Premium Tickets & Packages visit SHOWBIZ.COM.AU or 1300 4 SHOWS
Lyric Theatre, Sydney
Season: From Sunday 13 October
Opening Night: Thursday 17 October
Performance Times: Tues–Sat 8.00pm, Matinees Wed 1pm, Sat 2pm & Sun 3pm
Price: From $64.90*
Bookings: Ticketmaster.com.au or phone 1300 795 267
Save with Groups of 12 or more call 02 8240 2290
VIP, Premium Tickets & Packages visit SHOWBIZ.COM.AU or 1300 4 SHOWS
Her Majesty's Theatre, Melbourne
Season: From Thursday 2 January 2014
Opening Night: Sunday 5 January 2014
Performance Times: Tues–Sat 8.00pm, Matinees Wed 1pm, Sat 2pm & Sun 3pm
Price: From $64.90*
Bookings: ticketek.com.au or 1300 795 012
Save with Groups of 12 or more 1300 364 001
VIP, Premium Tickets & Packages visit SHOWBIZ.COM.AU or 1300 4 SHOWS
* An additional transaction fee and/or a credit/debit payment processing fee may apply