On the heels of her first appearance at the Tony Awards since 1970 and a recent nine city sold-out North American tour The Music…The Mem'ries…The Magic!, the embargo on Barbra Streisand's new album Encore: Movie Partners Sing Broadway has finally been lifted August 26th. It's a ten track duets album of Broadway classics and to sing with her Streisand has enlisted an "A" list cast of Hollywood actors as her partners in song - Alec Baldwin, Antonio Banderas, Jamie Foxx, Anne Hathaway, Hugh Jackman, Seth MacFarlane, Melissa McCarthy, Chris Pine, Daisy Ridley, Patrick Wilson, and with some help from the audio control desk, a virtual Anthony Newley.
Songs include "At the Ballet" (A Chorus Line) with Anne Hathaway and Daisy Ridley, "The Best Thing That Ever Happened" (Road Show) with Alec Baldwin, "Pure Imagination" (Charlie & the Chocolate Factory) with Seth MacFarlane, "Anything You Can Do" (Annie Get Your Gun) with Melissa McCarthy, "Climb Ev'ry Mountain" (The Sound of Music) with Jamie Foxx, and "Who Can I Turn To" (The Roar of the Greasepaint – The Smell of the Crowd) with Anthony Newley amongst others.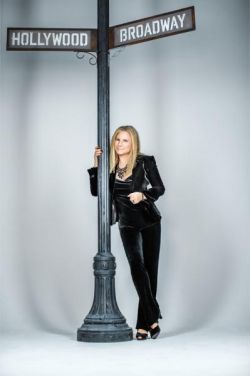 Along with the standard 10-track album on digital download and vinyl, a deluxe version of the CD with four additional tracks by Streisand is available only from physical retailers. The additional tracks include two songs by Sondheim, "Not a Day Goes By" and "Losing my Mind," Rodgers and Hart's "I Didn't Know What Time It Was," and "Fifty Percent" from Ballroom. "At the Ballet" has been available via streaming or download for the past month, and the Hugh Jackman track "Any Moment Now" from an unproduced musical version of Smile is on YouTube along with clips of various other tracks taken during the recording sessions.
From the beginning of her career Streisand has recorded the Broadway songbook with two of her thirty-three albums exclusively devoted to Broadway standards, 1985's The Broadway Album and 1993's Back to Broadway. Encore: Movie Partners Sing Broadway is her thirty-fifth album.
With the longest span of number one albums in history – six decades – Streisand is the only woman to make the All-Time Top 10 Best-Selling Artists list. With the release of her last album, Partners, which bowed at #1 on the ARIA albums chart, Streisand has had 33 albums make the Top 10 on the U.S. charts. She is the only female artist to have achieved this milestone, tying her with Frank Sinatra.
Sony Music Australia has generously given 20 copies of the album to Stage Whispers to give-away with subscriptions to the magazine. Details from Sep 1 at www.stagewhispers.com.au/subscribe