Elise McCann – the award-winning Miss Honey from the smash-hit musical Matilda – brings alive her life-long love of the stories of Roald Dahl with a new album: Dahlesque.
One of the world's most popular authors, Roald Dahl has captured the imagination of millions of children and adults with his tales of fun and fear. Dahl's characters speak immediately to generations, and the blockbuster films and musicals that they have inspired have become instant hits.
In this irreverent and gloriumptious offering, Elise McCann draws on these beloved adaptations to present the fantastical imagination and wickedly unforgettable characters of this master of storytelling. There are songs by Tim Minchin from Matilda (Naughty, The Smell of Rebellion and My House); hits from Willy Wonka and the Chocolate Factory from Leslie Bricusse's Academy-Award-nominated score; and songs from Marc Shaiman's 2013 Charlie and the Chocolate Factory, which ran for an astonishing 1293 days in the West End.
All of these songs are brought to life by the Helpmann-winning actress and vocalist Elise McCann, accompanied by a nine-piece band. The physical edition contains two bonus tracks, Little Red Riding Hood & The Wolf and Three Little Pigs from Revolting Rhymes, set to music by Musical Director and composer Stephen Amos.
"I grew up in a family of readers. Every evening I would read the stories of C.S Lewis and Paul Jennings, and of course Roald Dahl. Dahl used to excite me so much because his characters and stories were so heightened and full of fun and colour and mischief: it was an entirely unique and thrilling world. So having the opportunity to originate the role of Miss Honey in the Australian production of Dahls' Matilda the Musical was a particularly special experience for me. I was reintroduced to one of my favourite childhood authors and rediscovered his amazing catalogue of work. That led me to find all the subsequent adaptations of his work, and the incredible music that has been inspired by his characters and words. I remembered why I loved Roald Dahl so much: because he is the master of storytelling. Making this album, we wanted to recreate that same experience for others, and bring those characters and emotions and adventures of this legend and master to life in a whole new way." – Elise McCann
Photo: Harvey House Productions. Graphic design by Mils Achi & Jeff Van De Zandt.
Read our review of the live performance at the Adelaide Cabaret Festival
Click here to purchase Dahlesque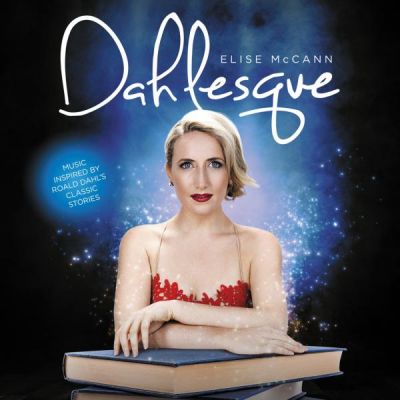 TRACKLISTING
1. It Must Be Believed To Be Seen
Charlie and the Chocolate Factory The Musical
2. Little Red Riding Hood & The Wolf*
Roald Dahl Revolting Rhymes
3. Naughty
Matilda The Musical
4. Everywhere That You Are
James and the Giant Peach
5. Oompa Loompa
Willy Wonka and the Chocolate Factory
6. Middle of a Moment
James & The Giant Peach
7. Pure Imagination
Willy Wonka and the Chocolate Factory
8. Three Little Pigs*
Roald Dahl Revolting Rhymes
9. The Smell of Rebellion
Matilda The Musical
10. My House
Matilda The Musical
*Available exclusively on physical CD
Accompanied by nine-piece band | Musical arrangements by Stephen Amos