The Arena production of Tim Rice and Andrew Lloyd Webber's classic rock musical Jesus Christ Superstar, recently seen across Australia, and filmed during its UK tour, is now available on Blu-ray™ and DVD in Australia.
The Live Arena Tour recording features Aussie musical comedian Tim Minchin as 'Judas Iscariot', Chris Moyles as 'King Herod', Ben Forster (Britain's ITV Superstar competition winner) as Jesus, and former Spice Girl Melanie C as Mary Magdalene.
In his revue for Stage Whispers, Peter Pinne gave the DVD/ Blu-ray™his maximum 5 star rating – "It's brilliant! Rice and Webber's 40-year-old rock opera has never looked or sounded better. Reimagined as urban street grunge with the cast in jeans, t-shirts, hoodies, scarves, boots, and with tatts, mobile phones and back-packs, this is a production for today. The 12 Apostles become suits, The Temple a dance club, and King Herod a game show host. Against a powerful and poetic collage of visuals, a group of fabulous rock voices deliver the definitive version of this rock-opera classic. Edge-of-your-seat tension starts during the overture and never lets up. Ben Forster, the winner of the UK TVs Superstar talent show, brings raw passion to the title role with "Gethsemane" the highlight. Former Spice Girl Mel C finds soul in her Mary Magdalene performance and is especially poignant on "Could We Start Again Please", and "I Don't Know How to Love Him", while Chris Moyles as King Herod in game-show mode makes "King Herod's Song" into an OTT dazzling showstopper. But it's Tim Minchin's show. As Judas he's astonishingly charismatic with strident vocals that reach into the stratosphere. Orchestrations have been tweaked with the live band under Louise Hunt's direction especially good. Technically it's superb; lighting, sound and video."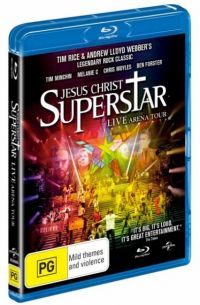 An award-winning creative team has transformed this legendary rock musical into a unique, contemporary, state-of-the‐art spectacular. Director Laurence Connor, known for his work on the 25thanniversary performances and concerts for Les Misérables and The Phantom of the Opera, worked alongside Mark Fisher, the set designer responsible for the staging of the Diamond Jubilee music concert in front of Buckingham Palace, and Patrick Woodroffe who worked on the Opening Ceremony of the London 2012 Olympic Games.
"Like a shooting star this production has blazed across the arenas of Australia." – David Spicer, Stage Whispers.
Jesus Christ Superstar is a worldwide phenomenon with over 40 different cast recordings released in19 different languages.
Bonus features include an introduction by Andrew Lloyd Webber and Behind the Scenes.