Dear Evan Hansen (Benj Pasek/Justin Paul) (Atlantic 558631-2)
Since they first emerged with Edges and followed it with James and the Giant Peach, andDogfight, Benj Pasek and Justin Paul have proved themselves as one of the most exciting young composer/lyricist teams around, recognised this year when their lyrics only assignment for La La Land won them an Oscar.
Dear Evan Hansen is not their first Broadway outing (that was A Christmas Story) but it's by far their most impressive. Originating Off-Broadway last year, it's now one of the hottest tickets on Broadway, with a breakout star performance by Ben Platt, who's a major contender for the Tony. It deserves every accolade.
Tackling the subject of teen suicide, the musical is a very personal development of an episode in the high-school life of Pasek and the aftermath of a classmate's tragic death when fellow students who had barely known him claimed to have been his friend and inserted themselves into the tragedy.
Evan, a socially awkward teenager, goes from outsider to cool guy when he fabricates emails that idealize the friendship between himself and Connor, a suicide victim. It's strong material but it never gets bogged down by the subject matter.
An ensemble cast headed by Platt find understanding, emotion, rage and love in Pasek and Paul's excellent contemporary musical theatre score, whose sound is heavy on piano, acoustic guitar and strings. "Waving Through a Window" vividly sets up Evan's world; "On the outside looking in, Will I ever be more than I've always been, 'Cause I'm tap-tap-tapping' on the glass, Waving through a window." "Disappear (Nobody deserves to be forgotten)" is incredibly poignant, as is "You Will Be Found", sung by the entire cast, and Rachel Bay Jones' "So Big/So Small", where she painfully recalls the day Evan's father left the family when Evan was a child.
The whole show brilliantly encapsulates the internet world where people "friend" thousands but are still so incredibly lonely. ****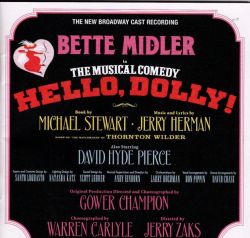 Hello, Dolly! (Jerry Herman) (Masterworks Broadway 88985-40592-2)
Bette Midler's return to Broadway has impacted almost as much as Dolly's famous return to the Harmonia Gardens Restaurant. Audiences are forking out big bucks to see her walk down those stairs in her red dress, but for those less fortunate, and unable to get a seat, this album brings much of the Broadway sparkle alive. Fortunately, with the help of the recording edit suite, Midler's vocals are much better than they are in the theatre. She eats up "I Put My Hand In" and "Before the Parade Passes By", nails the title song, and with her trademarked nasal delivery makes a meal of "So Long Dearie". David Hyde Pierce is a fine Horace, whose character is helped by the inclusion of the cut-from-the-original "Penny In my Pocket". Best vocals are by Gavin Creel (Cornelius) and Kate Baldwin (Irene Molloy), especially "It Only Takes a Moment" which is one of the songs enhanced by Larry Hochman's new orchestrations. ****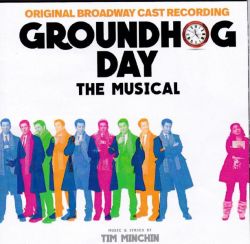 Groundhog Day (Tim Minchin) (Masterworks Broadway 88985-43101-2)
Tim Minchin's score for this musical. based on the popular Bill Murray movie of the 90s about a burned-out and cynical TV weatherman who relives his day after day after day, is clever, smart, sophisticated and witty. Andy Karl brings his considerable musical theatre chops to the piece and is wildly funny on "Stuck", which gloriously sends-up alternative therapies (this must be the only musical theatre song that uses the word enema "essential oils, organic teas/who needs enemas with friends like…?"), "Hope," in which he commits suicide (but of course comes back to life again because his life is on repeat), and "Nobody Cares", a great country-bluegrass trio with Andrew Call and Raymond J. Lee. John Sanders' "Night Will Come" nicely underscores his character's bereavement, but it's Rebecca Faulkenberry's "perky breasted one-night-stand" number "Finding Nancy" that shows off Minchin's ability to be poignant but still make us smile. ****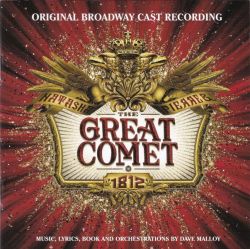 The Great Comet (Dave Malloy) (Reprise 560020-2).
The 2CD recording of the Broadway cast of Dave Malloy's The Great Comet is seductively addictive. Based on a 78 page slice of Leo Tolstoy's novel War and Peace, the sung-through pop-opera follows the love affair between Natasha and Anatole in 1912 Russia. Variations of three-quarter time, Russian folk and Klezmer feature in a score that mixes rock, pop, soul and electronic dance with traditional Broadway. The lyric style is original in that frequently characters refer to themselves in the third person and that the stage directions are sung.
Josh Groban leads the company as Pierre and his voice thrills constantly, particularly on "Dust and Ashes" ('Is this how I die?'), which follows a duel, and "Pierre and Anatole", a duet with the golden-voiced Lucas Steele, who almost outsings him. Denée Benton as the adulterous Natasha enchants on the aria "No One Else" and her duet at the opera with Anatole ("Natasha and Anatole"), sung to an insistent percussive beat. The company excel in their choral work on "Letters" ('In nineteenth century Russia we write letters'), "The Abduction" ('Goodbye my Gypsy lovers') and "Balaga", with its Jewish folk music that wouldn't be out of place in Fiddler on the Roof.
A previous double-disc cast recording was released by Ghostlight Records in 2013. The song "Dust and Ashes", not in the original, was added to the Broadway production. ****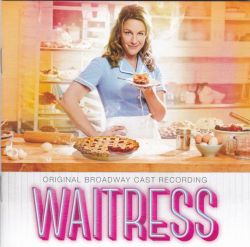 Waitress (Sara Bareilles) (DMI Soundtracks 2-555320)
Waitress is also based on a movie, released in 2007, about Jenna, a woman who works at a Southern diner and escapes her dreary life by inventing new and elaborate pies to cook. There's no escape from her pig of a husband, who has just got her pregnant, but she does find solace with her new obstetrician. The score, in the style of Jason Robert Brown, is by Sara Bareilles and has a totally appropriate down-south country flavour. The songs are seamlessly integrated into the scenario with no stand-alone songs, and are performed by a great cast headed by Jessie Mueller (Beautiful). "Club Knocked Up" is a fun number when she finds out she's pregnant, "You Matter to Me" a tender duet for Jenna and the doctor, and "Everything Changes" a celebration of her joy at becoming a mother. ****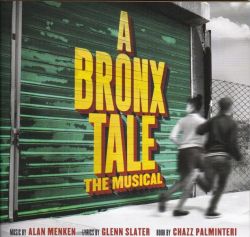 A Bronx Tale (Alan Menken/Glenn Slater) (Ghostlight Records 84514-02)
Alan Menken and Glenn Slater's score mines the sounds of fifties and sixties pop for this play, which became a movie, which became a musical, about a young guy growing up Italian American in the Bronx. Pastiches of Motown, R&B, big-band, swing and rock 'n' roll stud the score, which has good vocals, good arrangements, and sometimes throws in an organ for a good period effect. Menken and Slater, whose previously collaborations have included the movie-to-stage adaptations of Sister Act and Leap of Faith, are in good form here with Menken providing some catchy beats and Slater penning lyrical wit: "next year's Frankie Valli's/Croonin' in the alleys/Getting' those falsettos to soar". Two Sinatra-esque numbers are perfect for Nick Cordero as the hood; "Nicky Machiavelli", which details the gangster's survival methods as learned by the Italian Renaissance writer and is styled after "Mack the Knife", with a multitude of keys changes, whilst "One of the Great Ones" is an ode to unforgettable love stories. "Look to Your Heart", a memorable ballad, first sung by the strong-voiced Bobby Conte Thornton as the protagonist and the talented Hudson Loverro as his younger self, is used throughout to tie the story threads together. Loverro also gets his moment of showstopping attention when he leads the ensemble in "I Like It". ****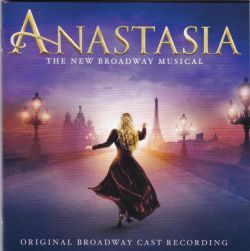 Anastasia (Stephen Flaherty/Lynn Ahrens) (Broadway Records BR-CD07017)
Ahrens and Flaherty's score for their stage version of Anastasia comes up very well on CD. It's well-sung, well-recorded and at times sparkles. Five songs are retained from the animated version including the hit "Journey to the Past" which becomes the first-act closer and is dynamically sung by Christy Altomare as Anya, the would-be Russian Princess. "Paris Holds the Key (To Your Heart)", whilst generic, is given a rousing spin as the second-act opener with the pretty "Once Upon A December" used thematically throughout and even cleverly incorporated into the second-act Swan Lake ballet sequence. Of the new songs "In My Dreams", a solo for Altomare, registers strongly, as does the trio "We'll Go from There" sung by Altomare, Derek Klena (Dmitry) and John Bolton (Vlad) when they're on their way to Paris. The Rasputin story thread from the movie has been dropped and replaced by a young Bolshevik character, Gleb, obsessed with Anya. Ramin Karimloo brings his considerable musical-theatre chops to the role but unfortunately Ahrens and Flaherty have given him nothing decent to sing. Caroline O'Connor, although she only appears in the second-act, fares better, joyously belting the ode to Russia "Land of Yesterday" and getting good comic mileage with Bolton out of the twenties-sounding "The Countess and the Common Man". Doug Besterman's orchestrations sound lush and perfect for the score's sweeping waltzes and Russian inspired themes, yet bewilderingly the most well-known song, "Journey to the Past", is not repeated at the finale. ****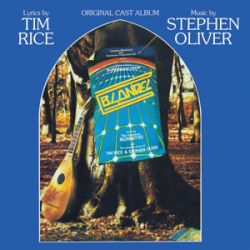 Blondel (Stephen Oliver/Tim Rice) (2 CD set/Stage Door 9050)
Thanks to Stage Door, the 1984 cast recording of Blondel has now been re-issued on CD. It was Tim Rice's first time working without Andrew Lloyd Webber and the score, written with opera composer Stephen Oliver (but sounding nothing like opera), shows him at his wittiest. In style it's an anachronistic piece like Joseph and the Amazing Technicolor Dreamcoat and a second-cousin to the recent cult TV series Galavant, set in 1189 at the time of Richard the Lionheart, and uses rock and pop styles to tell its story of a court musician who wants to write a pop madrigal. Rice, with his Top 40 background, is a past master at setting clever lyrics to pop. "I'm a Monarchist", with its rock 'n' roll bass-line and girl backing-group (The Blondettes) is in perfect hands with the show's star Paul Nicholas. Rice has a field day with countless rhymes for John in "No Rhyme for Richard", Chris Langham is amusingly evil on "Assassin's Song" ('it's delicious, being vicious'), and David Burt and the Monks (a close-harmony male quartet) sing a jaunty "I Can't Wait to be King". The plaintive "Running Back for More", sung by Sharon Lee Hill, was a minor hit at the time and the single release is included as one of the bonus tracks. The others are Colm Wilkinson's "The Least of my Troubles" and another version of "Running Back for More" by former "Superstar" Murray Head. ****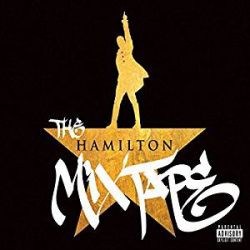 HAMILTON – MIX TAPE (Lin-Manuel Mirada) (Atlantic 551092).
With Hamilton's original cast album recently passing half-a-billion (yes, you read that right Billion) streams on Spotify, making it the most influential, admired and beloved Broadway cast album in history, it's no surprise this Mix Tape studio cast album should capitalise on the success. Featuring a roster of high-profile pop and hip-hop performers and produced by composer Lin-Manuel Miranda, it reinterprets the score and also includes original demo tracks by Miranda. "My Shot" is given a raw hip-hop feel by The Roots, Miranda joins rap giant Nas for the new song "Wrote My Way Out" while "Immigrants (We Get The Job Done)" has contemporary references to war in the Middle East. Late-night TV host Jimmy Fallon gives a jaunty reading to King George's break-up ode to the colonies "You'll Be Back", the dialogue between Hamilton and Angelica adds theatricality to Sia and Miguel's rendition of "Satisfied", while Alicia Keyes makes "That Would Be Enough" into a piano-bar number. There are two versions of "Dear Theodisia", one by Regina Spektor and Ben Folds, and one by Chance the Rapper and Francis and The Lights. They're both lovely. John Legend's "History Has It's Eyes on You", with its blues piano and choral accompaniment, is one of the best tracks, as is Andra Day's soulful vocal on "Burn". ****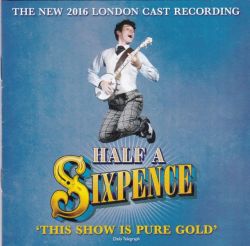 Half A Sixpence (David Heneker/George Stiles/Anthony Drewe) (First Night CASTCD 121).
Cameron Mackintosh has given Tommy Steele's sixties hit a makeover and added eight additional songs and some changed lyrics by George Stiles and Anthony Drewe to David Heneker's original score. Recorded live, the result is an old-fashioned, toe-tapping musical comedy. Based on the novel Kipps by H.G. Wells, about a 1911 Folkestone draper's assistant who inherits a fortune, the new book has been adapted by Downton Abbey's Julian Fellowes. Some songs have been dropped from the original ("All in the Cause of Economy" is missed), but the new numbers add texture and character. The best is "Pick Out a Simple Tune", a ragtime number which is perfect for the period. Also good is "A Little Touch of Happiness". Charlie Stemp is a marvellous Kipps, who belts out "Money to Burn" and "If the Rain's Got to Fall" with cheeky charm, and is romantically tender dueting with Devon-Elise Johnson on "Long Ago". "Flash, Bang, Wallop", one of the great British show-stoppers, has been repositioned to the end of the show. Despite being overproduced, it still works a treat. ****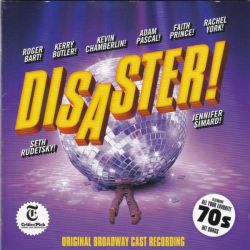 Disaster! (Various) (Broadway Records BR-CD04616)
From the sublime to the ridiculous! This short-lived Broadway entry was a send-up of 70s disaster movies, The Poseidon Adventure and its ilk, with a jukebox score of the period's hits. A starry cast - Adam Pascal, Roger Bart, Rachel York, Kerry Butler and Faith Prince - deliver the goods in a story set on a cruise ship moored at a pier which experiences an earthquake, tidal wave, explosions, sharks, piranhas and rats. There's a casino on board and one of the characters is a guitar-playing nun who is addicted to gambling. There are snippets of some songs and full versions of others which include "Hot Stuff", "Feelings", "Ben", "I Will Survive", "I Am Woman", "Theme from Mahogany" and "Don't Cry Out Loud". It's hokey but it's fun. ***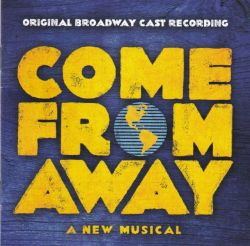 Come From Away (Irene Sankoff/David Hein) (The Musical Company MC00001)
The score for this new feel-good musical of the current Broadway season is in the folk, Irish jig and Riverdance vein which is entirely appropriate for a show set in Canada's Newfoundland, whose musical heritage is Irish. The story about the aftermath of 9/11 when USA airspace was closed and planes were diverted to the small township of Gander, Newfoundland, wears its heart on its sleeve and is totally touching. An ensemble cast of 12 enact a multitude of characters in a 90 minute almost sung-through show. Jenn Colella, as an American Airlines pilot, scores with "Me and the Sky", Q. Smith's "I Am Here" is searing, whilst "Something's Missing", sung by the company, is highly emotional. ***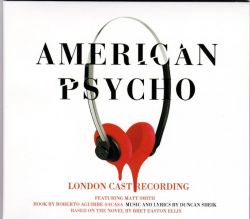 American Psycho (Duncan Sheik) (Concord Records CRE-39374-02)
This is another show that failed to find an audience on Broadway but sold-out in its initial London run. Based on the satiric and provocative 1991 novel by Bret Easton Ellis and the 2000 movie with Christian Bale, about Patrick Bateman, an unscrupulous rock-star Wall Street investment banker by day and a serial killer by night, the score is by Duncan Sheik (Spring Awakening). Critics complained that the story about 80s excess had been softened in the musical version and this London cast recording would seem to bear that out. Sheik's songs are steeped in the electronic beat of 80s pop and the score even hijacks some of the genuine article, Phil Collins' "In the Air Tonight," Huey Lewis' "Hip to be Square", Human League's "Don't You Want Me", New Order's "True Faith" and Tears for Fears' "Everybody Wants to Rule the World". Of the original numbers, "You Are What You Wear", sung by the girls, is an ode to power-dressing, whilst "Killing Time" nails Bateman's favourite after-hours pastime. ***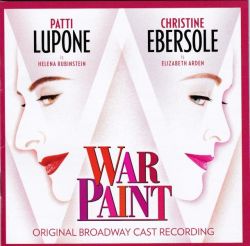 War Paint (Scott Frankel/Michael Korie) (Ghostlight Records 84515-02).
Despite the presence of Broadway royalty, Patti LuPone and Christine Ebersole, this score is unlikely to be remembered as one of the greats. In fact you'll barely remember it when the CD is finished. By the same writers as Grey Gardens, and basically set in the same period (the 1940's), it tells the story of the professional rivalry between cosmetic queens Helena Rubinstein and Elizabeth Arden. Musically the score trades in Kurt Weill dissonance but without his felicitous melody.
Both stars get a solo with chorus upfront, Ebersole as Arden with the big-band swing "Behind the Red Door", while LuPone as Rubinstein belts "Back on Top" in her 'new' New York debut. They both get 11-o'clock solos, "Pink" (Ebersole) and "Forever Beautiful" (LuPone), and two duets "Necessity is the Mother of Invention" and the finale "Beauty in the World". None of them really register because by concentrating only on the women's professional lives, the songs lack emotion. John Dossett and Douglas Sills score in a duet "Step on Out", which clones Irving Berlin's "Stepping out With My Baby", and Erik Liberman as Charles Revson makes the most of the second-act's Latin-styled "Fire and Ice".
The lyrics rhyme, and there are lots of them, but there's no wit and nothing to make you smile. In Frankel and Korie's eyes the cosmetic business is exceedingly dull. **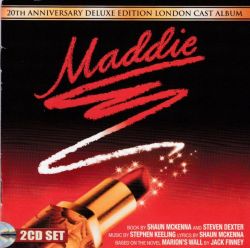 Maddie (Stephen Keeling/Shaun McKenna) (Stage Door STAGE 9047)
Maddie is another film-to-stage work which played the West End in 1997. It is set in the 1980's and 1920's and is based on the novel Marion's Wall by Jack Finney, about a flamboyant flapper who inhabits the body of an 80's woman and seduces her husband. The movie version, called Maxie, starred Glenn Close and Mandy Patinkin.
The musical was developed during the Stephen Sondheim musical theatre course at Oxford in 1990. Caroline O'Connor performed extracts of the show in its first public showing. It was later performed at Salisbury Playhouse in 1996, and on the strength of Charles Spencer's Telegraph review - "This is the show we've been waiting for" - moved to the West End the following year. Spencer's review helped secure finance but did not help the production, which closed quickly.
This 2CD recording features the original London cast, Summer Rognlie, Graham Bickley and Kevin Colson, plus cut songs, studio demos and alternate versions sung by John Barrowman, Jacqui Scott, Helen Hobson, Mary Millar, Lorna Dallas and Angela Richards. The music by Stephen Keeling is inventive and Shaun McKenna's lyrics are literate, but the orchestrations on the cast recording lack colour. They sound more like arrangements for a 60's West End revue (think On the Brighter Side) than a musical set in the 80's.
The cut songs and alternate versions have more energy and vitality than the London cast recording, whilst Jacqui Scott is a much better lead. Listening to the cut material is a very good example of what was lost in its commercial production. "In Hollywood" (cut) sung by Helen Hobson and chorus was a good opening number, Meredith Braun's newly recorded "There We Were" is a nice balled, but it's Jacqui Scott whose vocals are outstanding on "I've Always Known" and "Star". ***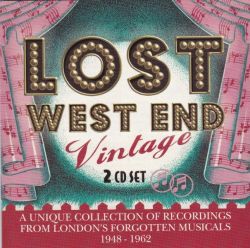 Lost West End Vintage (2 CD set/Stage Door 9051).
The post-war British musical of the forties and fifties is given a loving restoration in the new 2 CD set from Stage Door. Featuring 52 tracks, it covers the period from 1948 to 1962 and includes songs from 35 West End musicals, many of them produced in Australia; Zip Goes a Million, Grab Me a Gondola, Lock Up Your Daughters and Stop the World – I Want to Get Off. It's a collection of original and studio cast recordings and features the voices of Cliff Richard, Tommy Steele, Petula Clark, Sally Ann Howes, Frankie Howerd and Elisabeth Welch, in material by Ivor Novello, NoëlCoward, Julian Slade, Sandy Wilson, Lionel Bart, David Heneker, Vivian Ellis and Leslie Bricusse. It's a smorgasbord of delights with many great songs, too many to name, but those that stand out are "I Leave My Heart in an English Garden" (Dear Miss Phoebe) by Edmund Hockridge, "The Shrine on the Second Floor" (Expresso Bongo) by Cliff Richard, and the achingly beautiful "If I Ever Fall In Love Again" (The Crooked Mile) by Elisabeth Welch. Grab Me a Gondola's title tune and "Portobello Road" (Make Me An Offer) are marvellously raucous, Beatrice Lillie imbues "Typically English" (Stop the World) with her own brand of fey whimsy, and Valmouth's"My Big Best Shoes" gets two bites of the cherry with the original version by Beatice Reading and one by Tommy Steele with altered lyrics to fit a 'mod' rocker. There are also two versions of "Ordinary People" (Zip Goes a Million), one by replacement lead Reg Dixon and a bonus live track with original star George Formby and Petula Clark. The other bonus track is a first time recording of four songs from Scapa, a musical version of Seagulls over Sorrento, sung by David Hughes. It's an important release, a great collection and well-worth a listen. ****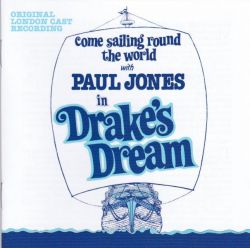 Drake's Dream (Lynn Riley/Richard Riley) (Stage Door STAGE 9048).
Stage Door continue to rescue lost or forgotten British Musicals and this one, a rock musical version of Sir Frances Drake's voyage of discovery of the New World, played 82 performances in the West End in 1977. The best thing about the album is Paul Jones, former front-man for the pop group Manfred Mann. His vocals as Drake always elevate the material, which is standard issue 70s rock. The piece lacks humour, but the orchestrations, presumably by musical director Peter Martin, are imaginative. **
Sally (Jerome Kern/P.G. Wodehouse/B.G. DeSylva/Anne Caldwell/Clifford Grey) (Albany Records TROY 1638).
This premiere live recording of Jerome Kern's rags-to-riches Cinderella 1920 musical Sally comes from a May 2016 performance by Light Opera of New York. An unknown cast headed by Emma Grimsley as Sally deliver assured vocals of Kern's light-operetta score, which is filled with sweet, melodic numbers. The score's most enduring tune is "Look for the Silver Lining", but "On with the Dance", "Dear Little Girl" and "Church 'round the Corner" also please. Accompaniment is by a 16-piece orchestra led by Gerald Steichen, playing a restored version of the original orchestrations. The CD suffers from too much introductory dialogue, which is cutesy and tedious. Only for the enthusiast. **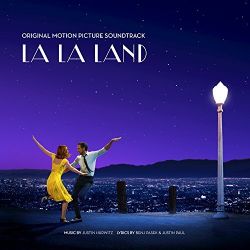 La La Land (Justin Hurwitz/Benji Pasek/Justin Paul) (Interscope Records B002562002).
Listening to the soundtrack of La La Land is almost as good as seeing the movie. Justin Hurwitz's jazz-based big-band beats are irresistible, making you feel like you want to get up and dance, and Benji Pasek and Justin Paul's clever lyrics only endorse the feeling. The standout songs are the opening "Another Day of Sun", the ensemble "Someone in the Crowd" and of course the haunting "City of Stars". Mia and Sebastian's solo-piano theme is pretty and very Michel LeGrand. In fact the whole score reminds one of Jacques Demy's two classic French film musicals of the 60s, The Umbrellas of Cherbourg and The Young Girls Of Rochefort. It has a similar joie de vive. On screen Ryan Gosling impressively plays his own piano charts and together he and Emma Stone sing most of the numbers except for a funky rock anthem "Start a Fire" by John Legend. Gosling and Stone don't have great voices but their sound is right for the characters. "Audition (The Fools Who Dream)", a late in the movie song for Stone, is probably the best in the score. ****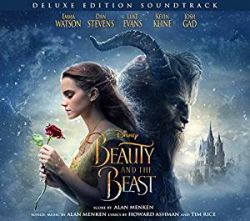 Beauty and the Beast (Disney 002531402)
The Deluxe-Edition soundtrack from Disney's live-action/CGI-animated remake of their 1991 animated movie comes in 2 CDs, the first with the songs and a second with the film score. The score contains all the songs from the 1991 version plus four new songs written by composer Alan Menken and lyricist Tim Rice. None of the songs written for the 1994 Broadway version are used except an instrumental of "Home".
Emma Watson is a fine Belle. The voice is sweet and true but of course not in the same class as Audra McDonald, who plays Madame Garderobe and sings the new "Aria". Dan Stevens (Matthew Crawley in Downton Abbey) has clipped some of the ferocious edges off the Beast, but his singing of the new "Evermore" can't be faulted. Kevin Kline, as Belle's father, also gets a new song "How Does a Moment Last Forever", which is given a pop treatment by Celine Dion as one of the bonus tracks. "Days in the Sun", another new number, allows the inanimate objects to become human again and roughly replaces the "Human Again" moment from the Broadway version.
Two new characters have been added to the Beast's castle; Maestro Cadenza, voiced by Stanley Tucci, a piano and the husband of Madame Garderobe, and Plumette, voiced by Gugu Mbatha-Raw, a feather-duster. Emma Thompson does a lovely job of Mrs Potts and sings the title tune with warm Cockney charm.
The bonus tracks also include Alan Menken's demo version of the four new songs, a pop version of "Evermore" by Josh Groban, and a new duet version of the title song by Ariana Grande and John Legend. ****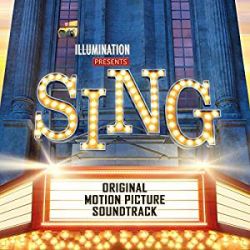 Sing (Republic 002600202)
If you liked the movie Sing as much as I did, then this soundtrack will put a smile on your face. The animated film about a koala who hopes to save his theatre by having a singing competition features classic songs sung by the film's main cast plus one new song, "Faith", specifically written for the movie and performed by Stevie Wonder and Ariana Grande.
Songs include Elton John's "I'm Still Standing", sung by Taron Egerton's teenage gorilla Johnny, Taylor Swift's "Shake It Off', with Reese Witherspoon and Nick Kroll as contestants Rosita, a housewife pig with singing ambitions, and Gunther, a passionate dancing pig, and "Set It All Free", delivered with an amazing vocal by Scarlett Johansson as Ash, a teenage porcupine punk-rocker.
Seth MacFarlane gets to voice Mike, a white mouse with attitude who's big on Sinatra, singing "My Way", "Let's Face the Music and Dance" and "Pennies From Heaven" (only on the Target release).
Best vocals are by Tori Kelly as Meena, a teenage elephant with stage fright. Her "Hallelujah" soars, but a duet version with Jennifer Hudson is in the diva stratosphere. ***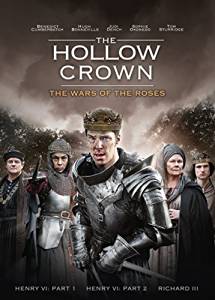 The Hollow Crown (William Shakespeare) (Viavision DVD VVE985)
Has there ever been a more commercial or stunning adaptation of Shakespeare than this second series of The Hollow Crown – The War of the Roses? With a who's who of British stage and screen stars - Judi Dench, Hugh Bonneville, Tom Sturridge, Sophie Okonedo, Ben Daniels and Ben Miles, a dazzling central performance by Benedict Cumberbatch as the hunchback Richard III, and superb direction by cinema virgin Dominic Cooke, this 3-part mini-series of Henry VI (Parts 1 & 2) and Richard III is breathtakingly real in its savagery and eloquent in its dramatic images.
Cumberbatch is evil personified as the revenge-hungry throne contender who dispatches beheadings at the drop of a hat, whilst rhythmically tapping his index finger on a chessboard. He breaks the fourth wall and like Frank Underwood (Kevin Spacey) in House of Cards, speaks his soliloquies direct to camera, in a performance that is riveting and powerful, proving why he is the finest actor of his generation.
Tom Sturridge as the teenaged Henry VI was a minefield of indecision, compassionate and ultimately poignant, roaming the moors naked except for a loin-cloth. Sophie Okonedo was a stalking presence uniting all three episodes as malevolent Queen Margaret. Hugh Bonneville (Gloucester), Adrian Dunbar (Richard of York), Ben Daniels (Buckingham) and Judi Dench (Cecily, Dutchess of York) were all excellent, as was Ben Miles with his scene-stealing performance as the machiavellian Earl of Somerset.
If the cutting between scenes of intimacy and gore was reminiscent of Game of Thrones, it made for thrilling and exciting storytelling. Cooke's memorable images included the faces of Plantagenet's three sons reflected in the gleaming blade of a sword and the venerable English crown sinking in a blood-stained stream. Purists may quibble with adaptor Ben Power's melding of a few characters and the order of events differing from the plays, but ultimately the test is in the finished product, which is brilliant. *****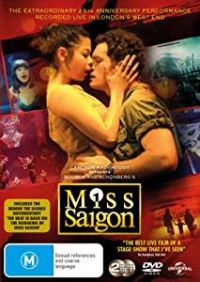 Miss Saigon Live! (Claude-Michel Schonberg/Alain Boublil/Richard Maltby Jr) (DH 2456).
The 2014 live recording of Miss Saigon is now available on DVD. It features the same cast as the CD - Eva Noblezada as Kim, Alistair Brammer as Chris, Hugh Maynard as John and Tamsin Carroll as Ellen, but it's Jon Jon Briones' performance as the Engineer that throbs with truth. Special features include the "Gala Finale", with guest appearances by Jonathan Pryce and Lea Salonga, and "Behind the Scenes" The Heat is Back On: The Remaking of Miss Saigon. ****
Hairspray Live! (Marc Shaiman/Scott Wittman) (CD Masterworks Broadway 88985395252/DVD Universal).
Despite NBC's recent Hairspray Live! being flawed, it still spawned a terrific cast album (and DVD) of this infectious score and it preserved Harvey Fierstein's original Edna performance on TV. His voice is little more than a croak these days but his and Martin Short's performance of "Timeless to Me" hits the bullseye. It also restores one of the best rock 'n' roll pastiche songs in the score, "Mama I'm a Big Girl Now", which was dropped from the movie version. Kristen Chenoweth's Velma is given extra screen-time with "Velma's Revenge". Derek Hough's Corny Collins, one of the best performances of the role, is great on "The Nicest Kids in Town", "Ladies Choice" and "Hairspray". Ariane Grande's Penny is also a standout. She and Jennifer Hudson (Motormouth) encore "Come So Far" in full diva mode. Most enjoyable! ****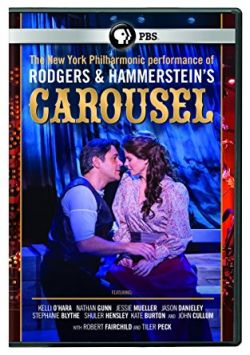 Carousel (Richard Rodgers/Oscar Hammerstein ll) (PBS Rham601/DVD NTSC)
This version of Carousel springs from a performance on April 26, 2013, when PBS' Live From Lincoln Center presented the New York Philharmonic's concert-staging of Rodgers and Hammerstein's iconic musical. It's taken four years for the DVD to be released but it has been well-worth the wait.
Top starred as Julie Jordan was Kelli O'Hara, playing her second Rodgers and Hammerstein heroine after winning a Tony for her portrayal of Nellie Forbush in South Pacific in 2008. Featured opposite her as Billy Bigelow was operatic baritone Nathan Gunn, who had been called a "barihunk" by People magazine and named their "Sexiest Man Alive" in 2008. Also in the cast was mezzo-soprano Stephanie Blythe, a fixture on opera stages around the country, as Nettie Fowler; Jessica Mueller, making her first Broadway appearance as Carrie Pipperidge after winning Chicago's Joseph Jefferson award for the same role; Jason Daniely as Enoch Snow; Kate Burton as Mrs Mullins and Shuler Hensley, no stranger to Rodgers and Hammerstein heavies having played Jud Fry in Lincoln Center's South Pacific, as Jigger Craigin.
It's probably the most complete recording of the score, clocking in at 2 hours 20 minutes, and includes most of the things that are cut these days to shorten the piece.
O'Hara is a wonderful Julie (even if she does look a more mature mill girl alongside Jessie Mueller), but Gunn is simply sensational as Billy. He's broody but likeable and his performance of "Soliloquy" is every bit as good as John Raitt's original. He also brings loads of sexual chemistry to the role and a tenderness, especially in the finale which is emotionally affecting. The famous extended bench scene which includes "If I Loved You" is beautifully played by both Gunn and O'Hara. She also shines on "When the Children Are Asleep" and "What's the Use of Wond'rin."
Mueller, on the cusp of a what was to become a major Broadway career starring in Beautiful and Waitress, is very appealing as Carrie and a delightful foil for Daniely's straight-laced Enoch. Blythe, not the first opera singer to play Nettie, is outstanding on "You'll Never Walk Alone", whilst John Cullum, guest appearing as the Starmaker, adds musical theatre heft to a minor role.
The highlights are many, and none more so than Amercian Ballet Theatre dancers Robert Fairchild and Tiler Peck in the second act pas de deux dream ballet. Fairchild, who went on the star as Jerry Mulligan in An American In Paris on Broadway is a handsome and athletic Carousel Boy, but Peck is simply stunning as Louise, bringing grace and superb timing to the part.
As far as the staging goes, it's a bare bones affair with the orchestra on stage and a few wooden boxes down front.
Carousel is probably Rodgers and Hammerstein's finest score and it's great to hear it played robustly by the New York Philharmonic under the baton of Encores! musical director Rob Fisher. ****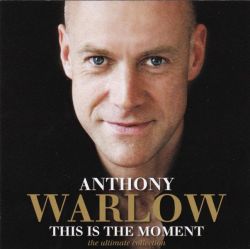 Anthony Warlow – This Is The Moment (Various) (Fanfare Records FANFARE 259)
This new album by Anthony Warlow is culled from his four Polydor CDs - Centre Stage (1990), On the Boards (1992), Back in the Swing (1993) andMidnight Dreaming (1994). It features a collection of power ballads and jazz standards. Australia's favourite lyric-baritone has never sounded better on disc than on these albums, which were recorded early in his career with accompaniment by the Victorian Philharmonic and Melbourne Symphony Orchestras conducted by the late Brian Stacey. Every track is a highlight, from the opening "This is the Moment" (Jekyll and Hyde), through "Who Can I Turn To?" (The Roar of the Greasepaint, the Smell of the Crowd), "Anthem" (Chess), "If Ever I Would Leave You" (Camelot), to " I Won't Send Roses" (Mack and Mabel). Warlow is comfortable with swing arrangements on Cole Porter's "Night and Day" and the Gershwins' I've Got a Crush On You", but it's Sondheim's "Being Alive" (Company) that throbs with feeling. ****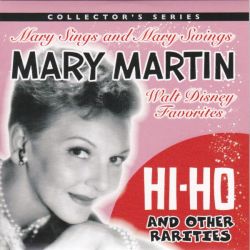 Mary Martin Hi-Ho And Other Rarities (Various) (Stage Door STAGE 2370).
This limited edition CD, in the retro style of a miniature long-playing vinyl LP, springs from a 1958 studio album of Mary Martin singing favourites from Disney films. They're early hits from the Disney catalogue and feature songs from Snow White (1937), Alice in Wonderland (1951), Bambi (1942), Cinderella (1950), and Pinocchio (1940), with accompaniment by Tutti Camarata his Trumpets and Orchestra. Martin's pleasing mezzo-soprano voice is joyous on "Whistle While You Work" and "I'm Late", but it's the tender ballads "With a Smile and a Song" and "When You Wish Upon a Star" which suit her best. Bonus tracks include "I've Got the Sun in the Morning" from Annie Get Your Gun (Martin led the first road tour in 1947) and songs adapted from Tchaikovsky for Sleeping Beauty (1959). ***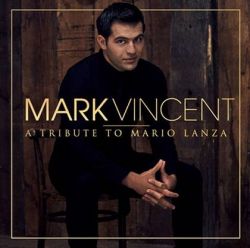 Mark Vincent – A Tribute to Mario Lanza (Sony 88985431722)
In 2009, at the age of 16, Mark Vincent won the third season of Australia's Got Talent singing "Nessun Dorma" and was immediately signed by Sony Music Australia. Since that time he has released seven albums which have all gone to No.1 on the classical cross-over chart, an amazing achievement. Therefore it's no surprise that his latest album, his eighth, A Tribute to Mario Lanza has also topped the chart. Backed by a 50-piece orchestra and choir, Vincent's thrilling tenor has never sounded better in this selection of opera arias, movie and Neopolitan songs. The best thing about the album is the pairing of Vincent and Lanza in a virtual duet of the late MGM star's final million-seller and Academy Award-Winning "Because You're Mine". It works remarkably well, with Vincent matching the intensity and power of Lanza note for note. Other tracks include "Como Prima" (For the First Time), "The Loveliest Night of the Year" (The Great Caruso), and "Be My Love" (The Toast of New Orleans), Lanza's first No.1 hit. "O Sole Mio" leads the Neopolitan titles which also feature "Arriverderci Roma" (The Seven Hills of Rome), whilst the opera arias comprise "E Lucevan Le Stelle" (Tosca), and the piece that started Vincent's career, "Nessun Dorma" (Turandot). The album concludes with a stirring reading of Nicholas Brodsky's rarely-heard-these-days song of faith, "I'll Walk with God" (The Student Prince). Impressive and rich accompaniment is by the Sydney International Orchestra conducted by Guy Noble, with the Royal Melbourne Philharmonic Choir adding heft and vocal colour on some tracks. *****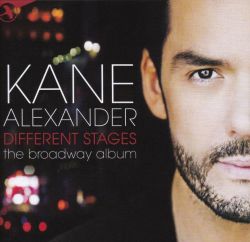 Kane Alexander – Different Stages (Jay CDJAY 14478)
Kane Alexander's new album finds him singing a collection of mainly musical theatre power-ballads accompanied by the English National Symphony Orchestra. It's a big sound, with big hard-sell finishes, something he obviously learnt when he toured with Il Divo. Although the song line-up is filled with the usual suspects, songs from Phantom ("Music of the Night"), Les Miz ("Empty Chairs at Empty Tables"), and Chess ("Anthem"), there are some interesting off-beat choices such as "Falling Slowly" from Once, a duet with Natalie Mendoza, the vibrant"I Got life" from Hair, and Jason Robert Brown's beautifully tender ballad "It All Fades Away" from The Bridges of Madison County, which simply throbs with emotion. Other duets feature Simon Gleeson on a glorious "Lily's Eyes" (The Secret Garden), Silvie Paladino bringing heart to "Sun and Moon" (Miss Saigon) and Claire Lyon's lyric-soprano a perfect choice for "One Hand, One Heart" (West Side Story). The only misstep on the whole album is a supper-club arrangement of "Edelweiss" from The Sound of Music, which seems out of place. Best tracks are Miss Saigon's "Why God Why" and Beauty and the Beast's "If I Can't Love Her". The album has a generous 17 songs with two extra bonus tracks available on Alexander's website, Craig Carnelia's "Flight" and "The Prayer," also a duet with Paladino. ****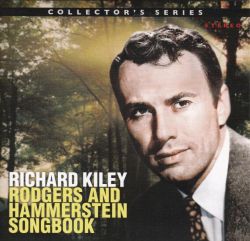 Richard Kiley – Rodgers and Hammerstein Songbook (Stage Door STAGE 2390)
Stage Door continue their Collector's Series with this reissue of two-time Tony Award winner Richard Kiley's only solo recording, a double album from 1960. Kiley, who won his Tony Awards for Man of La Mancha and Redhead, first came to notice as the Caliph in Kismet, and later appeared in No Strings and I Had a Ball. Accompanied by George Siravo and his Orchestra, it's very much an album of the period with an ethereal chorus on some tracks and arrangements that sometimes include an organ. Songs from all the major R&H musicals are included, except The Sound of Music as the recording was made before it opened on Broadway. Kiley was an excellent leading man and an actor who could sing and sing very well indeed. This collection showcases his easy style and rich baritone. Best track is "Younger than Springtime" (South Pacific), but some tracks from the lesser known shows impress - "No Other Love" (Me and Juliet), "So Far" (Allegro), "It's a Grand Night For Singing" (State Fair), "Do I Love You Because You're Beautiful" (Cinderella) and "Everybody's Got a Home But Me" (Pipe Dream). ***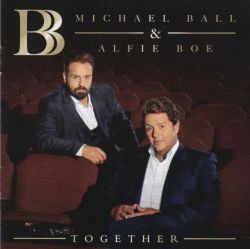 Michael Ball & Alfie Boe – Together (Decca 4794434)
On the eve of their Australian tour, Universal Music have released Michael Ball and Alfie Boe's top selling UK Album Together. The two West End stars are in their element, singing a selection of show songs and standards accompanied by the Prague Symphony Orchestra and the Royal Philharmonic. Having both sung roles in Les Misérables, the musical is in their DNA so the opening track, a medley of "Bring Him Home", "Empty Chairs at Empty Tables" and "I Dreamed a Dream" is no surprise, nor are titles from Phantom, Chess and West Side Story, but Gershwin's "I'll Build a Stairway to Paradise" (An American In Paris), and "Incurably Romantic" (Let's Make Love) are way out of the box. Blood Brothers' "Tell Me It's Not True" is hauntingly sincere, there's a nice low-key version of "I'll Be Home For Christmas" and a full all-stops-out vocal onslaught on "You'll Never Walk Alone" (Carousel), sung with choir and sounding even bigger than Il Divo. Best track is undoubtedly Twilight's "A Thousand Years". If you like big theatrical singing it doesn't come much better than this. ****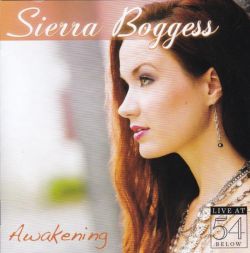 Sierra Boggess – Awakening Live at 54 Below (Broadway Records BR-CD54B-010)
A recent visitor to out shores, Sierra Boggess repeats her act almost verbatim in this 26-track CD recorded live in New York at 54 Below. The former Disney Princess (A Little Mermaid) and Andrew Lloyd-Webber leading-lady (Love Never Dies, The Phantom of the Opera) brings her glorious soprano to a clutch of show and film songs. "How Come" (Tom Sawyer) and "Just Around the Riverbend" (Pocahontas) are lovely, as is "Part of my World" (The Little Mermaid) but "Smoke Gets In Your Eyes" (Roberta) is top-drawer. She has fun with a Garland-esque version of "I Don't Care" and an "Ultimate Medley" of Andrew Lloyd-Webber, and ends with a soft and sweet "A Dream is a Wish Your Heart Makes (Cinderella). Her new-age patter is tiresome at times, but when she sings she charms everyone in the room.***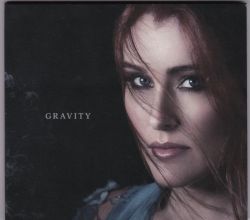 Jemma Rix – Gravity (Various) (jemmarix.com).
Australia's favourite green witch Jemma Rix has just released her first album, a collection of songs from shows in which she has appearedand songs from scores she admires. It's a showcase of bravura performances from one of our most talented leading ladies. Two songs from Ghost, "Nothing Stops Another Day" and the hauntingly lovely "With You", two from Jekyll and Hyde, the power-ballad"Someone Like You" and "Dangerous Game", a duet with Kane Alexander, and two from Wicked, "I'm Not That Girl" and her definitive version of "Defying Gravity", which finally makes it to disc. Rob Mills joins her for a low-key "Falling Slowly" from Once, she gives her pop-diva full reign on Queen's "Somebody to Love" and sparks her Latin fire on Andrew Lippa's "Raise the Roof" from The Wild Party. It's a great album of contemporary show tunes and one to play often. ****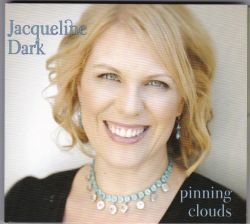 Jacqueline Dark – Pinning Clouds (Jacqueline Dark).
Mezzo-soprano Jacqueline Dark seems to be going for the classical crossover audience on her debut CD, with tracks that mix Barry Manilow's "One Voice" with the Pilgrims Chorus from Wagner's Tannhauser and another that melds Rodgers and Hammerstein's "You'll Never Walk Alone" from Carousel with Ralph Vaughan Williams' "The Lark Ascending". It sounds pretentious but it actually works quite well thanks to some excellent arrangements for piano, violin and cello by musical director Daryl Wallis. His arrangements also take centre stage on a Sondheim medley "I Know Things Now You Know", with its attractive recurring piano underscore. Dark, who played the Mother Abbess in the recent production of The Sound of Music, repeats her performance of the stirring "Climb Ev'ry Mountain," and enlists the aid of the children's chorus from the production (billed here as The Purple Parrots), in a youthfully vibrant "Our Time" (Merrily We Roll Along). A track from Mozart, "Gold von den Sternen" ("Gold from the Stars"), sung in German and English, is something way out of left field, but Leonard Cohan's "Hallelujah", a duet with Opera Australia's Kanen Breen, is along more traditional lines. ***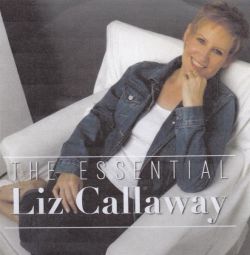 Liz Callaway – The Essential (Working Girl Records).
This collection is basically a career run-down of one of Broadway's favourite performers, who recently visited Brisbane for solo concerts. Starting as a teenager back in the eighties in Merrily We Roll Along, and following with a stint in Cats, a Tony nomination in Baby, to voicing Anastasia in the 1997 animated movie, the song-stack features tracks from all of them, some previously released and others recorded live.
Callaway's version of "Journey to the Past" (Anastasia) is just lovely, as is her "Once Upon a December" from the same movie; she salutes her time in Merrily We Roll Along with "Not a Day Goes By"; sings "Memory" from Cats and "The Story Goes On" from Baby. She is the master of story songs and the album contains a good sampling of them, the best being "I'll Be Here" (Ordinary Days) and the achingly real "Since You Stayed Here" (Brownstone). There's a brilliantly clever Sondheim send-up "Another Hundred Lyrics", a bouncy "Downtown", a soaring "My Heart Is So Full of You" (The Most Happy Fella), and a breathtakingly lyrical "Meadowlark" (The Baker's Wife). ****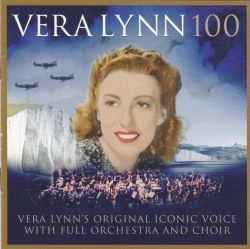 Vera Lynn – 100 (Decca 5737270).
In 2009 at the age of 92 Vera Lynn became the oldest living artist to top the UK Album charts. This new CD, released on her 100th birthday this year, takes Lynn's previous vocal tracks and adds them to new orchestral versions of her hits. Not surprisingly it reached No. 3 on the album charts. None of the new arrangements are as inventive as the recent Barbra Streisand/Anthony Newley coupling of "Who Can I Turn To?" from the Encore album, but they are enjoyable in a traditional way.
Tenor Alfie Boe joins her for "We'll Meet Again", game show host Alexander Armstrong does likewise on "(There'll be Bluebirds Over) The White Cliffs of Dover", soprano Cynthia Erivo duets on "When You Wish upon a Star" (Pinnochio), and Welsh favourite Aled Jones adds gravitas to "As Time Goes By" (Casablanca). There's a nice version of "A Nightingale Sang in Berkeley Square" (New Faces) with The Ayoub Sisters on cello and violin, a brisk "Wish Me Luck As You Wave Me Goodbye" (Shipyard Sally), and a big finish with the RAF Squadronaires joining her on "Yours". Accompaniment is by the City of Prague Philharmonic Orchestra, and the Brighton Festival Chorus, conducted by James Morgan. Like a BBC period drama, it's all pleasantly nostalgic. ***