A Million Miles From Broadway – Musical Theatre Beyond New York and London – Revised and Expanded Edition byMel Atkey.(Friendly Song Company A$42.44)
Mel Atkey has updated and expanded his 2012 A4 sized book into this more bookshelf friendly tome. If the previous version was monumental in its research, then this update is even more all-encompassing, and at 644 pages is a veritable bible of musical theatre outside of London and New York.
Atkey's premise is to "explore the diversity of multi-national musical theatre, and to learn its craft by examining the works that have gone before – in all parts of the world." He succeeds very well because the book covers all types of musical theatre including operetta, zarzuela, revue, cabaret and jukebox musicals. It doesn't include the innumerable international productions of The Phantom of the Opera, Les Miz or Mamma Mia! - that's another book - but looks at originally created work in the various countries.
Act 1 begins with the birth of the musical theatre in Paris with Offenbach's Orpheus in the Underworld in 1858. He then discusses operetta in Vienna and Berlin before we get to Gilbert & Sullivan's comic opera oeuvre in London.
We cross the pond to New York with the arrival of Jerome Kern's Princess Theatre shows, the Gershwins and Rodgers and Hart, and in the thirties the London work of Ivor Novello, Vivian Ellis and Noël Coward.
A chapter on Rock 'N' Roll discusses rock influences in musical theatre (Hair/Rent etc), and one on musical writing craft quotes Lehman Engel, Stephen Sondheim and Dave Mallory.
Act 2 looks at "Europe After Hitler", with international successes Irma la Douce, Les Misérables andOnce, the post-war British musical andAtkey's home country, Canada, which has added its recent international hit Come From Away. There's a large and detailed chapter on Australia, with entries as recent as The Detective's Handbook, Melba and Evie May. South Africa (in the original manuscript) is now just Africa and the chapter includes Egypt. South America and Asia follow.
Atkey visited the Daegu International Musical Festival in 2019, so there's quite a lot about what's happening in South Korea, while Singapore has been beefed up with more entries.
Stephen Schwartz's 2016 Vienna-only Schikaneder is mentioned, along with a passing reference to Frank Widlhorn's South Korean The Man Who Laughs, but Wildhorn's extensive catalogue of musicals in Prague (Carmen), Switzerland (Count of Monte Cristo/Excalibur) and Japan (Never Say Goodbye/Cyrano) are ignored.
Still, considering the scope and parameters of Atkey's focus, it's a magnificent work and should be on the shelf of every musical theatre geek around the world. Atkey's love of the genre shines through on every page. It's an easy read and indispensable as a reference work. It comes with an index and some images of the players and productions.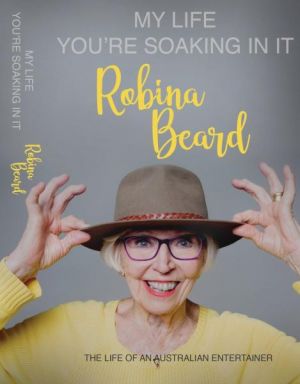 My Life You're Soaking In Itby Robina Beard.(Playscript $24.99)
Robina Beard has spent a lifetime in the arts and a lot of it in dance or dance related projects. She has been National President of Cecchetti Ballet of Australia and President of AusDance NSW. She has a Lifetime Achievement Award from the Australian Dance Awards, of which she was Chair and a founding organiser, and a Medal of the Order of Australia "For service to the arts, particularly through dance."
Her biography begins with her post-war childhood in England and follows with her early education in Australia and her dance training.'
She started her career for J.C. Williamson's in 1954 in Can-Can, dancing in the chorus, her one and only stint as a 'chorus girl'. She became obsessed with intimate revue and the work at Sydney's Phillip Street Theatre, joining the company for a NSW Arts Council tour of The Willow Pattern Plate. She later played the March Hare in Alice in Wonderland for the same company and followed with several of their original musicals, which included Ride On a Broomstick, Mistress Money and A Wish is a Dream, but had her greatest success playing a flapper in the 1920's set Flaming Youth.
Beard understudied Judy Bruce in the original Australian production of Irma La Douce and played the role many times, then did the original Australian seasons and tour of The Sentimental Bloke.
In the sixties she worked in television, on IMT (In Melbourne Tonight) and as a weather girl, and appeared in one of the first Aussie TV sitcoms, Barlie Charlie, alongside Sheila Bradley.
Her brother Chris, after success in Australia scripting Revue 61, moved to Toronto, Canada. Beard visited him and ended up as one of the performers in the long-running revue Spring Thaw. She stayed two years and then returned to work in Australia at Phillip Street again, this time as choreographer of Hail Gloria Fitzpatrick. A revival of The Boy Friend and Anything Goes followed.
In 1968 Beard was offered a TV commercial that would bring her national fame, as Madge in the Palmolive Dishwashing Liquid ad which ran for 20 years. She next played Theatre Restaurant (Dimboola/Girl's Night Out), appeared briefly in No. 96, and returned to musical theatre in Chicago, The Stripper and Four Lady Bowlers in a Golden Holden, a compilation show at of some of the best sketches from the Phillip Street revues, which played at Kinselas, Darlinghurst in 1982.
She later taught dance to Aboriginal students at NAISDA. Beard has had a rich career, achieving many of her dreams and missing out on others. She desperately wanted to play the title role in Sweet Charity, but when told that Nancye Hayes was already cast and they asked her understudy, she said "Oh no I couldn't understudy someone I was better than."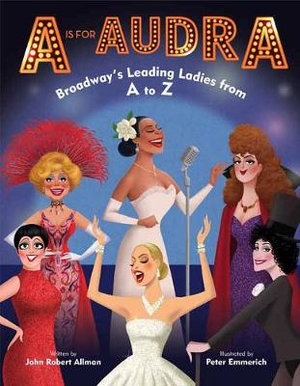 Cassie in A Chorus Line was another role she wanted and was emotionally destroyed when they dismissed her after she sang a song and didn't want to see her dance.
The book is full of spelling mistakes. Par for the course these days with self-published titles, and it would have benefited from someone fact checking. David Merrick did not close On a Clear Day You Can See Forever out of town (it played 280 Broadway performances with Barbara Harris and John Callum), and the song is called "Hurry! It's Lovely Up Here" not "Hey Buds Below". The show that did close out of town was Breakfast at Tiffany's, with Mary Tyler Moore and Richard Chamberlain.
Still, despite the errors, it's an engaging read, especially the early post-war years in London and Australia in the fifties.
A Is For Audra – Broadway's Leading Ladies from A to Zby John Robert Allman / Illustrated by Peter Emmerich.(Doubleday Books for Young Readers A$27.94)
This cute book is the ideal gift for young budding musical theatre geeks. A series of caricatures and verses of Broadway leading ladies, it starts with Audra McDonald as Billie Holiday in Lady Day at Emmerson's Bar and Grill -
"A is for Audra, who awes and amazes,
With each line and note, all the critics sing praises,"
- and ends with Z is for Liza – with a "Z," not an "S"! In between there's a host of divas from Bea Arthur and Sutton Foster, to Ethel Merman, Bette Midler and Barbra Streisand. The prose is fun and the caricatures capture the ticks and quirks of the subjects with loving admiration.