The classic pantomime returns to Bankstown (NSW) this October, with a magical retelling of the classic tale Aladdin by Bankstown Theatre Company (BTC).
It's been several years since the local community theatre group produced a pantomime and writer and director Arthur Pickering said the time was right for it return to the local stage.
"BTC believes that theatre is for all the community and pantomime fills the bill as it delivers a fun experience for all ages. It is also offers the perfect opportunity for young people to experience the thrill and enrichment that comes when attending live theatre."
This re-imagined retelling follows the rogue Aladdin, living with his Mum, Dame Rinso who runs a laundry and rickshaw wash in down town Nickynackynoo (somewhere in China). Aladdin who is a bit of a rogue, meets the feisty Princess Lollipop and falls in love. Lollipop's dad, The Emperor Hititiddlehipo, demands a rich son in law, so Aladdin heads off to make his fortune with the evil Sorcerer, Abanaza.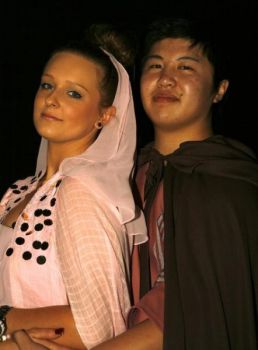 "The show is full of music, dancing and prat falls. It is written with children in mind but the situations and sub text allow an adult mind to enjoy reading between the lines. So as 'beauty' is in the eye of the beholder, so is pantomime, especially that of the British tradition," added Arthur.
Playing Princess Lollipop is local actress Kate Selsby, who was most recently on stage in Bankstown as the young Dusty Springfield in the hit production of DUSTY – the Original Pop Diva!
"Pantomimes are fantastic fun, completely over the top and full of laughs. It's also a challenge as an actress as you have to let go of all your inhibitions and channel your inner kid," said Kate.
As well as featuring some of Bankstown's leading community theatre performers, the show also includes students from the Ann-Maree School of Dance in Padstow which has been operating in the local area for over 25 years.
"Performing in a production like Aladdin offers young dancers an invaluable experience as they utilise their skills in an exciting and practical way, as they see how theatre works from the stage side of the foot lights.
"The production is also full of stylish, whimsical and colourful costumes. This production allows the use of many of the flamboyant and exotic costumes from the BTC wardrobe department that have not been seen recently. There are also some new designs that are sure to amuse.
"So if you want a trip to the theatre that is full of good old fashioned rollicking fun for young and old and in need of a good giggle, Aladdin is the show to see," concluded Arthur.
Aladdin– the new pantomime plays at the Bankstown Arts Centre Theatre on Saturday's and Sunday's on October 22,23,29,30 at 11am & 3pm. Tickets only $20 Adults, $10 Children or $40 family. Bookings on (02) 9676 1191 or visit www.btsinc.org
To keep up with the latest news and reviews at Stage Whispers, click here to like us on Facebook, or follow us on Twitter.