Dark, funny, timeless and universal… Epicentre Theatre Company (NSW) presents Dario Fo's absurdist masterpiece Accidental Death of an Anarchist at Sydney's Zenith Theatre in June, 2012.
It's 1969: Milan, Italy. An anarchist, under interrogation, jumps (or is thrown), from the fourth floor of a police station. An insidious cover-up follows. Furious protesters rally in the streets. Ravenous press hounds batter down the doors. Enter an eccentric Maniac, under arrest for a series of high-profile impersonations.
In a hilarious melee of zany slapstick, boggling word play, and confusing disguises, the police case falls to pieces. But here's the clincher: This wild farce is based on real events… In 1969, a left-wing anarchist, Giuseppe Pinelli, was indeed arrested for bombing a bank and a train station in Milan. These attacks were later found to have been the work of the secret police and neo-fascist forces, supported by the highest levels of the Italian government.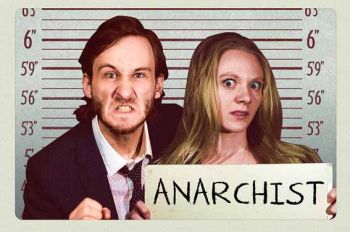 At the helm of this production are brothers Constantine and Michael Costi, fresh from a recent sell-out season of The Merchant of Venice at the Genesian Theatre. Joining them are designers Alice Joel & Andrew Weston.
Says Constantine: "While set in the midst of post-war Italian fascism and institutional corruption, Dario Fo's play is timeless. It's an unflinching reminder of the perils of jingoism, corruption and explores what happens when people stop thinking for themselves, and blindly follow the state. Anarchist is a fun, raucous and fast-paced comedy, and a harrowing reminder of the universal threat of political repression."
Featuring a live jazz band, a young cast (all in their 20s or less!) and bold production design, this show launches audiences into a striking and frenzied world where the absurd games of the Maniac are set against the desperate atmosphere of the police station. Audiences are able to laugh at the macabre dance of power and corruption, while engaging with unsettling political commentary.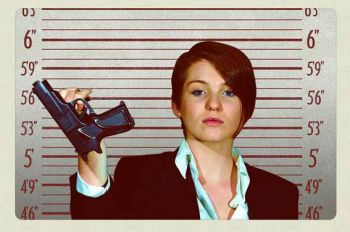 Directed by Michael and Constantine Costi, Accidental Death of an Anarchist features Constantine Costi as The Maniac, Jessica Leafe as Bertozzo, Jasper Garner Gore as Pissani, Emily Sheehan as The Superintendant, Stephen Lloyd-Coombs as The Constable and Meg Biggs as Maria Felitti.
Epicentre Theatre Company has been producing theatre on the Lower North Shore for 35 years, and is one of the Founding Groups of the Zenith Theatre.
Epicentre Theatre Company presents
The Accidental Death of an Anarchist, by Dario Fo
Friday 22-Saturday 30 June
Wed-Sat 8pm, plus Sun 24 June 5pm and Sat 30 June 2pm
Zenith Theatre, Cnr McIntosh and Railway Streets Chatswood
Bookings 9777 7547 or www.epicentretheatre.org.au
Images: Constantine Costi and Jessica Leafe; Jasper Garner Gore and Emily Sheehan & Meg Biggs.
Check out Constantine Costi's Director's Diary of Merchant of Venice on pages 88 - 90 our May / June electronic edition.
More Reading
Community Theatre Seasons 2012 - www.stagewhispers.com.au/community-theatre/community-theatre-seasons-2012
More Community Theatre - www.stagewhispers.com.au/community-theatre