Altona City Theatre (Vic) is presenting Stephen Sondheim and Hugh Wheeler's dark, operatic Tony and Olivier award winning musical Sweeney Todd: The Demon Barber of Fleet Street, from September 21 to October 6 at the Altona Theatre.
Forgive our play on the Sondheim lyric, but when Stage Whispers had the chance to speak to Musical Director Ian Nisbet it seemed such an apt title.
Stage Whispers: Are you a particular Stephen Sondheim fan? What makes his writing special for you?
Ian Nisbet: I'm actually a very late Sondheim convert. I quite proudly (and stupidly) believed for a long time that no single man could possibly do for the genre what Sondheim has, until I met his music face-to-face while MDing Into the Woods with ACUPA in 2011 and since then I've devoured anything and everything I possibly could about his work. His principles of 'content dictates form,' 'less is more,' and 'God is in the details' are exquisite examples of artistry and I continue to notice their relevance both within his music but also in my day-to-day life outside of the theatre.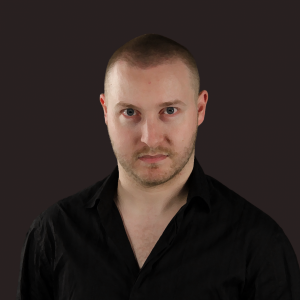 SW: What is it that attracts you to his work, and Sweeney Todd in particular?
IN: There's an innate beauty in all of Sondheim's work that doesn't really occur that regularly in a lot of other musical theatre. There's no such thing as 'song for the sake of song' in any of his works and every single number is so perfectly suited to both its intention and environment that it's sometimes hard to imagine how he achieved such exceptional results time after time after time. I fell in love with Passion with the first lyric, "I'm so happy I'm afraid I'll die here in your arms" - the melody's setting is exquisite and perfectly suited its moment in the show. Personally I love a good waltz and what better example is there in musical theatre than "A Little Priest"? But I also like dark and 'meaty' (if you'll excuse the pun) shows and Sweeney certainly fits that bill.
SW: What have the joys of this Sweeney Todd been for you?
IN: Once again I have been blessed with an amazing cast. Dave Barclay and Maxine Montgomery are stalwarts of the community scene down here in Melbourne and don't disappoint. Other highlights include Josh Peterson as the Beadle, Nick Barker-Pendree as the deliciously creepy Judge Turpin, Sam McPartlan as Anthony, and Lauren Baistow as Johanna. All have been a delight to work with and I have particularly relished getting into the nitty-gritty's of their characters with them during the rehearsal period.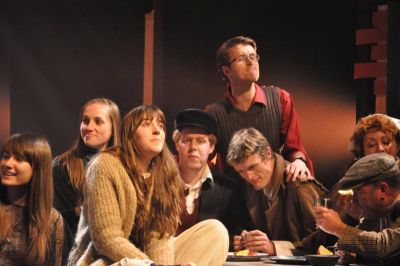 Sweeney is virtually a Broadway opera – what are the challenges as you SW: see them for a non-professional company?
IN: The challenge musically is to find performers (and musicians) capable of competently and expressively handling Sondheim's complex score. It's about finding that fine balance between technicality and emotion and I'm glad to say that the entire cast has really come to the fore with their efforts in approaching the complex and vocally-taxing music of this show. Once the notes are learnt it's then about the timing and then, finally, finding the 'music' of the piece. Thankfully the entire cast have approached the first two concerns with zeal, allowing me to deal specifically with the dramatic elements of the music that I hope come through in performance. Like opera, Sondheim is very much about the music and I have done my best to make it a real highlight of this production.
SW: Generally we think of a director's vision of a show, but as musical director, what influence have you had on the interpretation of the production?
IN: There are many references to Sondheim discussing the use of the "Dies Irae" melody in Sweeney and I alerted the cast to this in the first rehearsal and asked them to be conscious of its meaning at all times throughout the show. For those not familiar, "Dies Irae" translates to "Day of Wrath" and the entire show is about Sweeney's day of wrath - Sweeney's day of judgement. So I asked the cast to embody that sense of revenge - the anger and frustration - in their vocals throughout the show, especially when the veiled melody appears, such as in the Ballads as well as Sweeney's own "Epiphany." The chorus are acting as an amplification of Sweeney's emotions and hopefully their performance will increase the overall emotional impact for the audience.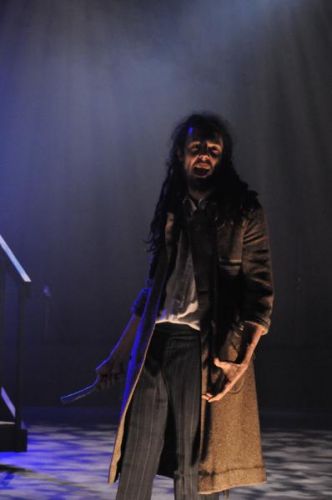 SW: You've got a very large orchestra for the piece – what is special about the orchestrations for you?
IN: Each and every performance is revealing more and more depth in Tunick's orchestration and I'm finding that my favourite numbers are changing as the season progresses. There is, however, a distinct divide between the string and brass sections in the score that I have physically replicated up in the 'pit' and standing in the middle of it all highlights the dichotomy for me even more. Thanks James Holt (sound tech.) has also captured this in his mix making the larger moments even larger and the quieter, intimate moments gentler than I ever thought possible.
SW: Obviously casting of the on-stage performers is central to the casting of the show, but are orchestral choices equally crucial? Were there players who you specifically had to have for this show?
IN: Like all MDs I have my 'little black book' of favourite players and I'm very pleased to have a number of them back for this production. But, then again, people aren't always available for every season and that provides the opportunity to meet a whole bunch of new and equally-talented people. I like to run a fun yet professional pit and am pleased to say that we have struck the perfect balance in this production and I hope that the enthusiasm can be felt way out there in the audience.
SW: Do you have particular favourite moments in the score?
IN: As per the orchestration question I'm finding little moments that I just adore every time they come around. There's the obvious brass swell in Anthony's Act I "Johanna" but, since starting to work with the full orchestra rather than just piano, I'm particularly enjoying the unexpected treasures like the stirring string accompaniment to the lyric "down by the sea" in the song of the (sort of) same name. And then there's the percussion swells - basically any time there's a swell!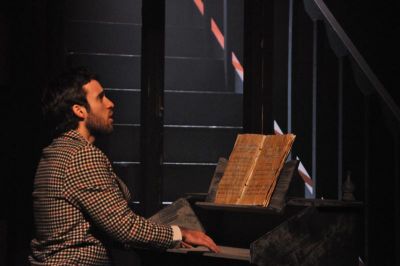 SW: This show must be quite an epic for a conductor, especially as you conduct four performances in less than 48 hours each weekend of the season. How do you prepare for something like that?
IN: It's definitely a big 'wave' as I like to say! I told the cast regularly during the rehearsal period that the rehearsals are just as much for me as they are for them, as I'm practicing a 'performance' of my own over and over that I have to reproduce correctly every 'night' in the same way they have to. This show has required lots of preparation on my behalf so I could come in to rehearsals ready with answers for (most of) the cast's questions and confident enough to navigate Sondheim's complex time signatures. There's also an element of physical preparation as I have a habit of 'getting into' my conducting that means I could easily pull a muscle or do some damage if I'm not careful to stretch and loosen up the arms before the show starts!
SW: You must have an interesting perspective on the show when it's in performance – conducting, watching at the same time etc. Can you share the experience.
IN: Conducting a show remotely via video is always an interesting challenge - especially with the sometimes inexact nature of live theatre. Some nights are a dream and everything flows beautifully while others require more concentration after a hard day at work or if a cast member skips a line or pre-empts or misses an entry. We all know that no show is ever the same but, thankfully in this case, I have both a talented cast and orchestra who are able to adapt to changing circumstances almost instantly and hopefully subtly enough that the audience doesn't even realise that anything happened at all.
Many readers will remember Ian's reviews and features for Stage Whispers. It's been great to have the chance to interview him.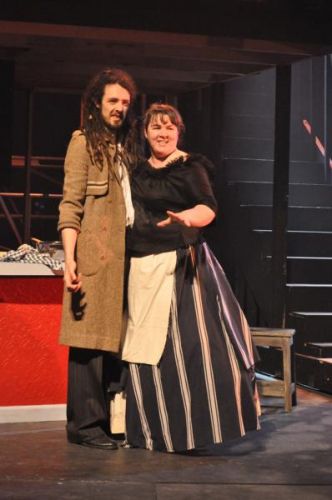 Altona City Theatre proudly presents...
Sweeney Todd - The Demon Barber of Fleet Street
Music and Lyrics by Stephen Sondheim
Book by Hugo Wheeler
From an adaptation by Christoper Bond. Originally directed by Harold Prince.
Originally produced on Broadway by Richard Barr, Charles Woodward, Robert Fryer, Mary Lea Johnson, Martin Richads. In association with Dean and Judy Manos.
By arrangement with Hal Leonard Australia Ptd Ltd Exclusive agent for Music Theatre International (NY)
Friday 21st September @ 7:30pm - Gala Opening
Saturday 22nd September @ 7:30pm
Sunday 23rd September @ 2pm
Friday 28th September @ 7:30pm
Saturday 29th September @ 7:30pm
Sunday 30th September @ 2pm
Friday 5th October @ 7:30pm
Saturday 6th October @ 2pm
Saturday 6th October @ 7:30pm
All Tickets $30
($25 ea for groups of 10 or more)
Performances are held at the Altona Theatre, 115 Civic Parade, Altona
Book online at http://www.altonacitytheatre.com.au/
or call (or SMS) 0425 705 550