IT'S a case of looking for love in just the one wrong place at Perth's Old Mill Theatre this October.
Directed by Matt Longman, After Dinner sees five lonely singles head out to their local pub on a Friday night, determined to forget their nine-to-five routine.
Three female office workers are looking for a good night out and, nearby, two men are looking for the same – with different ideas.
After Dinner is written by Andrew Bovell, best known for the AFI award-winning screenplays Strictly Ballroom (co-written with Baz Luhrmann) and Lantana (based on the play Speaking in Tongues).
Longman wanted to stage the play, after finding it both humorous and thoughtful in its depiction of every day Australians and their social habits.
"It's a hilarious look at a night on the town and the things people really look for when socialising," he said.
"Everyone will know at least one character in the play and I thought it would be a great chance to explore the lighter side of relationships.
"The most interesting thing is how well-formed each character is and how they reveal their inner workings as the night progresses.
"It shows an enormous deal of empathy on the part of playwright Andrew Bovell, who has to be one of the best writers Australian theatre has produced in the past 30 years."
Involved with a variety of theatres since age 17, including Skipping Stone, BSX, Playlovers, Harbour, Old Mill, Deckchair, the WA Youth Theatre Company, Irish Theatre Players and the WA Academy of Performing Arts, Longman was nominated in the annual Finley Awards for directing The Pillowman last year.
He recently directed A Lie of the Mind for Blak Yak Theatre, was assistant director to Marisa Garreffa on Aesop and his Fables at Barking Gecko Theatre Company and also performed in Chekhov's Three Sisters at the Dolphin Theatre.
With After Dinner, Longman says the main challenge is keeping it serious – despite the fact it's a comedy.
"It has to be played as if it's not a comedy to give the show effective rhythm and pace," he said.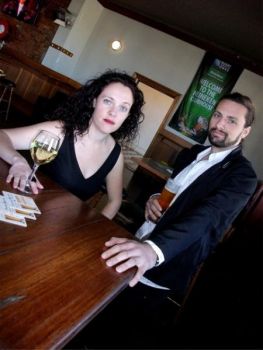 He also believes people who don't usually go to theatre will love the show.
"It's easy to watch and relate to, incredibly accurate in its observances and side-splitting funny," Longman said.
After Dinnerplays at 8pm, September 30, October 1, 6, 7, 8, 12, 13, 14 and 15 with a 2pm matinee on October 9.
Tickets are $20, $15 concession – book on 9367 8719 or oldmilltheatre@iinet.net.au.
The heritage-listed Old Mill Theatre is on Mends Street, South Perth, opposite the Windsor Hotel.\
Images: From top - Emily Rowe, Jason McFarlane, Jacinta Tavelli-Williams, Alexander Littlewood and Jayma Knudson are five lonely singles in After Dinner, looking for a good night out at their local pub.
Divorcee Gordon (Jason McFarlane) is lost for words when he tries to bust a move on Dympie (Emily Rowe) in After Dinner.
Monika (Jayma Knudson) is unimpressed when Stephen (Alexander Littlewood) makes a move in After Dinner.
Emily Rowe, Jacinta Tavelli-Williams and Jayma Knudson are Dympie, Paula and Monika, looking for love in the wrong place in After Dinner.
To keep up with the latest news and reviews at Stage Whispers, click here to like us on Facebook, or follow us on Twitter.