Normanhurst Uniting Church Musical Society presents the Andrew Lloyd Webber rarity By Jeeves, and leading the company is Kent Blackmore, a veteran of 35 shows with NUCMS.
The show, based on the classic P. G. Wodehouse characters is close the Kent's heart as he grew up on the classic English humour of Bertie Wooster and his eccentric friends and acquaintances.
"Wodehouse's pre-war characters are so cleverly drawn that you will recognise them in your own friends today."
It's a view echoed by director Ian Wesley, who has also loved the off-beat humour of Wodehouse for many years.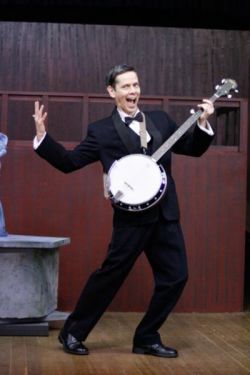 "There is something about the way in which the cheerful and hopelessly naive Bertie is always willing to help his friends, but ends up entangled in a mess beyond his control that is irresistible."
Directing a production of By Jeeves has been a long-held ambition for Ian.
"I fell in love with the Jeeves stories in the 1980's with the TV series that stared Stephen Fry and Hugh Laurie. The language of Wodehouse is captured perfectly by Alan Ayckbourn in his book and lyrics, and the music by Andrew Lloyd Webber is simple and charming, even occasionally gently satirising his own style."
By Jeeves is set in a village church hall where Bertie Wooster has volunteered to give a fundraising banjo concert. However, unforeseen circumstances force a change in plans, and Bertie, with the assistance of the fundraising committee, must improvise an alternative entertainment.
Performances of By Jeeves are on 5th, 6th, 13th and 20th October at 8pm and 6th, 13th, 14th and 20th October at 2pm.
Bookings: www.nucms.org or on 9487 2786. Tickets cost $30 for adults, $25 for concession card holders and $15 for children.