Cowra Musical and Dramatic Societya collection of Chitty Chitty Bang Bang set and prop items for sale following the Society's recent production.
Most of the props, including the car, were built by Lithgow Musical Society for their 2016 production. They were subsequently used by the Parkes Musical and Dramatic Society in 2017.
Due to limited storage space the Cowra M&D is eager to sell the items as quickly as possible. The company is asking $3500 for the job lot with the purchaser to arrange collection from Cowra.
Chitty Chitty Bang Bang car– timber with steel frame
Working headlights
Horn
Retractable wings (controlled by children in rear seat)
LED lights on wing edges
LED lights to illuminate front and rear seat passengers
New nylon casters for ease of movement (Car is moved by driver and front seat passenger)
Compressed air piping to allow inflation of flotation rings over front wheels. (Floatation rings and air cylinder included).
Car can be safely lifted using four attachment points on steel frame
Approximate weight 150kg empty.
Old Chitty car– timber
Approximately half size of main car
Doubles as Baronial car in Act 2 Scene 1 'Roses of Success' with addition of green corflute bonnet
Truly Scrumptious Motor Cycle
Modified bicycle
Can be ridden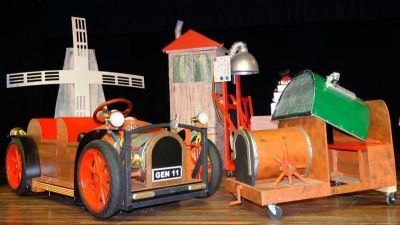 Breakfast making machine– timber, metal, plastic
Rotating wheel with sausages
Spiral for egg delivery
Space for additional props including plates, boiled eggs, etc
Sweet making machine– timber and metal
Additional items include; 3 x toot sweet whistles, 12 x non-playable toot sweets, 4 x raspberry lollies
Hair cutting machine– Timber and metal
LED lights controlled by operator; exterior – white, interior – red
Emits 'Smoke'
Windmill House – cardboard and corflute
Height - approximately two metres
Used on stage at Lithgow and Parkes and as a prop in the foyer at Cowra
Grandpa's laboratory/Out house – timber and cardboard
Rear access for entry/exit
Can be lifted using attached lifting rings in roof
Additional items include: Miniature laboratory/Out house (with interior lighting) and enclosure. The enclosure attaches to the front of the stage to conceal the miniature which can be pulled above the audience on a light line. The light activates automatically as the miniature leaves the enclosure.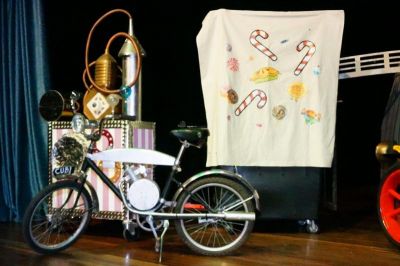 Childcatcher's cage – Timber and plastic
Easily moved by one person.
Removable curtain to conceal cage
Petrol bowsers x 2 – Cardboard and plastic
One free-standing with fuel nozzle
One doubles as disguise for spy
Baron's Birthday cake and cake table – Timber and cardboard
Large sewer pipes x 3 - Heavy industrial cardboard
Designed so they cannot roll. Used for entry of sewer children.
Large steamer case
Painted red for use in Toymaker's store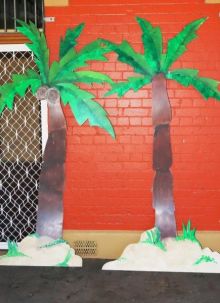 Props for beach scene – Corflute
Palm trees x 2 – Approximately height 2.4 metres
Seagulls x 3
Sand castle x 1
Raised beach edges x 2
Miscellaneous gear wheels – Corflute
Grandprix banner – Calico with timber poles
Dual sided – Grand Prix 1909/Grand Prix 1910
Large Vulgarian Flag x 3 – Cotton/Silk Fabric
Cover for Fun Fair stand – Cotton Fabric
Used by Lithgow and Parkes. Not used in Cowra production.
Some additional small items not used in the Cowra production are also included but not listed.
Contact
Cowra Musical and Dramatic Society Inc.
Phone: 02 6341 3337 or 0408 639 088