CLOC Musical Theatre (Vic) is preparing to take a nostalgic trip back to the days of slick hair, smooth talk, cool dudes – and hip swivelling rockin' good times during October 2012.
All Shook Up is a new musical set in the 1950s and based around the songs of Elvis Presley, featuring nearly 30 of the King of Rock 'n' Roll's biggest hits woven into a story of mistaken identity, mixed up romance and true love. Although not a biography of Elvis, it does centre around a suspiciously similar leather jacketed, motor bike riding, guitar slinging, hip sashaying, slick haired roustabout whose arrival in a small US town sets the women swooning, the men reeling and the town on its ear.
A big part of the charm of All Shook Up is its over-the-top fairy-tale silliness, where reality and seriousness are left at the front door of the theatre, replaced by laughter, goofiness and a complete suspension of logic and disbelief.
The costumes for the show are a big part of what allows the audience to go on this journey. This is the sixth time that Costume Designer Victoria Horne (pictured top) has worked with Director-Choreographer Craig Wiltshire, so she had a fair idea of what he was looking for to achieve the desired effect.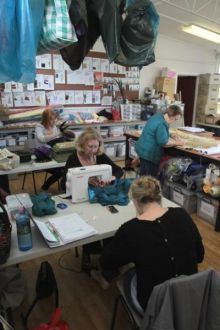 And exactly what was he looking for? Well, A LOT of costumes – 240, to be precise (including an entire cast wearing blue suede shoes and black leather jackets) and TONS of sequins – even prisoner outfits are sequinned (see photo). Says Vicky, "In every show I have ever done, each costume that has gone onstage has had at least one sequin somewhere on it. Some shows, like Fiddler on the Roof, which I did with CLOC in 2011, presented a real challenge in this regard, although I still managed it. This show, however, has been an absolute breeze as every single costume, including shoes – and props, for that matter, as well – has sequins all over. Our sewing ladies have been sequinning for months now, to get the required sparkle and over-the-top glitz!"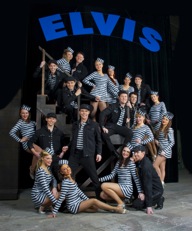 With songs including Heartbreak Hotel, Love Me Tender, Don't Be Cruel, Blue Suede Shoes, Devil in Disguise, Jailhouse Rock, Burning Love, It's Now or Never, C'mon Everybody, Follow That Dream and of course the title tune, there will definitely be a whole lot of shakin' goin' on when CLOC's cast raises the roof of St Kilda's National Theatre in a feel good night of hilarity, high jinx and hit after familiar hit from a time when music was king and the King was Elvis.
All Shook Up runs from October 5 - 20 for twelve performances, including three matinees on Saturday October 13 and Sundays October 7 and 14. Tickets can be purchased by phoning 1300 362 547, or you can book online at www.cloc.org.au
Earlier coverage of All Shook Up
Win a double pass to the performance of All Shook Up on Thursaday October 11.
We have one double pass to give away.
To Enter
Visit our Contact form. Enter All Shook Up in the Subject field.
Name your favourite Elvis song or movie, then tell us why you love it in 10 words or less.
Competition closes at noon on Friday October 5, 2012, when we'll choose our favourite answer as the winner.
Our winner is Kate Amos.