Confronting, unsettling, thought-provoking and heart-wrenching, One Flew Over The Cuckoo's Nest is the next production from Phoenix Theatre (WA), opening on November 8.
Adapted from the popular Ken Kesey novel for stage by Dale Wasserman in 1963, it explores institutionalised mental health patients, invasive medical proceduresand the delicate nature of the human psyche.
Most famously, it was made into a multiple Academy Award-winning film with Jack Nicholson in 1975 – although the film was based on the novel, not the play.
Challenging authority and ridiculing conformity, One Flew Over The Cuckoo's Nest follows a rebellious patient's life-or-death power struggle with a domineering head nurse.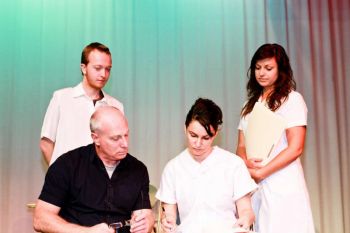 Jane Sherwood has taken on the challenge of directing what's been described as a "masterpiece of theatre".
"Many years ago, the film had a great impact on me and, after reading the play, I thought the stage version was even better," she said.
"It's a touching story of friendship together with a confronting story of control.
"As director, my task is to ensure the characters become real people, not stereotypes."
Sherwood's experience, both on and off the stage, in London, Melbourne and Perth, includes working with the Belvedere Intimate, Phoenix, Old Mill, Black Swan, Stirling, Rag and Bone and Kwinana Theatres, Arena Arts and Entertainment and A lad in sane productions.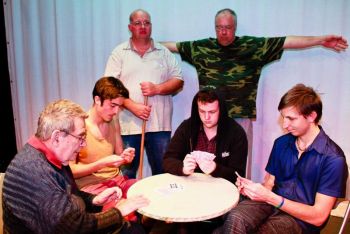 Earlier this year, Sherwood staged the Australian premiere of the rock opera Virgin Warrior at Phoenix Theatre and is delivering the world premiere of Who Killed Candy Sweetness? this October.
With the film and novel of One Flew Over The Cuckoo's Nest being so well-known, she admits audiences will have high expectations.
"We are not going to try to do an impersonation but are following a fairly traditional approach," Sherwood said.
"The big difference is the film is very well-known but the play is actually quite distinct to the film."
One Flew Over The Cuckoo's Nest plays from November 8 to 24, 2012.
Bookings: 0450 158 851 or at www.trybooking.com.
Please note: the play contains coarse language and adult themes
Phoenix Theatre is located on the corner of Rockingham Road and Carrington Street, Hamilton Hill, within the Hamilton Hill Memorial Hall.
Images: Shy patient Billy Bibbit (Jack Walker) scores a kiss from good-time girl Candy Starr (Judith Gerardin); The medical staff – Warren (James Hynson), Dr Spivey (Peter Neaves) and Nurse Ratched (Nina Deasley) & Patients Scanlon (David Pragnell), Billy (Jack Walker), Chief (Adam Salathiel), Cheswick (Ryan McNally), Ruckley (Denys Lunn) and Harding (Christopher Doney) pass the time playing cards in One Flew Over The Cuckoo's Nest.