The Pine Rivers Musical Association (PRIMA), Is a young and rapidly expanding theatrical group formed relatively recently in the Pine Rivers area (Brisbane), presents Oliver! from October 19 – 27.
Based on the novel Oliver Twist by Charles Dickens, Lionel Bart's musical tells the story of a nine-year-old work-house boy who famously asks for "more". He is then sold to an undertaker and his wife but promptly runs away, taking the long journey to London. Oliver meets the Artful Dodger, Fagin, Nancy and Bill Sykes as he dreams of a family who will love him.
A packed audition process at PRIMA saw more than 90 singers, dancers and actors travelling from as far as the Gold Coast to audition. Although the company's new venue is large, fitting 90 people on stage was not possible so the 90 became 60, including about 26 kids and 30 adults coming from all areas of the Pine Rivers and beyond.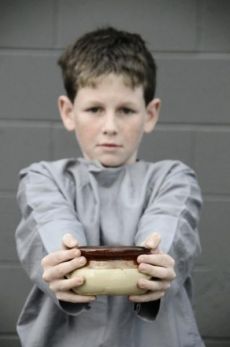 Among the cast is a descendant of Charles Dickens. Robyn Lupton, who will play Old Sally, revealed that she is a direct descendant. Rosina Gale was Robyn's great, great grandmother, and one of the 'working girls', who was lucky to be taken under Charles Dickens 'wing' into 'Urania Cottage'.
The women were taught music, housekeeping and needlecraft, and three (including Rosina) were selected for a new life in Australia.
Rosina passed on her needlecraft skills to her daughter, who in turn trained her son, Robyn's grandfather, who became a highly skilled upholsterer.
"I really wanted to be involved in 'Oliver', as I feel a close family connection, and love the challenge of being part of another PRIMA show," Robyn says
Oliver runs from the 19-27 October, 2012 at the Holy Spirit Auditorium in Bray Park. Book your tickets online at www.prima.org.au or telephone the box office on 3882 2102.
Show dates
Friday October 19, 2012 7:00 pm
Saturday October 20, 2012 7:00 pm
Sunday October 21, 2012 2:00 pm
Friday October 26, 2012 7:00 pm
Saturday October 27, 2012 2:00 pm
Saturday October 27, 2012 7:00 pm