Stage Whispers begins a news series on community theatre enthusiasts and their contrasting day jobs.
Meet Tom Sweeney, Community Relations Officer for Macquarie Park Cemetery and Crematorium by day and President of the Willoughby Theatre Company and Director extraordinaire by night.
What does your day job involve?
I have to market a cemetery and crematorium, and most people say why bother? Well we have competition down the street and a name change to promote.
Do you ever have to bury people?
I don't physically do any of that. My job is to make people more aware of the place so it is their first choice for burial or cremation.
What is your theatrical vocation?
I am President of the Willoughby Theatre Company – one of Sydney's leading community theatres and we are about to move into a brand new venue in Chatswood. We are re-establishing Willoughby as a theatre company which stages big spectacular musicals. I am directing the first production there – The Boy From Oz.
How many shows have you directed over the years?
Since 1978 I have directed 38 productions for Willoughby, and for others a lot more.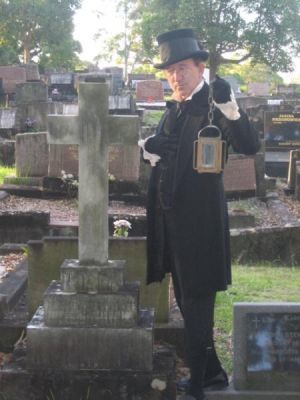 How many nights a week would you be involved with the theatre?
On average three nights a week for rehearsals and meetings, plus some weekends. My wife and I go to Broadway every two years and I go to as many community theatre productions as I can.
Have you always been dying to get onto the stage?
People have said I've died on stage many times. I would like to get on stage more but I am not allowed.
How do you use your theatrical bent in your day job?
I have created an historic lantern character in Macquarie Park where I dress up as Mr. Sowerberry from Oliver! I take people on a tour of famous people buried in Macquarie Park and I do it totally in character for two hours.
Do you sell tickets to your shows at work?
I flog to everyone who stands or listens that we have a show coming up.
Do you hand out flyers at funerals?
I haven't got to that yet but we could put it on the seats couldn't we. But the ones behind the curtains we take off our mailing list.
Is that why you don't want to be behind the curtains so much anymore on stage?
When the curtain comes down where I work, it is final.
Finally who has been the most famous person that you have directed?
Hugh Jackman appeared in my production of Paint Your Wagon and allegedly I said to him in front of all his fellow chorus members, 'if you all acted like him you might get somewhere.'
Tom Sweeney is directing Willoughby Theatre Company's production of The Boy From Oz, the first prodiuction at The Theatre on The Concourse, Chatswood, from September 23 to October 1, 2011. Read more.
To keep up with the latest news and reviews at Stage Whispers, click here to like us on Facebook, or follow us on Twitter.