An evening of hilarious theatre is promised by the director of Arts Theatre Cronulla's first play for 2020, Don't Dress for Dinner. Originally staged in Paris where it ran for two years, the English version of this infidelity comedy adapted by Robin Hawdon ran in London for six years, opened on Broadway in 2012 and has since played in theatres all over America and the English-speaking world
The story centres on Bernard and Jacqueline, a not-so-happily married couple, both of whom are having extramarital affairs. Bernard is planning a romantic weekend with his chic Parisian mistress while his wife is away. He has invited his best friend Robert along to provide the alibi and hired a gourmet chef to add culinary spice.
It's foolproof; what could possibly go wrong? Well, for starters, hidden identities and outrageous infidelities are exposed, with characters dashing on and off stage, one step ahead of being caught out. This highly complicated romp of hilarious hijinks, secret trysts and slapstick comedy draws the audience in with its delicious web of mistaken identities, marital treachery, with a touch of gourmet cooking on the side.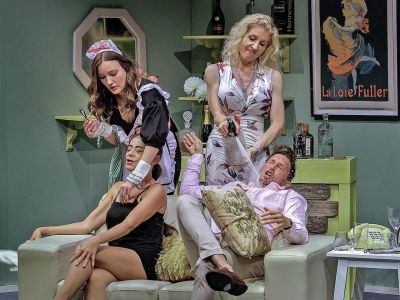 The show opens on Friday 14 February and runs till Saturday 21 March. Performances are on Wednesdays, Fridays and Saturdays at 8pm, with three Sunday afternoon matinees. Tickets are $30/$27 and can be booked online via the theatre's website:
www.artstheatrecronulla.com.au
Cast:
Bernard – Gary Clark
Jacqueline – Margareta Moir
Robert – Michael Barlow
Suzette – Meili Bookluck
Suzanne – Rachele Edson
George – Robert Hill
Photos: Port Hacking Camera Club
More Reading
Community Theatre Seasons 2020