One of pop music's greatest Divas will be celebrated Chatswood's Zenith Theatre in November when Chatswood Musical Society (NSW) presents DUSTY: The Original Pop Diva, a musical about the life and music of Dusty Springfield.
In the 1950's a star-struck, plain and dumpy London schoolgirl imagines she could become a glamorous movie star. Her parents tell her that her fantasies will never come true but nothing deters her. Blessed with an amazing voice and talent, plain Mary O'Brien has soon transformed herself into the blonde pop icon, Dusty Springfield. Dusty takes the entertainment world by storm with a score of hits, a top TV show and a legion of fans.
But the success she wanted is hollow and real happiness eludes her. While Dusty, the gorgeous blonde star, is the illusion the world sees, beneath all the glamour is the alter ego from which Dusty can never escape. At the pinnacle of international success, Dusty finds the pressure unbearable. Unable to be what other people expect, she retreats from the world into a dark place. But, in an inspiring climax, Dusty finds strength in adversity and returns to soar to the top!
Directed by Fiona Kelly with musical director David Lang and Andrew del Popolo choreographer, DUSTY features Linda Hale in the title role with Miriam Ramsay as Reno, Gabriella Glenn as Mary (young Dusty), Katherine Wall and Ray Cullen as her friends Peg and Rodney, Bernadette Baran and Derek Ebb as Dusty's parents the O'Briens and Rhys Gillmer as Tom.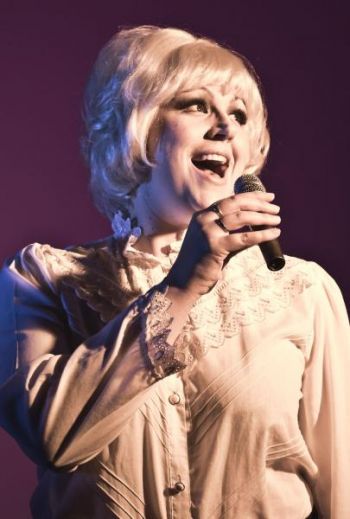 Stage Whispers asked Linda Hale if she was a Dusty Springfield fan before being cast in the role.
"Absolutely!" she told us. "Dusty was an incredible vocalist, she puts so many of today's 'singers' to shame."
People will come to see the show with set expectations of Dusty. Is Linda finding space to bring something of herself to the role?
"Definitely, and I think that's important," she told us, "I hope to be reminiscent of Dusty, but I'm not out to imitate her every sound and movement."
What is her favourite song that you are singing in the show and why?
"I Think It's Gonna Rain Today," she said. "I've always loved the song and have never had an opportunity to sing it until now. It has a gorgeous melody, such a great story and comes at a very poignant moment of the show."
And is she looking forward to the big hair and costumes?
"I sure am! The bigger and blonder the hair, the better!"
The show features some of Dusty Springfield's greatest hits including "I Only Want to Be With You", "You Don't Have to Say You Love Me" and "Son of a Preacher Man" among many more.
DUSTY: The Original Pop Diva
2-10 November Wed-Sat 8pm plus Sat 2pm and Sun 5pm
The Zenith Theatre, Chatswood
Corner McIntosh and Railway Streets, near Chatswood Station
Book at www.chatswoodmusicals.org or call 02 9777 7547
Photographer: Alan Roy