Audiences are in for an out-of-this-world experience when they take their seats to Return to the Forbidden Planet, a performance mash-up of Shakespeare, science fiction and rock and roll.
For a strictly limited season at Monash University's Alexander Theatre (Vic), Return to the Forbidden Planet allows audiences to blast-off for a wild ride where Mad Men meets Rocky Horror in outer space.
Director Bryce Ives said Return to the Forbidden Planet was not just another middle of the road musical but an intergalactic space party.
"Return to the Forbidden Planet is usually known for its strange combination of Shakespearian text, rock and roll music and science fiction parodies, but this production is building into something more surreal and sensational," Mr Ives said.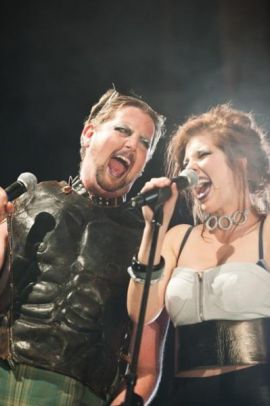 This production of Bob Carlton's musical version of the 1956 movie classic Forbidden Planet draws old television shows and great rock and roll classics from the 1950's and 60's.

With a creative team headed by Bryce Ives and musical director Adrian Portell, Return to the Forbidden Planet has a selection of cast members drawn from across Monash campuses and beyond.
Choreographer Zoe McDonald said the talent of the cast was astounding.
"The cast we've assembled come from very non-traditional, unexpected backgrounds. They are jazz singers, dancers, musicians and actors who've trained fluidly together as an ensemble and are actively driving the formation of this imaginative production," Ms McDonald said.
Four celebrities will also be taking part in the production, including Melbourne's Father Bob Maguire, comedian Tracy Harvey, disability advocate and ABC TV panellist Stella Young and winner of The Amazing Race Mohammed Elleissy.
Suitable for all ages and for five performances only, 'Return to the Forbidden Planet' plays Wednesday 26 September to Saturday 29 September at the Alexander Theatre, Monash University's Clayton campus.

Tickets are available by calling the Box Office on 03 9905 1111 or by visiting the MAPA website. A special free screening of the original 1956 movie classic 'Forbidden Planet' will be held at 6pm on Friday, 28 September 2012.