Penrith welcomes the 60s when the Penrith Musical Comedy Company presents their production of Hairspray from August 31, 2012.
This musical which inspired the popular 2007 movie of the same name, contains everything to make for a memorable and enjoyable show. Not only is there singing, dancing, a mum played by a man, forbidden love and a spoilt brat who gets her comeuppance, there's also an important message about equality, loving yourself for who you are, and making the most of life.
Grant Jones, President of the society, is the lucky man who gets to don a fat suit and dress to play mum Edna Turnblad. On the eve of the show he told Stage Whispers:
"Well last night was our final dress rehearsal of Penrith Musical Comedy Company's latest production of Hairspray.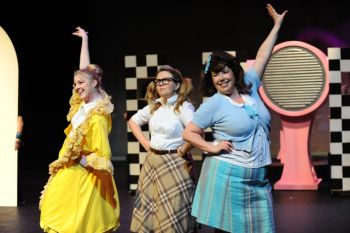 "I must say (no bias intended) this show is going to amazing. The road to last night has been an interesting journey. I have had the most amazing Turnblad family anyone could ask for. Rachael Thompson is utterly brilliant as Tracy Turnblad and Troy Lennon is absolutely hilarious as my husband Wilbur Turnblad. They are my rocks and my leaning posts when I am in my high (very high) heels. There have been many occasions when I will be in a scene and I move a millimetre and have to grab for someone or I will go flying. They are always there thank god to catch me. My calf muscles have been sculpted quite nicely though.
"Also the production team and cast are quite impressed I only had 1 stack on my high high platform heels. This happened during the reprise of 'You're Timeless To Me'. I was such an attractive sight. One platform ended on the other side of the room and then me flat on my back, stockings, house dress and fat suit. Such a sight! Thankfully my padded backside cushioned my fall.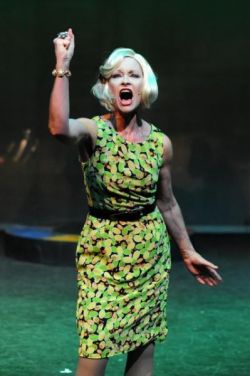 "Kudos to Bek Want, the costume designer, who has created some of my beautiful costumes and created the infamous 'fat suit'. It has evolved into a character of its own with everyone from cast and crew asking permission to feel the suit. Also when many cast members are need a hug they come to get a big bear hug from Mama Turnblad and they feel a whole lot better. It has been interesting getting used to the fat suit and making sure my dresses don't pop a button and reveal my breasts.
"It is also exciting to have some sets from the Australian Production of Hairspray.
"I have had so much fun creating my own spin on the role of Edna and hope as many people get a chance to come and see the show. I thank the production team - Fatima De Assis, Launcelot Roma and Nerida James for allowing me to play this amazing role."
Hairspray follows pleasantly plump teenager Tracy Turnblad who dreams of dancing on the Corny Collins show with the dreamy Link Larkin. Although she is able to overcome discrimination about her size to achieve this dream, she then finds that discrimination runs much deep. Can Tracey integrate the Corny Collins show, catch and keep Link Larkin and get her mum to start living again, all without mussing her hair?
Hairspray will be performed at the Q Theatre in the Joan Sutherland Performing Arts Centre on the 31st of August, and the 1st, 7th and 8th of September at 8pm, and on the 1st and 8th of September at 2pm. Tickets can be purchased by calling 4723 7600, visiting jspac.com.au or in person at the Joan box office.
Images (from top): Troy Lennon (Wilbur) & Grant Jones (Edna); Mama I'm A Big Girl Now - Stephanie Edmonds (Amber), Rachel Crane (Penny) & Rachael Thompson (Tracy); Anne Cefai (Velma) and Nathan Hodge (Corny Collins) and Council Members.
More Community Theatre -www.stagewhispers.com.au/community-theatre