It's not your typical content for a musical.
Set in Sydney 1892, The Hatpin tells the story of Amber Murray, a single mother who entrusted her son to the Makin Family in the hope of saving his life and ended up embroiled in one of the most macabre moving and exciting criminal trials in Australian history.
The show deals with the themes of betrayal, loss, grief and despair, but it also explores courage, hope and friendship.
The Regals is bringing this production to Kogarah (NSW) this October.
"Many people think the show is gruesome and dark when they hear the basic plot but in actuality it is a beautiful and poignant story about a mother's courage and tremendous love for her son," says director, Meg Day.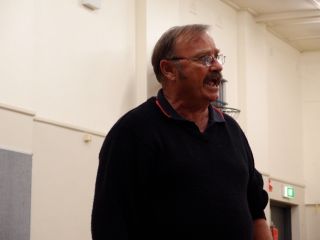 The Hatpin is one of those musicals that moves away from the big Broadway musical numbers to tell powerful and important stories. James Millar's script and Peter Rutherford's score effectively capture the emotions and circumstances of Amber Murray and the other mothers. For director Meg Day, a musical was the perfect form for The Hatpin's story. "To me it makes sense for a story like Amber's to be turned into a musical. When we hear a piece of music we immediately know and feel the emotion. In Hatpin the story and the strength and fear of the characters are captured powerfully through/by the music."
Musical director Kane Wheatley will ensure that The Regals cast capture the drama of this story and do full justice to the melodies that unrelentingly carry this tragedy to its conclusion.
The Hatpin also offers strong and well-developed characters. "Each of the characters is incredibly complex and interesting," says director Meg Day. "All the characters, including the ensemble, have a clear role to play. They have vexed emotions and complex motivations."
The Regals cast features Tanya Boyle (Amber Murray), Virginia Natoli (Harriet Piper), Katherine Cassidy (Agatha Makin), Stephen Wheatley (Charles Makin) and Christie New (Clara Makin).
The Regals production of The Hatpin will open October 12 at St George Bank auditorium. For bookings visit www.theregals.com.au.
Book before September 16 for EARLY BIRD discounts.