ONE of theatre's great dramatic roles is coming to Perth's Melville Theatre from July 13, 2012, when Henrik Ibsen's 1891 masterpiece Hedda Gabler is staged.
Olivia Darby takes on the title role of Hedda Gabler, commonly referred to as the "female Hamlet" in theatre circles, because of her strong and complicated nature and an energy both attractive and destructive.
She chooses to marry a kind, bumbling academic but, even on her honeymoon, feels trapped in a world where she feels only contempt – and wonders what her chances are for a fulfilling life unless she has courage as well as passion.
Olivia Darby told Stage Whispers, "I studied this play in high school and it's the one I remember the most because I remember how frustrated I felt for Hedda as a woman in that era, not being recognised as a person and having to conform to societal stereotyping of what was expected of a woman.
"There is so much passion in her and a desire to be free of those constraints but of course, she's limited by the ignorance of that society that judges and scrutinses a woman for stepping out of the prescribed role and the inevitable ruin that comes when she does.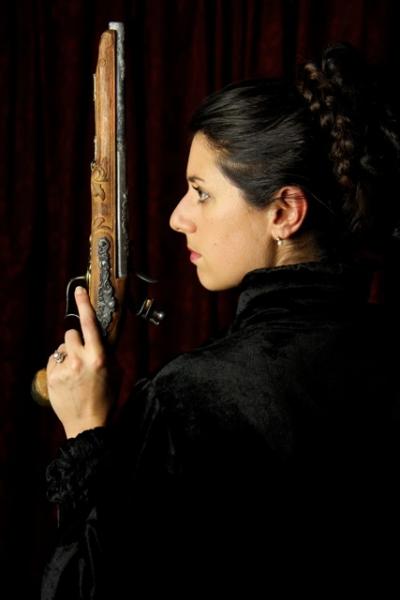 "I think it's still relevant today, because as much as society boasts about having moved forward in terms of equal opportunities for all the different groups in society, those prejudices still exist. So many men in contemporary society still believe that they are superior than women and feel that they have a right to exercise that superiority over them, not least in those regions of the world that are still patriarchally dominated, but also in Western cultures.
"Yes, she's a bit of a manipulative minx, but given the regimented environment she was raised in and the era in which she lives, she needs to survive somehow."
Director Kirilee Lennerts also studied Ibsen's work while in high school and says Hedda Gabler is one of her favourite plays by the Norwegian author.
"I immediately fell in love with his style of writing and what was actually being said between the lines," she said.
"Hedda is a fascinating character, as are the others, and not a conventional woman of the late 1800s. Matched together, the story is explosive."
Involved in theatre since high school, Lennerts has performed with several theatres in the past seven years including Garrick, Limelight, Melville and Blak Yak Theatres and also has a bachelor of arts in contemporary performance.
She made her directing debut at Melville Theatre last year with Zastrozzi and is pleased Hedda Gabler is giving her another opportunity to direct.
"Ibsen is one of the most studied playwrights and I imagine many people will come to see Hedda Gabler with their own interpretation of what Ibsen should be," Lennerts said.
"The challenge is to stage a play people will enjoy, even though it may not be how they imagined."
Hedda Gablerplays from July 13 to 28. Tickets are $18, $14 concession – book on 9330 4565 or email bookings@meltheco.org.au.
Melville Theatre is on the corner of Stock Road and Canning Highway, Palmyra. More information is available at www.meltheco.org.au.
Images: Olivia Darby as Hedda Gabler.
More Reading
Community Theatre Seasons 2012 - www.stagewhispers.com.au/community-theatre/community-theatre-seasons-2012
More Community Theatre - www.stagewhispers.com.au/community-theatre