Phoenix Ensemble (Queensland) brings Rogers and Hammerstein's The Sound of Music to Beenleigh's Pavilion Theatre on 14 October.
Directed by Tracey Hutley, the production will play over five weekends – including two matinees – in what promises to be a blockbuster season for the renowned ensemble.
For Tracey, a large part of the show's enduring appeal – aside from memorable songs and music – is the amazing story of Maria von Trapp.
"Maria's sheer determination and spirit to stay true to herself during the most extreme of circumstances are an inspiration to everyone. Her courage and faith are what audiences fall in love with when they see the show, so we've tried to ensure the audience can go on this emotional journey with Maria.
"I think that the true message behind the story is that as long as you have each other, and you stay true to yourself, you can conquer anything."
Many fans still visualise Julie Andrews as Maria Von Trapp (thanks to the iconic 1965 film), but Tracey promises that Marita Rigby will win over audiences all over again, with a performance that captures everything fans love about Maria, while also stamping her own unique style on the part.
Given the critical role the Von Trapp children play in The Sound of Music, it was important for Tracey to find young performers up to the task. The production team auditioned 50 children for the seven parts, and have been delighted with their final decisions.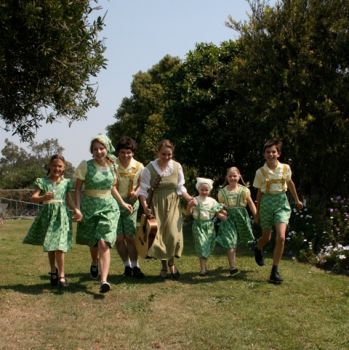 "The children have been such a pleasure to work with and we know they have learned an enormous amount about their characters, stagecraft and performance during this rehearsal period."
A key challenge has been costuming, given Maria alone has 10 costume changes (her wedding dress is only on stage for a minute!), and all seven kids have seven costume changes. But again, the Phoenix team has risen to the challenge.
Directing The Sound of Music provided an opportunity for Tracey to learn about the "real" Maria. "When I first agreed to do the show, I read Maria von Trapp's autobiography 'The Trapp Family Singers'. There were two things that really stood out to me: the first, was that there was so much more to her life than what could ever be portrayed in a two-hour movie or stage production; and the second, was her unwavering resilience and dedication to keep the family together."
The cast also had their own research experience, visiting the Carmelite Monastery in Ormiston during the rehearsal period.
"It struck me that Maria's religious beliefs and affiliation with the Benedictine Nuns were something she continued to treasure and teach to her children for many years," Tracey said.
"We wanted to ensure we paid respect to that, so we spent a lot of time working on these scenes to deliverthem the best way we possibly could.Visiting the monastery gave us a chance to better understand what it's like to dedicate your life to God, and it was an experience I'm sure will stay with all of us."
While Phoenix regularly presents contemporary musicals, the ensemble is also proud to pay homage to classic shows such as The Sound of Music, particularly as the production recently celebrated its 50th anniversary.
Phoenix Ensemble's production of The Sound of Music also features musical direction by Casey Chadwick and Nick Ng, and choreography by Heather Scott.
Venue:Pavilion Theatre, Beenleigh Showgrounds, James Street, Beenleigh
Times:7.30pm: 14, 15, 21, 22, 28, 29 Oct, and 4, 5, 11, 12 Nov
2.30pm: 29 October and 5 November
Tickets: $18 - $26
Bookings: 3103 1546 or online:www.phoenixensemble.com.au
Cast:
Maria Rainer - Marita Rigby
Capt von Trapp - Luke Hutley
Max Detweiller - Doug Rumble
Elsa Schrader - Michelle Dagan
Mother Abess - Phillipa Bowe
Rolf Gruber - Stephen Dorrington
Liesl von Trapp - Kelly Smith
Friedrich von Trapp - Brian Garnham
Louisa von Trapp - Lauren Steiner
Kurt von Trapp - Christopher Perlinski
Brigitta von Trapp - Morgan Lefik
Marta von Trapp - Kate Hamblyn
Gretl von Trapp - Chloe Weise
Sister Berthe - Kathryn Ryan
Sister Margaretta - Lucy Moxon
Sister Sophia - Jannette Kircher
Franz - Robin Kircher
Frau Schmidt - Julia Lefik
Herr Zeller - Anthony Austin
Top Image: l to r: Morgan Lefik (Brigitta), Christopher Perlinski (Kurt),Marita Rigby (Maria), Brian Garnham (Fredrich), Kate Hamblyn (Marta), Lauren Steiner (Louisa), Chloe Weise (Gretl).
To keep up with the latest news and reviews at Stage Whispers, click here to like us on Facebook, or follow us on Twitter.