The hit Broadway musical The Best Little Whorehouse in Texas is taking up residence at Bexley RSL from 12 October, courtesy of Canterbury Theatre Guild.
Based on the true story of a legendary Texan brothel known as the Chicken Ranch which operated from the 1840s to 1973, Whorehouse opened on Broadway in 1978 and ran for 1,584 performances
Protected by a friendly Sheriff and frequented by politicians, football teams and other guests, the Chicken Ranch thrives. Girls come from all over to work at the ranch under the protection of the busty Miss Mona. However, a crusading do-gooder Houston TV personality and televangelist plus his conservative audience expose the Chicken Ranch and try to have the place closed down.
What ensues is simply hilarious, toe-tapping fun.
Directed by Ray Pittman & James Russell, musical director Melinda Hole and with choreography by Cameron Lewis, Whorehouse stars Fiona Murphy, Ray Pittman, Michael Heming and an all-singing, all-dancing ensemble of whores, politicians, footballers and chicken farmers.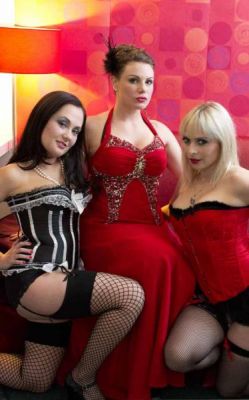 We asked some of the performers who are currently playing working girls by night, about their day jobs.
Kate Wallbank, who plays Rubie Rae told Stage Whispers, "My 'real job' is completely different from the characters I play in this show. I work as a psychologist in private practise; using my analytical mind and dealing with serious issues. I like how musical theatre gives me a chance to express my creative side and be a bit silly."
Vanessa-Leigh Mendez told us, "I work as a nanny/gallery officer at the Powerhouse Museum, I'm a children's entertainer and I'm also a student (haha), so I do quite a lot."
Vanessa-Leigh told us she is a big kid at heart and enjoys letting loose singing and dancing her nights away.
Fiona Murphy says, "My day job is at Opera Kitchen at Sydney Opera House. I am the Finance & Business Development Manager which is just fluff for functions, marketing & figures!"
Directors Ray Pittman and James Russell say Whorehouse is a great story with lots of allegorical reference to be drawn with politics and sex today.
Says Ray: "It explores the moral ambiguity around The Chicken Ranch, a successful brothel that has been an institution in a small conservative community for over 100 years.
"It examines attitudes towards sex, identity, religion and politics through its 3 main characters: the local Madam, the local Sheriff and a TV evangelist.
"We've given the excellent score a grass roots/dirty blues makeover and the production takes on a very contemporary burlesque feel," adds James. "And just wait 'til you see the set and costumes – we'll knock your socks off… at the very least!"
The Best Little Whorehouse in Texas
By Larry L King, Peter Masterson and Carol Hall
12 to 21 October, Bexley RSL, 24 Stoney Creek Rd Bexley
Thurs to Sat 8pm, Sundays 2pm
Tickets $30, conc and groups 10+ $25
Bookings 0466 883 677 or www.canterburytheatreguild.com