LIFE, love and politics are the driving forces behind Life After George, playing at Melville Theatre (WA) from September 7.
Written by Hotel Sorrento author Hannie Rayson and directed by Val Riches, it follows the intertwined stories of some intriguing, but ultimately flawed, characters.
After the sudden death of Professor Peter George in a light plane crash, the AWGIE award-winning play explores what impact the loss has on the women he left behind.
"His three wives and daughter from his first marriage come together with George's best mate Duffy to plan the funeral and, in the process, reminisce through flashbacks on their individual times with George," Riches said.
"The play covers the last 30 years of the 20th century and relates to issues I grew up with such as Paris in the late 60s and Che Guevera and it moves to women in the 80s, tapping away at the glass ceiling with some managing to break through.
"It then moves on to the more laissez-faire and accepting attitudes in the 90s.
"Many of us will identify with what Hannie Rayson is bringing to the audience and will muse over her fairly stereotypical characters."
Riches chose to direct Life After George because she is a fan of Australian plays.
"I feel they are more appropriate to us as Australians," she said. "The humour, situations and characterisations give us people we are all familiar with."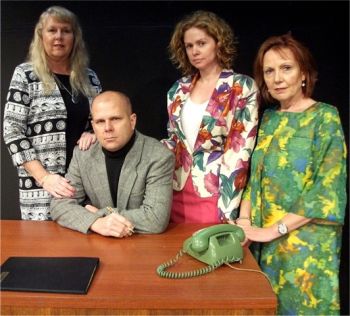 With more than 45 years in theatre in NSW, Queensland and WA, Riches, a life member of Melville Theatre, has been involved in almost every aspect – acting, directing, stage management, props, costumes, building sets – you name it, she's done it.
She believes her biggest challenge with Life After George is the play's structure.
"Some of the story is told as a narrative with the actors engaging with the audience and it then moves into actual scenes played in a variety of loosely-denoted spaces on stage," Riches said.
"Because the story is not sequential, the actors have the challenge of making the audience aware of the time changes. They're also on stage for the entire play.
"Having said that, I'm extremely confident with the calibre of the cast I've chosen and feel completely confident and excited as to what the end product will be."
Life After Georgeplays from September 7 to 21, 2012. Bookings: 9330 4565 or email bookings@meltheco.org.au.
Melville Theatre is on the corner of Stock Road and Canning Highway, Palmyra. www.meltheco.org.au.
Images: Mellissa McBride, Trevor Dhu, Di Ryman, Annie Blatchford and Joy Northover ponder the passing of Professor George (Jeff Hansen) and Three wives – Mellissa McBride, Di Ryman and Joy Northover – ponder on their lives with their husband (Jeff Hansen) in Life After George.