The Regals Musical Society (Sydney) will present Annie from October 14 – 22, in a production with a look inspired by the films of Tim Burton.
Originally to be performed at Rockdale Town Hall, the production will now be staged at Sydney Technical High School Auditorium following the discovery of asbestos issues during recent renovations.
Michele Lansdown, who will play the role of Miss Hannigan, spoke to Stage Whispers.
Michele, you've been a constant face on the community theatre scene for many years and have played some of the great roles for women, what would you say is your favourite role and why?
Tough question! In my younger days I'd have to say Eliza in My Fair Lady, recently though it's hard to go past Agatha Makin in Hatpin, however I think the most fun I've had was as Muriel in Dirty Rotten Scoundrels, oh wait, I can't leave out the Bakers Wife in Into the Woods (I've been around too long!!!).
Is this a role that has always been on your 'to-do' list?
Absolutely.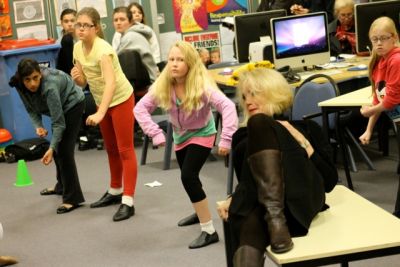 Why?
Where else do you get to scream at young children without being locked up? Seriously though, she really is one of the great musical theatre roles, a terrific character and very (hopefully) funny! The one good thing about reaching a certain age is that you get to do some fabulous roles. In the last few years I've given birth to a bat (Batboy) stolen a baby (Blood Brothers), been a drug addled lush (Judy in Boy from Oz) and been a serial killer of babies (Hatpin) - too much fun!
How are rehearsals going?
Very well, I am actually enjoying them. Our director Meg Day is highly organised and has a terrific sense of timing and comedy. She is very ably assisted by the AD Billy Kafaani who has done some terrific work with the orphans. Our talented young production team also includes choreographer Tracey Rasmussin and musical director Jake Ryan.
So is it true what they say - that you should never work with kids and animals?
Absolutley! Never again! Just kidding. The orphans have been a joy to work with and very professional. I initially found it quite difficult at times to be so verbally abusive to the little darlings (I'm over that now). I remember being blown away when I was reading with the girls at the callbacks, I said to Meg that I didn't envy her having to choose from so many incredibly talented kids. As far as the dog is concerned I'm thrilled Andrea Munn (a very talented stage manager, friend and fellow dog lover) is allowing us to use her precious Golden Retriever Primrose in the role of Sandy.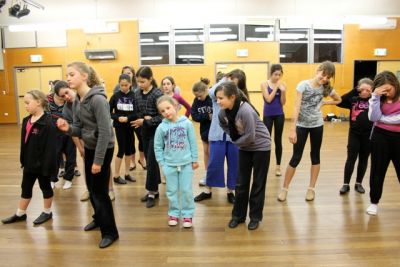 What do you think are the biggest challenges in staging a show with a predominantly juvenile cast?
I think the production team has the biggest challenge working with two child casts; however they have been extremely organised and have maintained a very tight schedule. The show was completely blocked and we had a first run 4 weeks out which is impressive. From an actor's point of view I actually don't mind rehearsing the same scenes with the different casts on different days. It keeps me on my toes.
What can audiences expect from this production?
A faithful production of a much-loved show with a visual twist. Our orphans are outstanding, and I love working with some very talented adults including Lachlan O'Brien, Adelie Battam, Jess Shirley, and Brad Clarke, who played Will Parker to my Ado Annie a hundred years ago.
Annie plays at Sydney Technical High School Auditorium, 686 Forest Rd, Bexley. Bookings: 0449 REGALS
Rehearsal images - from top: Michele Lansdown & Brad Clarke; Michele Lansdown and orphans; Orphan cast and Adeile Battam, Brad Clarke & Michele Lansdown.
To keep up with the latest news and reviews at Stage Whispers, click here to like us on Facebook, or follow us on Twitter.