Eltham Little Theatre's end-of-year dinner and show offers a generous serving of murder mystery garnished with a touch of jazz and soul from November 15.
Suspense-loving audience members who sample Murder at the Music Hall will sit at tables of six or eight enjoying dinner and drinks they've brought along.
ELT president Carol Owen says, "Our Music Hall productions have a real festive and party feel and it's great to see so many people having fun at the theatre. Oh, and don't worry if you haven't got the numbers for a table - there are plenty of willing punters to share a table with."
Murder at the Music Hallbrings something new to the regular music hall format. It's not a traditional music hall as such - the slapstick, over-the-top farce, but it does have elements of it. It's not a straight drama, a musical or a comedy - but all these elements are there.
A Music Hall is in full swing under the genial eye of the Chairman when suddenly somebody drops dead, and not of natural causes. Everyone present is a suspect – cast and audience alike, as the drama unfolds with musical numbers and an entertaining assortment of suspects.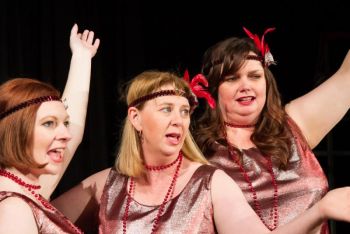 Director, Lisa Inman said when she read the script she found the cross-genre concept fascinating. "There is something really unique and curious about this show - and I'm not just talking about the fact it has 27 cast members," Lisa said.
From a director's view point the show has many challenges - music, choreography, flashbacks, devised theatre techniques, to name but a few.
Musical director Kent Ross and choreographer Adam Noviello complete the production team. A six- piece band accompanies the Music Hall world performing hits including Minnie the Moocher, Boogie Woogie Bugle Boy of Company B, Let's Call the Whole Thing Off and many more.
"Our plan was always to create an ensemble theatre piece by having a group of singers who perform ensemble numbers as well as solos, duets and quartets. This has created a great feeling of support amongst the cast – there's nowhere to hide!
"It's an ambitious project," Lisa admits, "but the show is really beginning to take shape and with such a great and enthusiastic cast - a night of fabulous entertainment is guaranteed."
When: Thursday to Saturday 15 November to 8 December, 2012 at 8pm
Where: Eltham Performing Arts Centre, 1603 Main Road, Research
Bookings: 9437 1574, eltboxoffice@gmail.com or book online at www.elthamlittletheatre.org.au/book-a-ticket/
Cost: $20
Images: (top) Carol Owen and Gavin Baker, & (lower) Amy Jenkins, Carol Owen and Laurice Banwell.