Diamond Valley Singers (Vic) present the classic Broadway musical The Pajama Game from July 6 – 14 at Warrandyte High School Theatre. Eltham Community Orchestra will accompany the cast of more than thirty performers for a nine performance season.
Based on Richard Bissell's novel 7 ½ Cents, The Pajama Game tells the story of Babe (played by Victoria Lock), a feisty employee representative who finds her match in the pajama factory superintendent, Sid (played by Tim Warren). The union and factory management are in dispute over seven-and-a-half-cents-per-hour raise the pajama factory workers are demanding.
Sid pushes both himself and the workers hard in order to prove himself to the owner, but a visit by the union grievances committee in the form of lovely-but-tough Babe brings out his soft, romantic side. Despite their love, Babe warns Sid that the turmoil between the union and the management will cause problems for them too, and Sid has to juggle his job, his heart and his conscience to find a solution that will solve everything.
The Pajama Game opened on Broadway at the St. James Theatre on May 13, 1954, playing 1,063 performances and winning the Tony Award for Best Musical.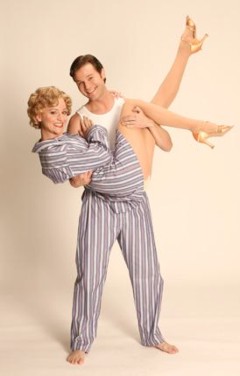 The high-energy score of The Pajama Game by Richard Adler and Jerry Ross brims with popular hits and musical theatre standards such as "Hey There," "Steam Heat" and "Hernando's Hideaway."
"The Pajama Game is a fun and flirty farce that is a lot of fun! I wanted to direct a show where the audience and the cast enjoy a romp within the SleepTite Pajama Factory" says Director Lynne Counsel.
"The accent is on comedy in this toe-tapping, knee-slapping battle of the sexes." says Assistant Director Graham Ford.
Leading Lady, Victoria Lock, who has previously been in the chorus and played the role of Mabel in The Pajama Game, now steps up into the role of Babe.
Tim Warren, who plays Sid Sorokin says about the show, "I playSid Sorokin, the handsome new factory superintendent who falls in love with Babe Williams. Despite us being on opposite sides of the labor dispute, love does still find a way into our hearts.
"The other side of the show is that all our profits gotowards charity, and this is something that l admire with the Diamond Valley Singers".
The Diamond Valley Singers are committed to working locally and internationally with charities who make a difference in their local community. Over the last 20 years the company has donated over $123,000 to Open House in Ivanhoe, World Vision and the Elizabeth Nursery School in Malawi.
The show will be performed in the fully heated Warrandyte High School Theatre in Alexander Rd Warrandyte.
Photographs courtesy of TDImages.
More Reading
Community Theatre Seasons 2012 - www.stagewhispers.com.au/community-theatre/community-theatre-seasons-2012
More Community Theatre - www.stagewhispers.com.au/community-theatre