Players Theatre Company (Vic) is celebrating its 30th year Anniversary in 2012 by staging Urinetown: The Musical from June 29.
Over the last 30 years Players has produced shows including The Witches Of Eastwick, RENT, Gypsy, Oklahoma and Hot Mikado.
Although the title of the show could be off-putting (as referenced in the show itself), this hilarious pantomime-like story by Greg Kotis, with music by Mark Hollmann, is set in a drought stricken town where the water is so scarce that private toilets can't exist and everyone is forced to pay to use the public facilities operated and owned by the UGC (Urine Good Company). Bobby Strong, a local amenity worker, is sick and tired of the corrupt UGC and leads a revolution to overthrow the company and its leader Caldwell B Cladwell. However, along the way, he meets and falls in love with his daughter, the beautiful Hope Cladwell.
This story takes audiences on a journey of love & corruption, showing that sometimes good doesn't prevail.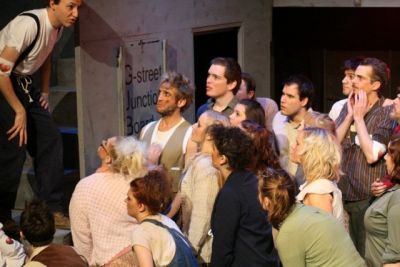 "When thinking about the overall concept for the show, aside from making it as funny as possible, I wanted to focus on its relevance to today's audiences. With all of the recent media coverage about the Carbon and Mining Taxes I decided to look at energy consumption" says director Carl Whiteside. "Of the 7 billion people in the world 3 billion live in energy poverty. This means they have no access to power or clean cooking facilities and health, economic growth and education in those countries is extremely limited. It would cost $48 billion to ensure everyone in the world had access to electricity. So, if everyone in Australia paid 20 cents every time they went to the toilet that would generate $15 billion a year! That means the Australian people could provide the required funding in just 3 years".
So Players Theatre Company wants to ask their audiences:
If you had to pay a Toilet Tax of $650 a year but the money was guaranteed to fund energy supply for the world's poorest people, would you pay it?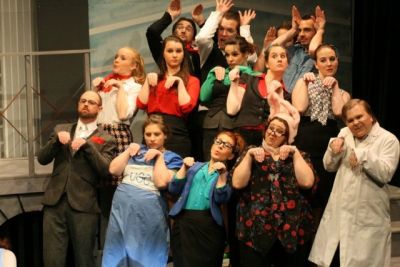 Choreographer Hayley Wood has used the satirical style of the show to take the opportunity to also poke fun at some of the established theatre institutions such as Les Mis, Bob Fosse and Swan Lake.
Simon Horsburgh, President of Players Theatre Company is excited about Players' upcoming show. "Urinetown is a brilliant a way to celebrate our 30th Anniversary. It is a fun and satirical comedy that showcases the talent in our community and everything Players Theatre Company has to offer".
With direction from Carl Whiteside, choreography by Hayley Wood and musically directed by Rebecca Dupuy-Purcell, Urinetown: The Musical, Players Theatre Company promises a barrel of laughs and an entertaining night out.
Urinetown: The Musical is being performed at Christine Strachan Theatre at South Oakleigh Secondary College, Bakers Road from Fri 29thJune to Saturday 7th July. To book tickets call 0434 669 594 or book online at http://www.trybooking.com/BMHO
More Reading
Community Theatre Seasons 2012 - www.stagewhispers.com.au/community-theatre/community-theatre-seasons-2012
More Community Theatre - www.stagewhispers.com.au/community-theatre